Jason Whitlock's Kaepernick Stunt Riles Up Shannon Sharpe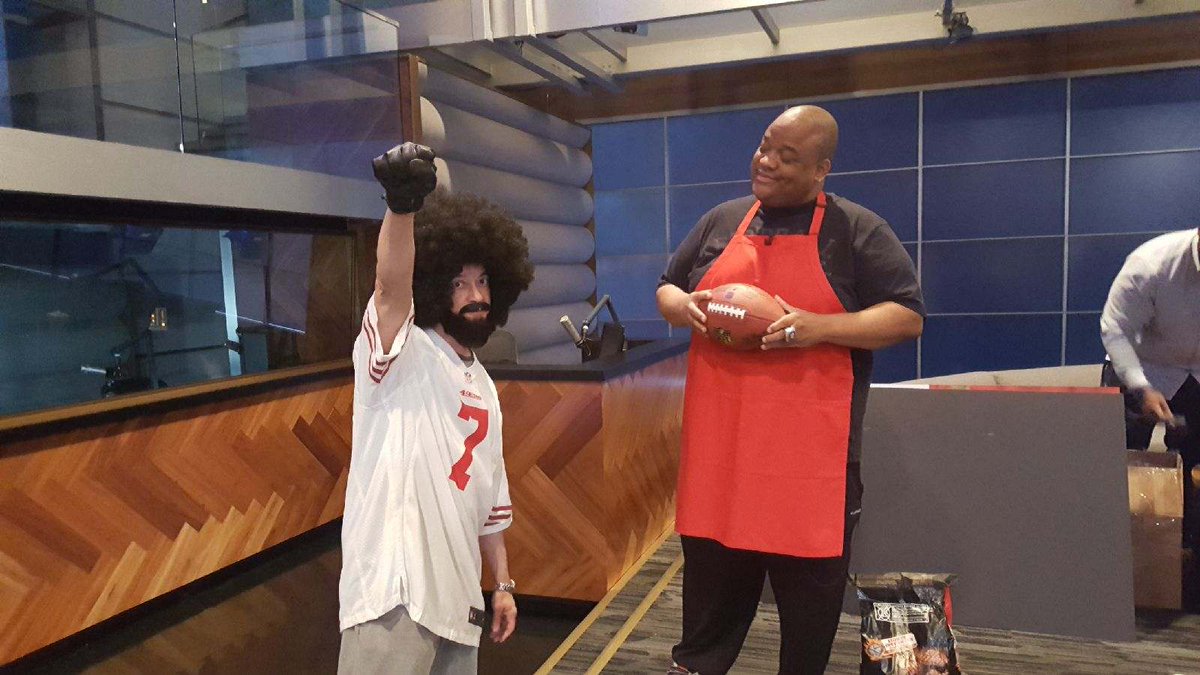 VOTE NOW! Is this Funny or Offensive?
Posted in:
Twitter Morning Quarterbacking
September 8th, 2017 – Outspoken host of FS1's "Undisputed," Shannon Sharpe, delivered a pointed rebuke to fellow FS1 personality, Jason Whitlock, over his most recent attack on former NFL quarterback Colin Kaepernick. Whitlock, the scorched earth sportswriter turned lightning rod co-host of the sports commentary show "Speak for Yourself," drew the three time Super Bowl champion's ire along with a healthy dose of shade from Black Twitter for a recent post mocking Kaepernick.
Great to have Kap stop by the studio today. pic.twitter.com/2UPuyCdWdK

— Jason Whitlock (@WhitlockJason) September 6, 2017
Fkk is up with dude?! https://t.co/TxIOpE6cEW

— Don Cheadle (@DonCheadle) September 6, 2017
Notorious for his blunt and controversial takes on the intersection of race, class and sport, Whitlock is perhaps the most high profile critic of the former NFL standout and one of the most reviled names in sports media. Sharpe called Whitlock's tweet featuring a man dressed as Kaepernick in an afro wig "unacceptable." Some criticism of the tweet centered around dressing a white man as Kaepernick and mockingly using the "Black Power" salute. It was later determined that the man dressed as Kaepernick was apparently a former rapper named Chris Reid, who identifies as black.
Not a single person at your studio thought this was a bad idea?

— Yesse'El Gutiérrez (@yesse_el) September 6, 2017
Condemnations flooded social media denouncing Whitlock and the optics of the image, which some found disrespectful to advocates for social justice. Kaepernick has been both celebrated and criticized for his public statements about police brutality and racial injustice, most notably for his decision to kneel during the national anthem before NFL games for the 2016 season. Sports media has boiled over with speculation that the once-electrifying QB was not picked up as a free agent expressly due to his racial politics at a time when competent QBs are in short supply.
I'm going to address it with head of Fox sports/FS1 . This is UNACCEPTABLE https://t.co/YNzHmSoD5l

— shannon sharpe (@ShannonSharpe) September 6, 2017
Meanwhile, several teams with serious offensive deficits have paid small fortunes to sign quarterbacks who, arguably, have demonstrated themselves incapable of throwing a football with any degree of accuracy or consistency. Critics point out that all of these objectively mediocre players are white while Kaepernick is unforgiveably black. For his part, Whitlock has gone on the record bashing Kaepernick repeatedly for his activism and has a well-documented history of appearing to go out of his way to criticize prominent and/or socially conscious black athletes.
Was Jason Whitlock's tweet inappropriate or does Shannon Sharpe need to take a seat? Funny or offensive? Vote and comment now…