Street Artist Taunts Jimmy Kimmel With 'Estrogen Hour' Posters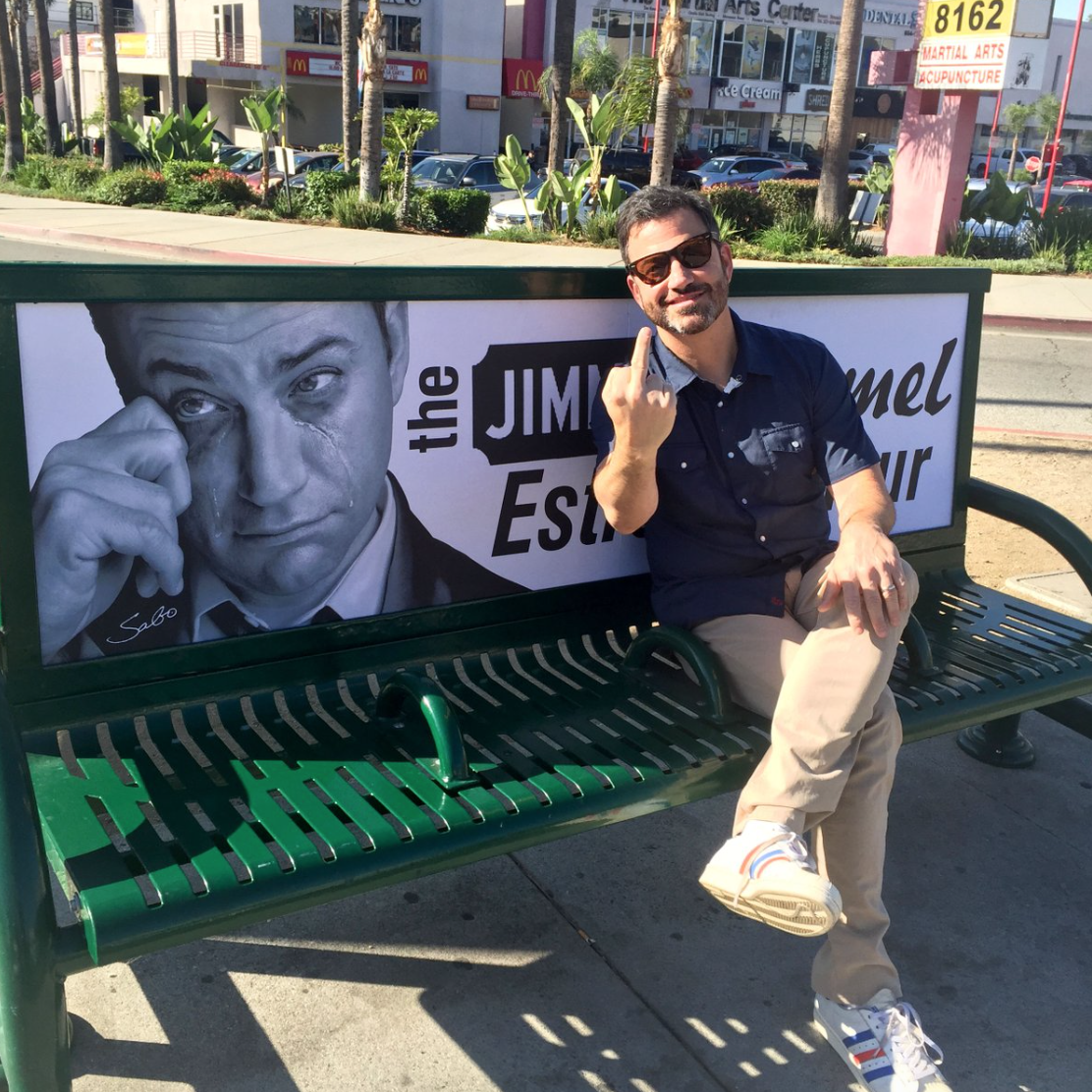 VOTE NOW! Is this Funny or Offensive?
Posted in:
Tears For Jeers
October 7th, 2017 – Late night host Jimmy Kimmel's passionately expressed political views have one Los Angeles-area street artist publicly calling the comic a "crybaby." Posters recently hung around Hollywood mock the title of Kimmel's nightly talk show calling it "The Jimmy Kimmel Estrogen Hour." The satirical attack comes after Kimmel used his monologue to protest a congressional vote to repeal the Affordable Care Act. A teary-eyed Kimmel shared the fear he felt for his son's life as well as for families who lacked the financial resources at his disposal – families who would have lost their health coverage if the Republican-led repeal effort became law.
A few weeks later, Kimmel taped another emotional monologue this time in the aftermath of the deadly mass shooting in his hometown of Las Vegas. The massacre killed 59 people and injured over 500 more. As he did when calling for compassionate, sensible healthcare policy, the former radio personality and Emmy host, demanded legislators enact meaningful reform that could save lives.
The artist known as "Sabo" has been a conservative gadfly for years. He's famous for his derisive depictions of progressive Hollywood celebrities like Leonardo DiCaprio and Gywneth Paltrow. Many Twitter users responded to Sabo's message, condemning performers like Kimmel who share what they feels are unsolicited political views.
"We allow Jimmy Kimmel into our homes because at one point we considered him to be entertaining. Now he's nothing more than a talking head for the Democrat party."
JIMMY KIMMEL RESPONDED TO MY "CRY BABY" ART … STAY TUNED!!! pic.twitter.com/EYwYmBNQJW

— unsavoryagents (@unsavoryagents) October 5, 2017
Kimmel has been outspoken in his views calling out politicians by name for hypocritical or otherwise unsavory behavior in addition to being a relentless critic of the Trump Administration. In response to the taunting, the former "Man Show" co-host issued a statement directing "his fellow crybabies" to the website of a gun-control advocacy group called "Everytown for Gun Safety." The notoriously feisty host also posted a photo of himself sitting on a bench bearing one of the posters ridiculing him while making an obscene gesture to the camera.
When explaining the rationale for his attacks Sabo told The Hollywood Reporter:
"Two facts are clear… the first is that gun control laws accomplish nothing. Criminals don't abide by them. The second is that the left's aim in abolishing the Second Amendment is to have even more control over the people of this country."
What did you think of Sabo's street art mocking Jimmy Kimmel for being affected after a mass shooting in his hometown? Do you think Kimmel is using his late-night platform effectively?