The 2017 Carponizer Calendar Gives You Women and Fish All Year Long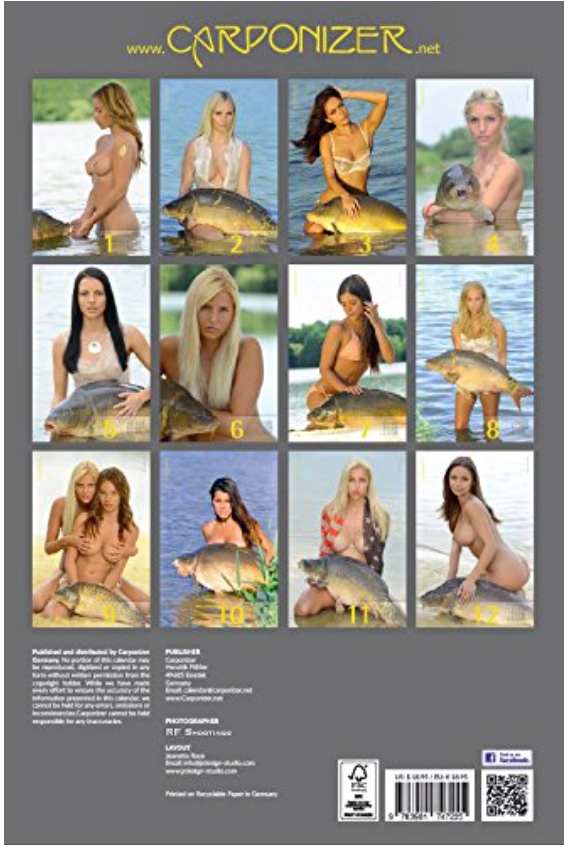 VOTE NOW! Is this Funny or Offensive?
Posted in:
Plenty of Fish in the Sea(sons)
January 8th, 2017 – It's eight days into the new year, and if your vision board or your grumpy cat calendar isn't really doing it for you, there's a new hope in annual organization. The 2017 Carponizer Carp Calendar is available and will give you 12 months of "magnificent carp…accompanied by women who are no less attractive."
The calendar is the brainchild of Hendrik Pöhler, who created the hybrid work of art for Carponizer, a German carp gear online retailer.
"The idea for the calendar was to bring two of the greatest hobbies of men, fishing and women, together. I remember the day when I was fishing with my friend and at the spot next to us were two hot girls fishing. This was the moment I decided to make this fabulous calendar," he told Maxim.
And the way Pöhler tells it, the production was no walk in the pond.
"Even the fishes have to be great. There are two people specially for the carps. They clean the fishes from scales and mucus, so the girls can hold them easily. Sometimes it's hard for the girls because the pictures have to be perfect," he said.
The spiral-bound calendar can be purchased on Amazon for $18.95, where it currently holds a 4-star rating. And not to be pigeonholed as simply a calendar for anglers, the description makes sure to point out the paper quality as a reminder that the images can be decorative.
"This calendar is a true 'must have' for any passionate angler and lover of fish. These moments are aesthetically and artfully staged in the 2017 Carp Calendar, and don't just appeal to anglers in particular. The individual images are perfect as purposeful wall décor too. Whether for yourself or as a tasteful gift: the 2017 Carponizer Carp Calendar will not only make men's hearts beat faster. High-quality images call for an elegant frame at the very least. The 2017 Carponizer Carp Calendar was therefore printed on high-quality offset paper upgraded with printing varnish."
There are plenty more days left in this trip around the sun to get organized. And Amazon offered up some other options if carp aren't your thing. Fish N Chix and Women in Waders are also available.
Do you think the 2017 Carponizer Carp Calendar is FUNNY or OFFENSIVE? Let us know if you'd buy it, frame its images or protest it.