Black College Basketball Player Blocked From Tryouts After Standing Up To Racist Jokes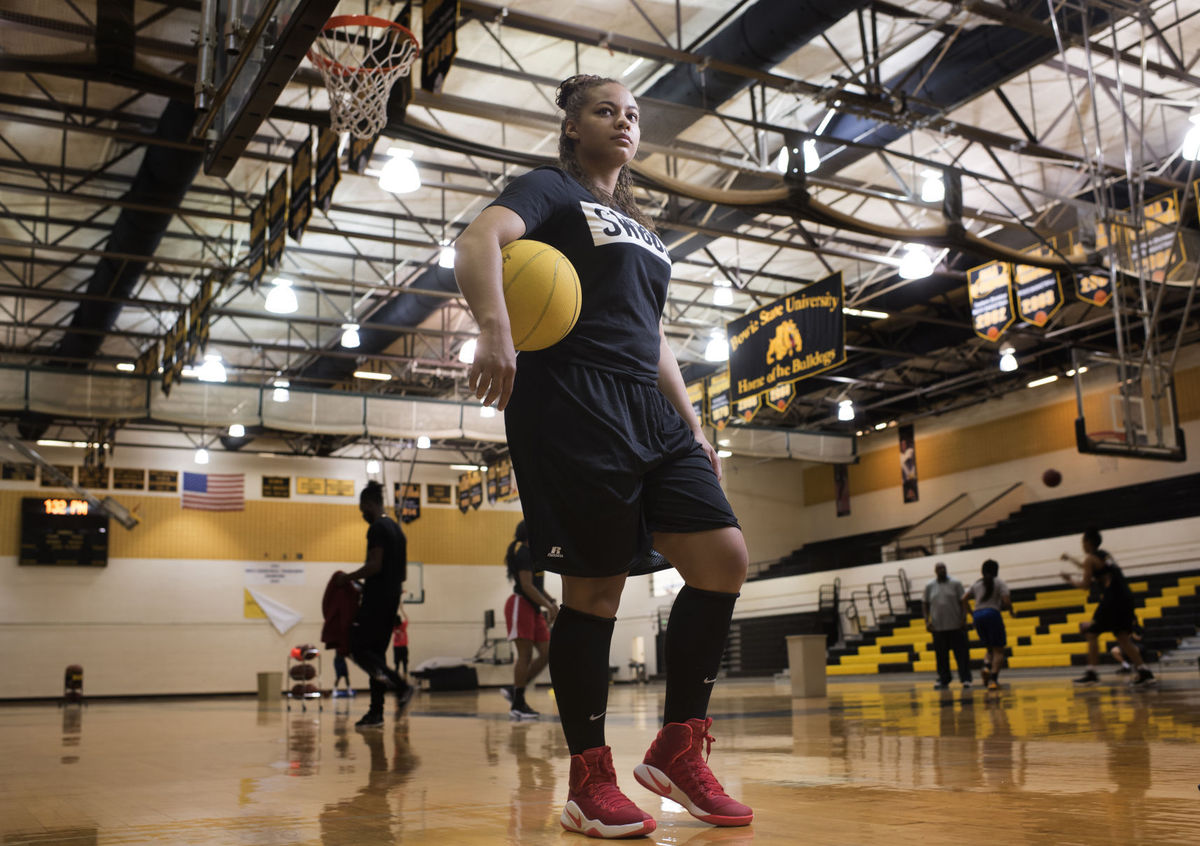 VOTE NOW! Is this Funny or Offensive?
Posted in:
"I don't understand how it could be funny."
May 10th, 2017 – A college basketball player is sharing her story about why she wasn't allowed to try out for the University of Mary Washington's team back in 2014. The reason she gave? Jasmine Orsted said she wouldn't laugh at the team's racist jokes. The reason the coach gave? Deena Applebury said she didn't have "chemistry" with the other teammates.
Orsted told The Washington Post that she has loved the game since childhood and was hopeful that she would secure plenty of clocked-in minutes after playing well against Washington's team while at a community college. However, during the preseason Orsted ran into problems that had nothing to do with how well she guarded the ball but how protective she was over speaking out against bullies.
"I just want anybody else who goes though this to know that they have to believe in themselves and not let anybody make them think that they're being too sensitive, that they're the issue," she said. "Not let the bullies win."
The young college athlete has shared many jokes, comments and questions that her potential teammates directed at her. A white player asked "why black people name their kids the way they do." A different white player responded that she "never had to worry about that" because her high school "wasn't in the ghetto" also voicing that she was glad there were only one or two black players on her high school team.
"I was astounded," Orsted said of the 2014 preseason at the Virginia university.
"I couldn't believe that somebody would actually say that, especially in the presence of somebody that's black."
Orsted continued to recount her time on the court to the Post. She recently settled the lawsuit filed against the university – settling for $160,000 but agreeing to not make disparaging comments about the university. She's only been able to "recount the contentions in the lawsuit" which allows her to share more quotes.
One player expressed fear of going to a black church while another claimed that black girls don't shave because their legs are dark. One conversation found a player reminiscing about a trip to Haiti.  Orsted claims another white player asked, "So, did you get a picture with a skinny little hungry black boy?"
When she was asked about her own heritage, Orsted told the other players that her mother was African American and her father is Norwegian. The word she used to describe their reaction: incredulous.
"So you have a white dad who married a black woman and they had a baby together," she remembers one player asking. "And they just all fell on the ground laughing. And I'm standing there like — this is 2014 at the time, that's not something unheard of, I don't understand how it could be funny," Orsted said.
Though Orsted struggled throughout the preseason as a result of the joking (with a former youth league coach saying she called him crying and venting about the teammates), she still wanted to try out for the team. She had hoped that once the coach was around more during the season that the joking would stop. The coach, however, called her into the office and suggested she try out for a different sport.
"I don't know if this is going to work, all right?" Applebury said, according to a court transcript, adding that she had heard Orsted was not "really bonding with the kids."
Orsted told Coach Applebury about the racist jokes. She promised to look into them but then said  "when you have, you know, a group versus one person, I kind of have to go to the group because it's a team sport, for right, wrong, or otherwise."
Orsted now attends Bowie State University on a basketball scholarship and while University of Mary Washington didn't admit wrongdoing, they did pledge to bring in an outside professional to lead annual sensitivity and inclusion training for staff and students in the Athletic Department.
Do you think the jokes were acceptable to say between teammates? Should an athlete be barred from trying out for a college team because they were fighting back against jokes at their expense? Give us your thoughts!