Canadian Police Livestream Homicide Press Conference Using Cat Filter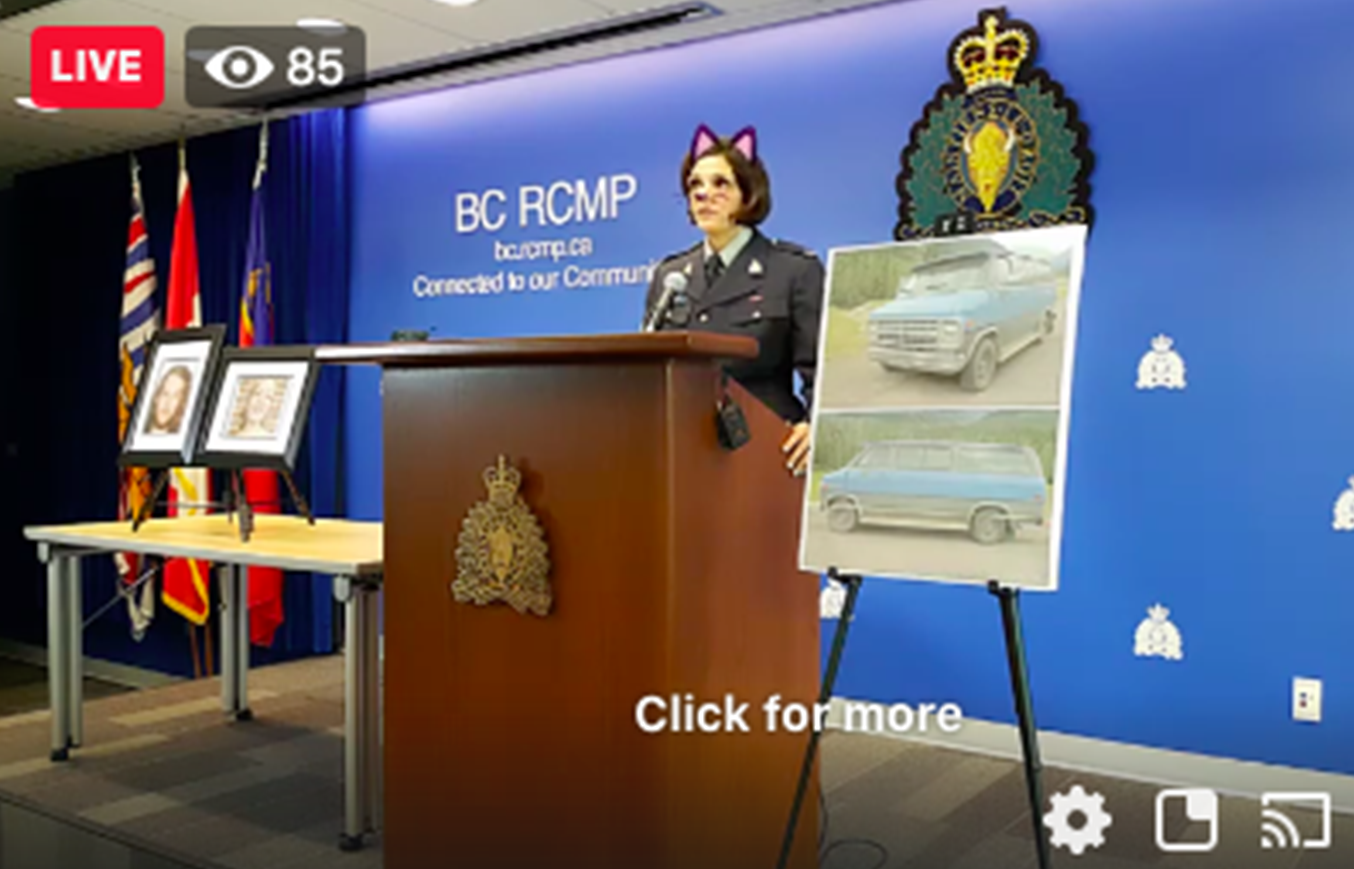 VOTE NOW! Is this Funny or Offensive?
Posted in:
Meow's Not The Time
July 22nd, 2019 – Canada's police force accidentally streamed a press conference detailing a double homicide using a filter that gave cat features to the lead sergeant. Friday's feline fail was broadcast on Facebook live and featured Sgt. Janelle Shoihet with whiskers, a black nose, and cat ears.
The Royal Canadian Mounted Police of British Columbia left the cat filter on for the entire duration of the conference but were made aware during the stream. Social media users quickly called out the filter as well as the uncomfortable laughter it brought.
Uhm….. https://t.co/g3NfS0QH28

— Mercedes Stephenson (@MercedesGlobal) July 19, 2019
Yes we are aware and addressing it as it's an automatic setting. Thank you, we will rectify and issue a video shortly.

— BCRCMP (@BCRCMP) July 19, 2019
Hahahaha from now on when people say cops aren't completely brain dead with zero shame I'll show them this.

— Connor Harding (@connorharding3) July 21, 2019
This just made my year

— Heath Wester (@bwester167) July 21, 2019
Most viewers weren't buying the police's explanation that the cat filter was an automatic setting while others were upset on behalf of the family of the murder victims. And, cat's out of the bag, there were also lots of jokes.
Automatic setting??? Wtf. RCMP have this set as an actual "automatic setting". Riiiiight. What's the real story. Should be taken down too

— Chere Michelle (@chere_michelle) July 20, 2019
Yeah….everyone knows "cat ears" is the absolute default filter for videos pic.twitter.com/QE8m2sbV6k

— 𝕷𝖎𝖔𝖓𝖍𝖊𝖆𝖗𝖙 ウェスト (@Lionheart_West) July 20, 2019
Honestly, devastated families are watching these clowns beclown themselves; they're reliant on them to solve the murders

— Another's Rhubarb (@anothersrhubarb) July 20, 2019
It's really not very reassuring when the agency in charge of this very serious crime cannot manage to stop fucking around with playful filters

— OtterBeALaw (@OttersTacos) July 20, 2019
Just to show they're not pussyfooting around with this case.

— Henry (@MyFireTweets) July 20, 2019
That's CATastrophic……

I'm so sorry… Carry on!

— John M. (@JohnMolsonEX) July 19, 2019
Police are still investigating the murders of Chynna Noelle Deese, 24, and Lucas Robertson Fowler, 23, who were found on a highway near a tourist attraction in Liard Hot Springs. The couple was beginning a road trip when they were killed. No suspects have been named, but their deaths are being investigated as homicides.
With such a heavy subject matter, the cat filter flub made the incident even more cringeworthy. It's also a concept that Saturday Night Live played around with during an episode with Adam Sandler earlier this year. The host was joined by Mikey Day who played a CNN reporter in a war zone updating the network through a social media app (and inadvertently giving himself silly filters).
Sgt. Janelle Shoihet re-recorded the full press conference sans the cat filter and apologized for the "technical difficulties" during the first attempt.
Was the Canadian police cat filter purr-ess conference Funny or Offensive? Vote and comment now…