Hilary Duff Apologizes For Pilgrim, Native American Halloween Costumes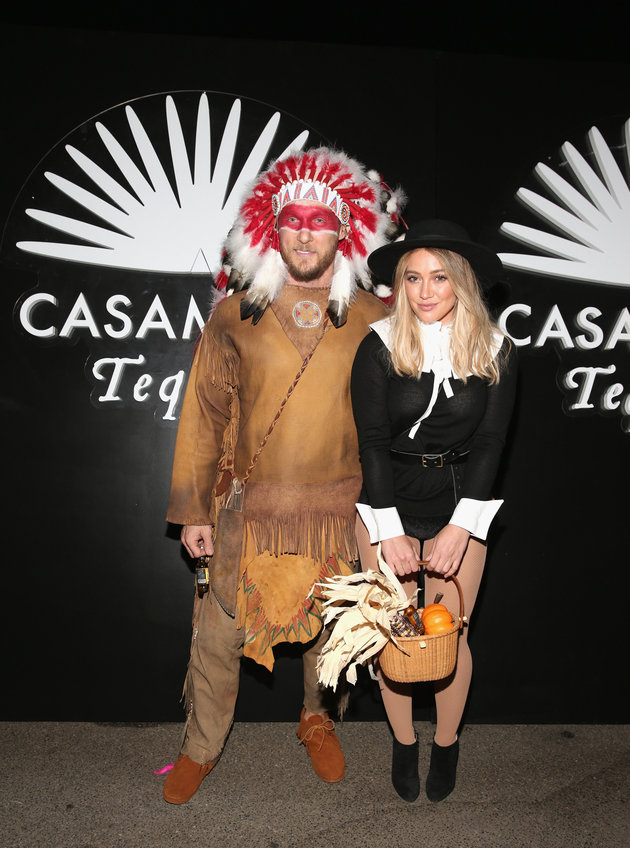 VOTE NOW! Is this Funny or Offensive?
Posted in:
Is It Too Late Now To…Go As Justin Bieber?
October 31st, 2016 – After the Halloween parties have ended and before Christmas decorations pop up in storefront displays, there's usually a small window of time when someone has to apologize for their choice of costume. That time is now, and that person is Hilary Duff.
The former Lizzie McGuire actress and more recent star of Younger attended the Casamigos Halloween party in Beverly Hills on Friday night with her boyfriend, Jason Walsh. The couple dressed up as a pilgrim and a Native American and once pictures surfaced of their costumes, the responses were bountiful.
Many called the face paint, feather headdress and the short, black outfit racially insensitive and accused the duo of cultural appropriation. Accusations also framed the costume selection against the situation with members of the Standing Rock Sioux tribe currently opposing the Dakota Access Pipeline. Some, however, defended the Halloween fun and called for society to loosen the grip on being overly offended.
Duff took to Twitter on Sunday to say she was "SO sorry" to people she offended.
I am SO sorry to people I offended with my costume.It was not properly thought through and I am truly, from the bottom of my ❤️sorry.

— Hilary Duff (@HilaryDuff) October 30, 2016
Her boyfriend, Walsh, turned to Instagram to issue an apology of his own saying he only has "admiration for the indigenous people of America."
Let us hear from you. What did you think of Hilary Duff and Jason Walsh's pilgrim/Native American Halloween costume?