Man Wears KKK Hood In Place of Face Mask at San Diego Grocery Store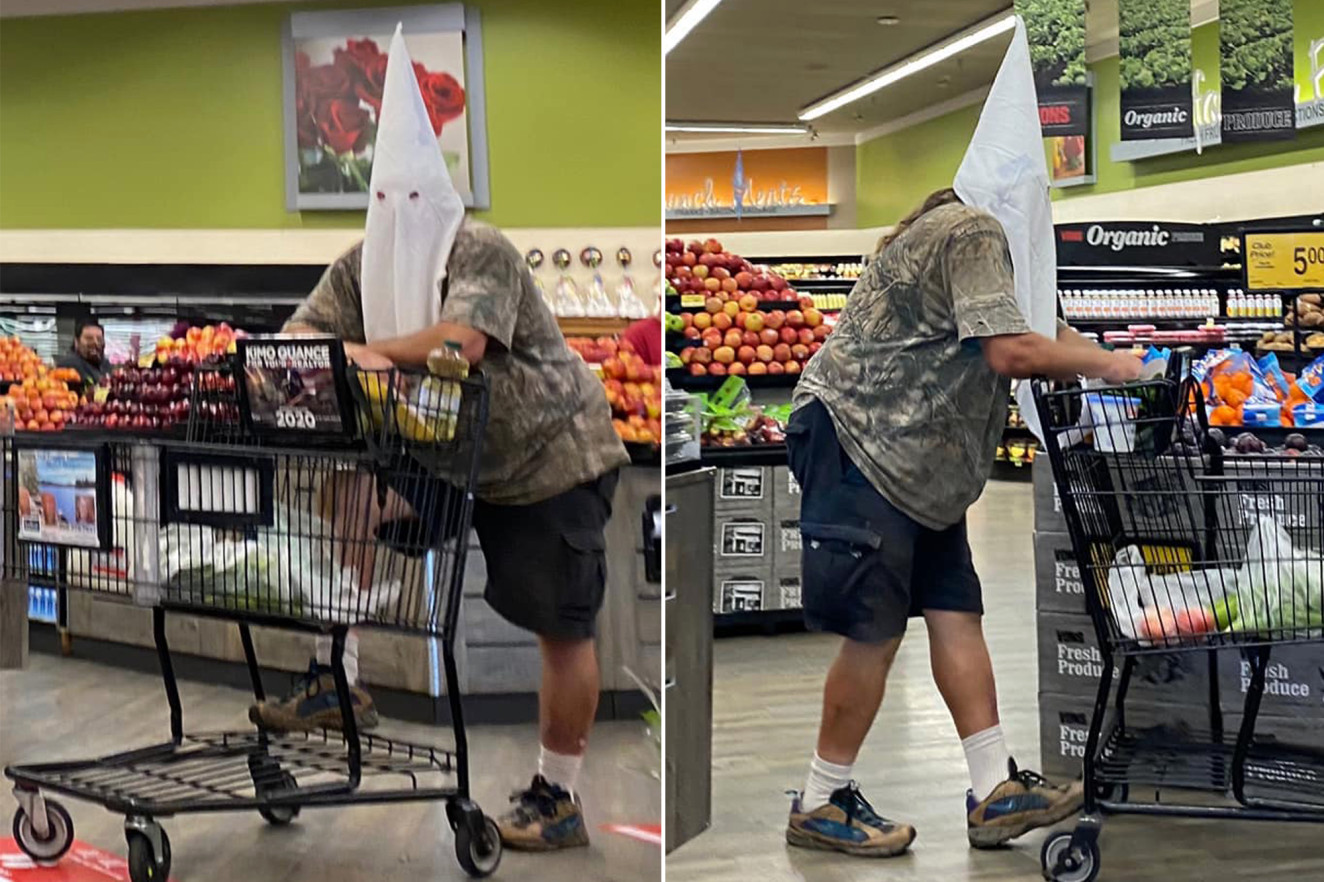 VOTE NOW! Is this Funny or Offensive?
Posted in:
Clean Up On Aisle Racist
May 5th, 2020 – Community members are speaking out against a man who wore a KKK hood to the grocery store after the city required face masks in public. His identity hasn't been released, but photos of the white male were spread across Facebook after he initially refused to remove the hood.
According to reports, employees approached the man several times as he shopped at a Vons store in the San Diego County city of Santee on Saturday. Tiam Tellez posted an update, along with photos, to Facebook later that day.
UPDATE: So I want to say Thank you to the management team. Several employees came over together and told the man to either remove the hood or he would have to leave, so he removed the hood, Tellez wrote. "So troublesome in so many ways this is still happening in Santee at Vons. Disgusting!"

"This guy is a sick, disgusting man," one person commented. "I WOULD NOT DO THAT BUT IT IS HIS RIGHT TO WEAR WHAT HE WANTS," another added.
Melissa Hill, a company spokesperson, said a supervisor asked the man one final time to remove the hood at checkout or he would be forced to leave. The man finally complied, paid for his items, and left.
"This was a disturbing incident for our associates and customers, and we are reviewing with our team how to best handle such inappropriate situations in the future," Hill said. "At Vons, fostering an environment of courtesy, dignity and respect is one of our highest priorities, and we work hard to hold everyone in our stores to these standards, including customers."
Cities in San Diego county have seen several heartbreaking incidents over the years. As elected officials made statements about the KKK hood-wearing man, one person made reference to a synagogue shooting that happened in Poway just last year.
"Thank you to @CityofSantee Mayor Minto, Supervisor @dianne_jacob @vons for your strong response to this act of hate. One year after the tragic synagogue shooting in @Poway we must ALL continue to stand up together against hate in our community and in our world," Tammy Gillies, regional director of the Anti-Defamation League, said on Twitter.
"The images I've seen are abhorrent," county supervisor Dianne Jacobs tweeted. "This blatant racism has no place in Santee or any part of San Diego County. It is not who we are. It is not what we stand for and can't be tolerated."
On Monday, the county sheriff announced that detectives are officially looking into the incident.
Do you think Vons handled the situation appropriately? Was the KKK hood version of a face mask Funny or Offensive? Vote and comment now…