Internet Responds to Melania Trump Vanity Fair Mexico Cover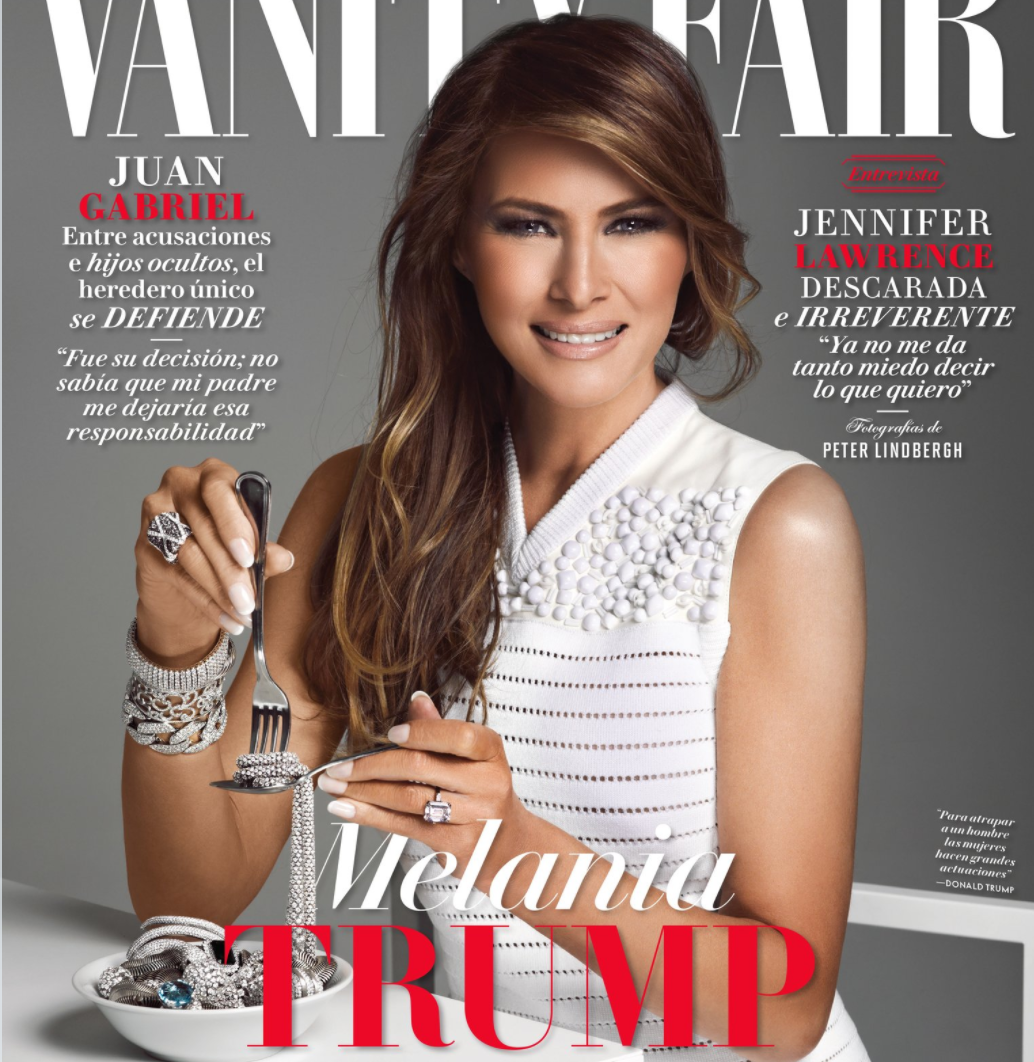 VOTE NOW! Is this Funny or Offensive?
Posted in:
Melania Trump Vanity Fair Mexico Cover Shines Trite Like A Diamond
January 27th, 2017 – Over the course of the past week, Donald and Melania Trump have both left quite an impression on Mexico. President Trump has been in a fued with Mexican President Enrique Peña Nieto over the border wall and whose paycheck will cover it. First Lady Trump has donned the cover of Vanity Fair Mexico with a portrait that has her eating a string of jewels the way one would slurp up spaghetti.
The cover of the February issue has come at a contentious time for both countries and quickly struck a sensitive, humorous and fiery chord with people.
Melania vs Homer
Thought Bubble Edition
Everyone's A Designer
Melania Math
So we have:
Melania Trump
+ cover of Vanity Fair MEXICO
+ eating jewelry
+ Wall construction bill… pic.twitter.com/xMW9XGrIBx

— Youri'B (@Youri_Bourgeois) January 27, 2017
Make An Appointment With Your Doctor
tfw you see the Melania Trump Vanity Fair cover pic.twitter.com/kVB7ucptBG

— Amanda M-W (@Manda_like_wine) January 27, 2017
Relatable…
Nothing says 'FOR THE ORDINARY FOLKS,' quite like eating a bowl of jewellery #MELANIATRUMP @VanityFair pic.twitter.com/JEuOPdeJqH

— Ian Murphy (@iMurphed) January 27, 2017
Speaking to The Guardian 
Better Than Fiction?
Can't make this up. Upcoming cover of @VanityFair Mexico with Melania Trump eating jewelry out of a bowl. The irony is mind-numbing. pic.twitter.com/cdLoc9VLkm

— Andrew Dumont (@AndrewDumont) January 27, 2017

Cosmopolitan has stated that the photograph is from a 2011 shoot with Philadelphia Style to promote FLOTUS' QVC jewelry collection.
Do you think the Vanity Fair Mexico cover is FUNNY or OFFENSIVE? Vote and comment below.