Robert De Niro Gets Bleeped At The Tony Awards: "F**k Trump"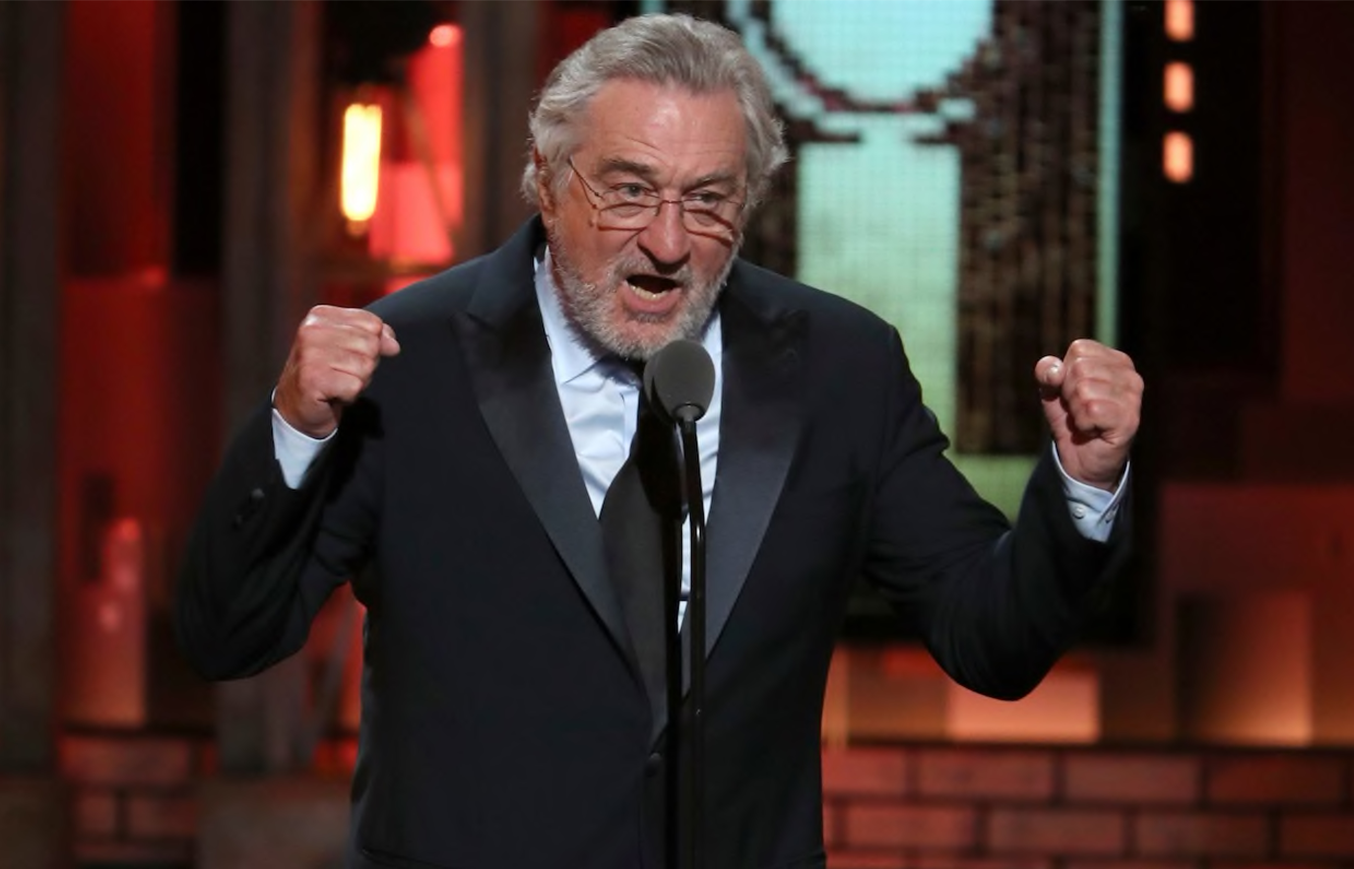 VOTE NOW! Is this Funny or Offensive?
Posted in:
No F**ks To Give
June 11th, 2018 – Robert De Niro gave another rousing performance last night as he gave the Tony Awards its viral moment. The Academy Award winner took the stage to introduce Bruce Springsteen but quickly turned his attention to fellow New Yorker, and current president, Donald Trump.
"I'm gonna say one thing: f**k Trump," De Niro said. The crowd stood and cheered loudly as the actor raised his fists in the air before laying another hit. "It's no longer 'down with Trump.' It's 'f**k Trump."
Once the crowd took their seats, De Niro pivoted the intro back to Springsteen but reminded everyone about the power of voting.
"Bruce, you can rock the house like nobody else and even more importantly in these perilous times, you rock the vote, always fighting for, in your own words, truth, transparency and integrity in government," he said. "Boy, do we need that now."
Springsteen performed a rendition of "My Hometown" from his acclaimed Springsteen on Broadway show, but viewers at home may have missed that while searching to see what word had been bleeped just moments before. CBS censored De Niro's comments, but as televisions went silent, Twitter had a lot to say.
Plenty of people sided with De Niro and reminded others that it's OK to be political in every part of your life, while others thought it was inappropriate and only harmed efforts to oppose Trump.
Theater is political. Sports is political. Life is political. Be political.

— Michael Ian Black (@michaelianblack) June 11, 2018
Robert De Niro is my favorite rapper.

— 🌹 Ferrari Sheppard (@stopbeingfamous) June 11, 2018
Hey America, Want to know why Robert De Niro said "f-k Trump" last night at the Tonys? Because he was born in Trump's hometown of NYC. Like all New Yorkers, he knows @realDonaldTrump If you don't feel the same way about him yet you don't know him like New Yorkers do But you will

— UNITE & FIGHT (@stopthenutjob) June 11, 2018
How to get a STANDING OVATION at The Tonys? Give the people what they want…always a crowd pleaser!!! #SpeakingTruthToPower #TuckFrump. https://t.co/EkTwqppMxK

— Mark Hamill (@HamillHimself) June 11, 2018
If this is a world where Robert De Niro is vile and Donald Trump isn't, launch me into fucking space.

I'm done. — Six Foot Brown Yoda (@logic_avenger) June 11, 2018
Robert De Niro you have again cheapened yourself & embarrassed well meaning liberals everywhere! Do you think being so vulgar on live tv does anything but destroy your cause? You probably don't cause your Hate is all you have to share. SAD! https://t.co/tLWwGeljkc via @variety

— GuysForTrump (@GaysForTrumpFL) June 11, 2018
The Hollywood elite yet again show just how out of touch they are with the American people. This is appalling… https://t.co/O9vN6CqJHU

— Kayleigh McEnany (@kayleighmcenany) June 11, 2018
And, of course, Mike Huckabee had another zinger to share!
I just called Robert De Niro and told him that he's out of my "circle of trust." He cried like a 6 year old who didn't get cake at the birthday party and begged to get back in. https://t.co/XK6YKlRw96. https://t.co/GdNOKSwxRI

— Gov. Mike Huckabee (@GovMikeHuckabee) June 11, 2018
De Niro has long had no f's to give when it comes to Donald Trump. In the past he has showered him with such endearing terms as "the j***-off-in-chief," "fu**ing idiot," and "baby-in-chief."
No word yet from The White House or Trump's Twitter account calling the actor "low energy" or the show "low ratings." The Tony Awards did pull in 6.32 million viewers – a bump from last year's ratings.
Watch the unedited comments from Robert De Niro, and let us know your thoughts about the Tony Awards moment. Was it Funny or Offensive?
Here's video of DeNiro swearing at Trump on #TonyAwards Australian feed didnt censor it. pic.twitter.com/KZNrT8UIyH

— Rhett Bartlett (@dialmformovies) June 11, 2018