Strip Club Offering Drive-Thru Shows Despite Coronavirus Shutdown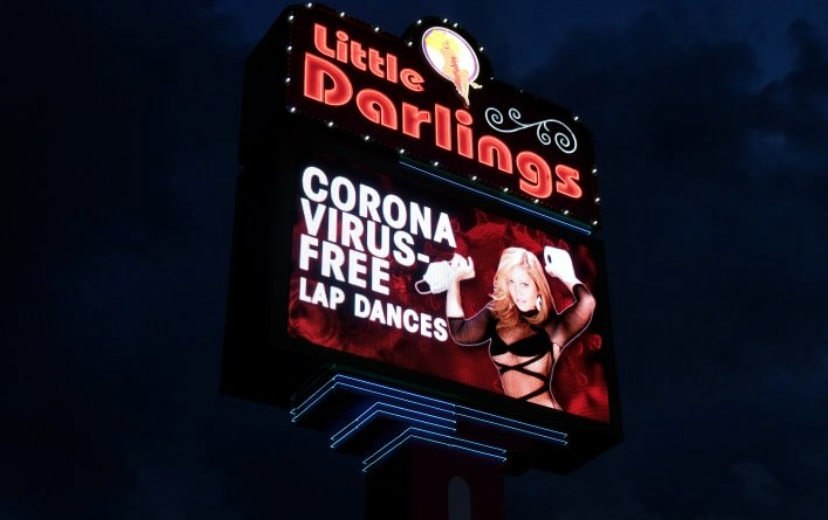 VOTE NOW! Is this Funny or Offensive?
Take it off! Over there!
March 20th, 2020 – One strip club in Nevada refuses to let the Coronavirus, or the Governor, shut down the party. Despite the recent 30-day (minimum) shutdown of non-essential businesses, Little Darlings has deemed themselves a necessary resource to adult entertainment-deficient Las Vegas residents.
Ryan Carlson, director of operations for the 30-year-old establishment, said the club will debut "drive-thru" strip shows as well as "nude triple-X hand sanitizer wrestling." While most people are screaming at their "Item Not Available" message on Amazon, Little Darlings seems to have plenty of sanitary supplies.
"On Saturday we're doing nude triple-X hand sanitizer wrestling," Carlson said. "We have about 20 gallons of hand sanitizer, and we're doing a cool nude hand sanitizer wrestling show."
Earlier this month, the strip club made headlines for another promotion in the fight against the virus. They gave away 50,000 bottles of hand sanitizer to customers who visited the establishment.
"An opportunity to help with the coronavirus scare is extremely important to us," manager LeAnna DaPoint said. "Las Vegas is a tourist mecca and we have to do everything possible to stay virus free."
This time around, Carlson is truly merging the worlds of adult entertainment and the Centers for Disease Control. Keeping six feet away from each other, dancers will perform for people while they sit in their sanitized cars.
"We're going to offer drive-up window strip shows," Carlson said. "Guests can drive up to the front door and we're going to have dancers separate by the 6-foot separation rule and they can enjoy a totally nude show right from the seat of their car."
The show is scheduled to last 10 minutes and will cost car-sitters $100. The first drive-thru experience will take place this Saturday with more scheduled if the response is high. For those who brave the inside of the strip club, Carlson said even more precautions are being taken: hand washing every 30 minutes for employees and performers and temperature-taking for every guest who enters.
As of today, 15,219 cases have been confirmed by the CDC amid limited testing. Nevada has been operating under shutdown regulations since Wednesday with non-essential shops closing their doors. Carlson believes his business, specifically his dancers, are a necessary part of our lives.
"America is a free country," Carlson said in a statement to KLAS-TV, "and strippers will continue to be a part of the fabric of American life."
Are you tossing out dollar bills or judgmental looks over the decision to keep the strip club open? Funny or Offensive? Vote and comment now…