Teacher Wears Bodysuit To Give Science Lesson For Third Graders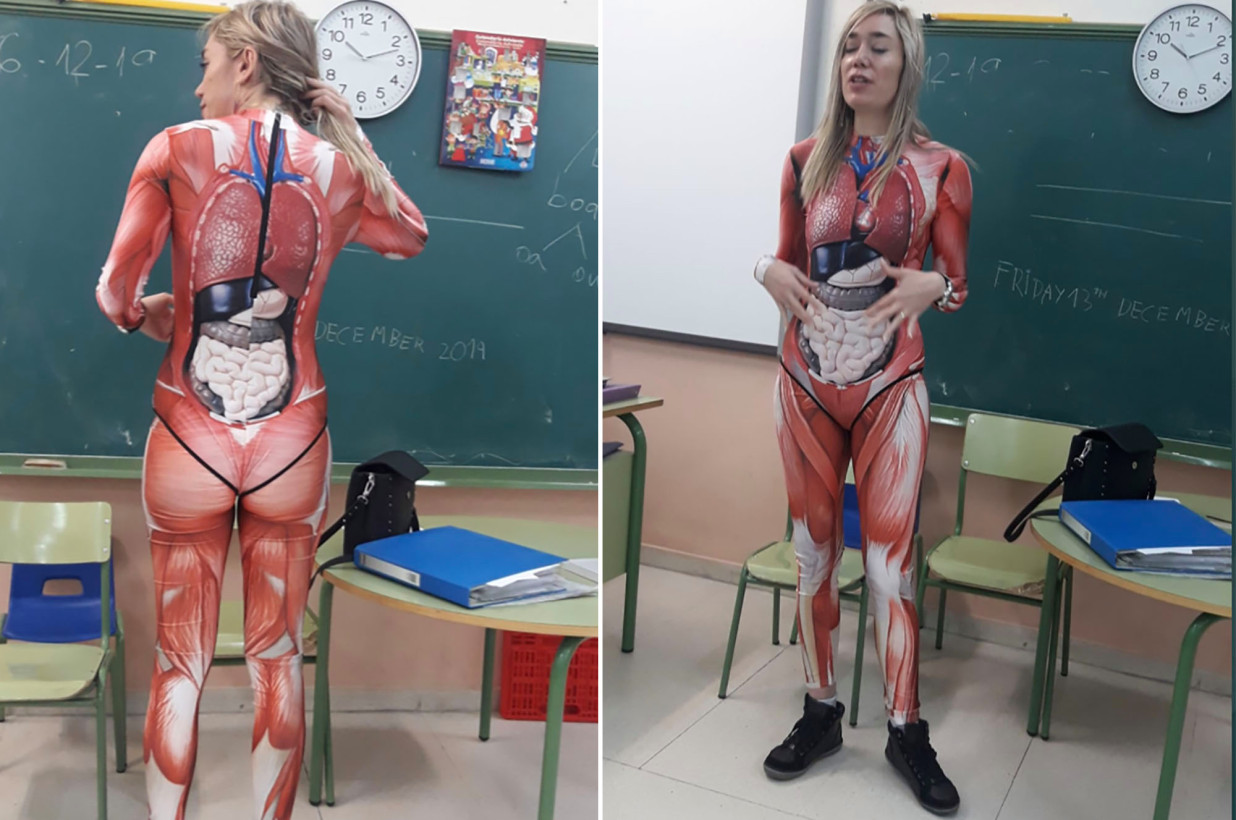 VOTE NOW! Is this Funny or Offensive?
Posted in:
Teaching From The Heart, and Other Organs
December 28th, 2019 – An elementary school teacher in Spain took a note from the sports world and left it all on the field. Verónica Duque's field has been a classroom for the past 15 years, and when lessons of anatomy appeared on the syllabus she decided to get creative by wearing a skintight bodysuit for her third grade students.
Duque teaches a variety of subjects including science, art, and English and has always strived to think outside the box in order to engage kids with the material.
"I was surfing the internet when an ad of an AliExpress swimsuit popped up," she said. "Knowing how hard it is for kids this young to visualize the disposition of internal organs, I thought it was worth it giving it a try."
Duque's husband, Michael, joined her in the classroom but didn't reveal any internal organs. Instead, he photographed the lesson and put the pictures on Twitter where they have gone viral. As of this posting, the tweet has nearly 70,000 likes and 14,000 retweets.
"Very proud of this volcano of ideas that I am very lucky to have as my wife," he wrote in Spanish. "Today she explained the human body to her students in a very original way [and] the kids were freaking out. Great Veronica!"
Muy orgulloso de este volcán de ideas que tengo la suerte de tener como mujer😊😊
Hoy ha explicado el cuerpo humano a sus alumnos de una manera muy original👍🏻
Y los niños flipando🤣🤣
Grande Verónica!!!👏🏻👏🏻😍😍 pic.twitter.com/hAwqyuujzs

— Michael (@mikemoratinos) December 16, 2019
Most people responded to Micheal's post with praise and admiration for a teacher who goes the extra mile for her students. But when comedian Will Mosley shared the pictures and addressed the double standard between a white woman and a black woman wearing the bodysuit, some negative comments started to roll in.
If she was black with curves they would have been outside with fire and pitchforks https://t.co/cRhx2Uz7M2

— Will Mosley (@DontWatchWill) December 24, 2019
You're right and the funny thing is I never said I didn't think it was a good idea nor did I sexualize her I merely mentioned the double standard and people lost their minds 😂

— Will Mosley (@DontWatchWill) December 25, 2019
🤦‍♀️🤦‍♀️ it's a 3rd grade class. There's nothing inappropriate about learning science.

— Hannah Lee (@hannahlee_42) December 24, 2019
https://t.co/fDLubPeSFB https://t.co/vF760Z2jUr

— Nate 🚀 (@KiddNateDogg) December 24, 2019
Defenders of the bodysuit made reference to Slim Goodbody, a fictional character created and performed by John Burstein in the 70s. He wore a tight, anatomically correct costume during educational videos that eventually made their way to PBS and Nickelodeon.
For her part, Duque is proud of her creative approach to teaching and doesn't plan on hanging up her costumes any time soon.
"I decided long ago to use disguises for history lessons," she said. "I'm also using cardboard crowns for my students to learn grammatical categories such as nouns, adjectives, and verbs. Different grammar kingdoms, so to say. I'd like society to stop considering teachers to be lazy bureaucratic public servants. We're certainly not."
What do you think of Verónica Duque's bodysuit lesson plan? Funny or Offensive? Vote and comment now!