Tila Tequila Drops Phony Apology After Racist Rant (video)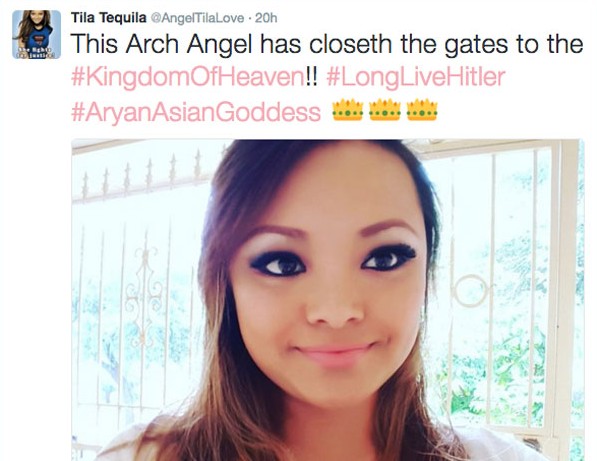 VOTE NOW! Is this Funny or Offensive?
Posted in:
Tequila Mocking Words
June 13, 2016 – Former reality television entity and National Socialism enthusiast, Tila Tequila, nee Thien Thanh Thi Nguyen, is at the center of a Twitterstorm of controversy for her recent comments on undocumented immigrants hastagged #SendThemBack. The spotlight-seeking 34 year old has been on a social media tear of late swinging from praising Adolf Hitler to slamming "Mexican with money" JLo to insisting that the Earth is flat.
Ain't nuthin better than riding around Texas in my cowboy boots to hunt down these damn illegals! #SendThemBack pic.twitter.com/V97SlSiOAY

— Tila Tequila (@AngelTilaLove) June 7, 2016
The Twitter fixture has been a vocal supporter of GOP presidential candidate Donald Trump and posts messages advocating for him and his policy views. She even goes on to claim that she has a direct connection to Trump's decision making. Among  the more cringe-worthy Tweets was one with a picture of Donald Trump superimposed over a capsizing boat full of presumably political refugees. The caption reads: "My spirit was here when this happened." Tequila's timeline has long been filled to bursting with racist insults and appeals to white supremacy so this latest outburst is very much in character.
Well yes. I am the #NWOQueen duh! Who do you think is controlling Trump via mind control? 😀 https://t.co/qkwgcnl5Sj — Tila Tequila (@AngelTilaLove) June 8, 2016
The former star of "Celebrity Big Brother" and 2007's "A Shot at Love with Tila Tequila" has been notorious for her incendiary often incoherent opinions, but after a 30,000 response backlash from her latest rant the self-styled queen of MySpace chose to delete her Twitter account. Whatever reservations she had were short-lived as the account was reactivated a day later whereupon Tequila posted an even more inflammatory "apology" mocking her critics as "losers."
One astute Twitter user was unimpressed suggesting the following:
"Oh, and by the way, you should remove 'tequila' from your name… tequila comes from Mexico…"
While another offered a more colorful opinion on the origin of Tequila's peculiar views:
"Sorry ass bitch thinks she's white.. You have the most confused soul in this world you dumb bitch. Too many d–ks up the a-s I'm guessing…"
As it stands the Singapore-born aspiring social media maven continues to provoke a strong response to her Internet presence and doesn't appear likely to change her ways.

Here's Tila Tequila's "apology" she posted to Facebook: