Pander Express – Trump Tweets Tacos for Cinco de Mayo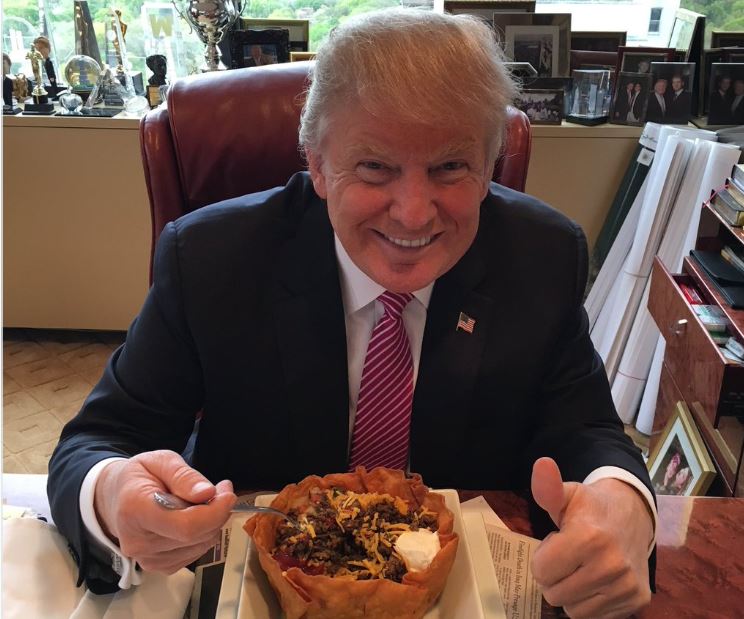 VOTE NOW! Is this Funny or Offensive?
Posted in:
Trump Tweets Tacos
May 5, 2016 – BREAKING: Donald Trump loves Hispanics! He also loves eating taco bowls from his own restaurant in his own tower on a holiday that actually commemorates the Mexican army's 1862 victory over France at the Battle of Puebla during the Franco-Mexican War. But tact and accuracy be damned for the presumptive Republican Presidential nominee. Earlier today Trump wished his Facebook and Twitter followers a happy Cinco de Mayo with a photo of himself eating a taco bowl on top of a bikini-wearing photo of his ex-wife, Marla Maples.
Happy #CincoDeMayo! The best taco bowls are made in Trump Tower Grill. I love Hispanics! https://t.co/ufoTeQd8yA pic.twitter.com/k01Mc6CuDI

— Donald J. Trump (@realDonaldTrump) May 5, 2016
"I love Hispanics!"
His big grin and thumbs up reveals his enjoyment of the occasion but his statement revealed where you can apparently find the best Mexican food. "Happy #CincoDeMayo! The best taco bowls are made in Trump Tower Grill," he posted. And to really drive his main point home he added "I love Hispanics!"
As with every viral Donald moment over the past year, his supporters turned up saying they feel the exact same way and his opponents broke his gaffe down point-by-ever-loving-point. From calling the post out as a publicity stunt to alleging his absurd ineptness to reminding people that he's only hated illegal immigrants, the list of comments grew longer than Carly Fiorina's Vice Presidential run.
Trump's #CincoDeMayo tweet was predicted last Halloween. #Trump #MakeDonaldDrumpfAgain @realDonaldTrump pic.twitter.com/hldelMykhh

— Norman Golightly (@NormanGolightly) May 5, 2016
As Trump has mentioned, he knows he has to start appearing more presidential, and it's likely the time has come to appeal to the groups of people he has been less than presidential towards over the course of his campaign. One user's comment speaks to the side that believes he missed the mark: "'I love Hispanics' while eating the whitest rendition of Mexican food there is. Lord help us all," Bethany Dillinger posted.
"Herspanics are great too! Classy ladies. They love me! Have you seen the body on that Modern Family broad?" https://t.co/D98MvGJOmy — Twitnter is Coming (@OhNoSheTwitnt) May 5, 2016
There are many holidays between now and November. Everyone calm your anticipation for how Trump may try to appeal to African American voters on Juneteenth.
Down another taco bowl and let us know if the Trump Taco tweet for Cinco de Mayo was Funny or Offensive! VOTE and COMMENT now…