Wall Built Around Donald Trump's Hollywood Walk of Fame Star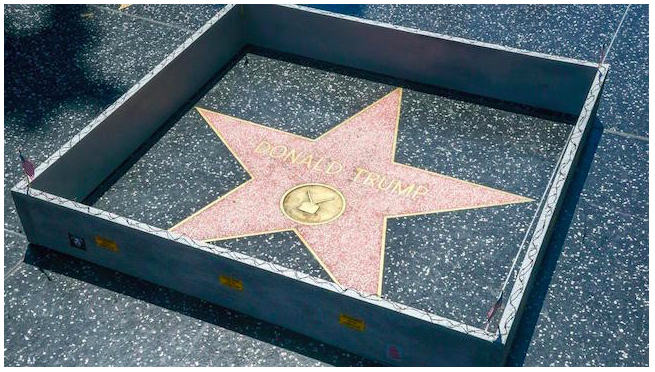 VOTE NOW! Is this Funny or Offensive?
Posted in:
Make Stars Great Again
July 20th, 2016 – Mexico didn't pay for it, but a wall was built around Donald Trump's star Tuesday on the Hollywood Walk of Fame. As Trump shifted from being the presumptive Republican nominee to the party's official Presidential candidate, a street artist erected the small concrete wall for all to see. Plastic Jesus has taken credit for what he calls an "unusual addition" to the iconic tourist attraction.
"Complete with 'Keep out' signs and topped with razor wire, he posted on Instagram. "The unofficial addtion to the iconic star appeared early Tuesday afternoon, to the amusement of onlookers."
The six inch wall, though small in size, had the power to turn a lot of heads and was the subject of a lot of photos. The wood and concrete wall has been out for two days now on the tourist-heavy block of Hollywood Blvd. Laist.com reported that the street artist sees the piece as a humorous installation and is "intended to focus on Trump's ridiculous idea of building a wall." Plastic Jesus also told them the timely wall was only up for about 10 minutes yesterday and suspects the Chamber of Commerce may eventually remove it from the sidewalk.
As photos and stories of the star-wall have made the rounds online, plenty of people have criticized the legitimacy of the art and have defended Trump's plan, while others seem to take a more lighthearted approach.
Is the wall around Donald Trump's Walk of Fame star a funny jab or does it go too far? Funny of Offensive? Vote and comment below.