51 Foot Joint at DNC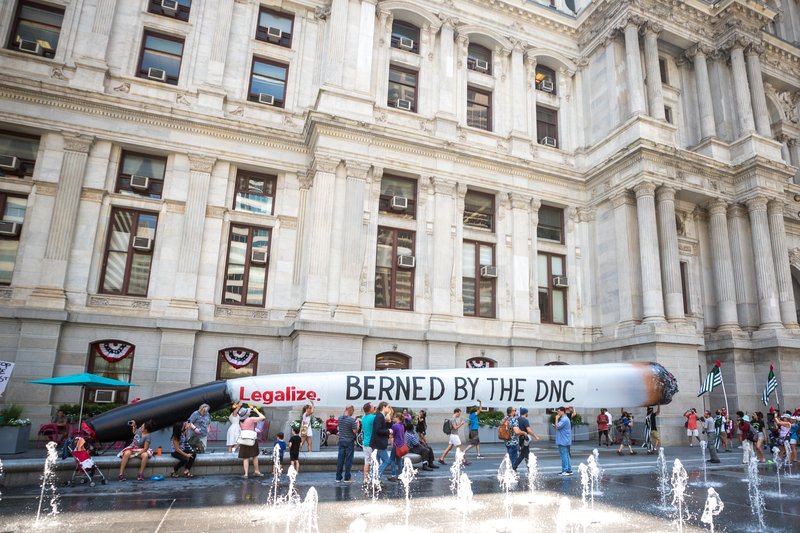 VOTE NOW! Is this Funny or Offensive?
Posted in:
SPLIFF DECISION
July 27, 2016 – Over a hundred years since hemp parlors first graced the City of Brotherly Love, some advocates for marijuana legalization would like to set the nation's one time capital ablaze again. 
Weed aficionados are descending on the Democratic National Convention this week and
they're holding in a big way
. Although a path to legalization is on the Democratic platform this election year, the demonstrators plan on marching their 51 foot joint to the steps of the convention to ensure their voices are heard.
Protestors suffering from a variety of ailments were a part of the rally. They spoke about their reliance on medicinal marijuana in easing their symptoms and want any legal obstacles removed for people seeking relief from chronic illness and pain. One participant visiting from their native Vermont told a local news outlet:
"It's a plant, and you don't have to try it if you don't want to, but everyone should have the right to have access as a first resort — not a last resort."
The high temperatures didn't keep the stoner rebellion from taking place and they had plenty of company as protestors backing an array of political ideologies. The doobie-loving demonstrators aligned with a group calling itself the "No More Drug War Coalition" solicited help from volunteers around the downtown Philadelphia area to help walk one of two the inflatable blunts from City Hall to the Wells Fargo Center on the convention's first day. The giant joints carried the two messages: "Legalize. Berned by the DNC" and "Legalize Cannabis Now."
DISTRICT OF CANNABIS, CHAPTER 5: The church, the White House, and the 51-foot marijuana joint … pic.twitter.com/qWx5lkTUxf

— ⚡Ofra Ziv⚡ (@Iconjurer) May 22, 2016
"We want to make sure all candidates are for full-legalization of cannabis," said Nikolas Schiller, who, along with others, used their pro-marijuana DCMJ.org, to help get cannabis decriminalized in Washington, D.C. 
U.S. Drug Enforcement Administration currently classifies cannabis as "a "Schedule 1″ substance with no currently accepted medical use and a high potential for abuse," something the bud bros want to change.
"We want to see people go from a mostly alcohol and tobacco world to a mostly marijuana world."
So is the 51 foot spliff just freedom of speech or flagrant disregard for federal law? Funny or Offensive? Vote and Comment now!