Arthur the Aardvark Gets Adult Meme Makeover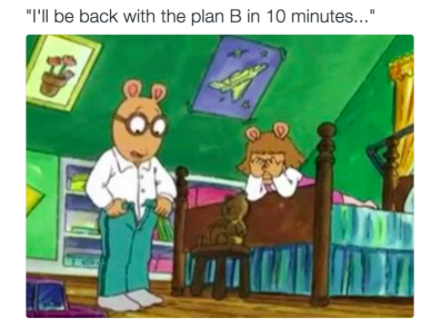 VOTE NOW! Is this Funny or Offensive?
Posted in:
Arthur Savage AF
August 8th, 2016 – A long running public television staple is the latest victim of the Internet and some people, including the show's creators, are not happy. Arthur, chronicling the adventures of a bespectacled aardvark and his colorful cast of family and friends, has recently become fodder for a more "mature" set of online memes. Various characters from the Emmy-winning children's program have previously been depicted in comedic scenarios addressing the foibles and frustrations of daily life, but some of the newest memes are notable for being racially and sexually explicit.
"this email and password combination could not be found" pic.twitter.com/RefqffLF8A

— Ziwe (@ziwe) July 28, 2016
A spokesperson for WGBH, the Boston-based public television affiliate responsible for the show, has publicly acknowledged the memes saying that while they recognize that the show's fans have created images without ill-intent they are ''disappointed by the few that are outside of good taste.'' The spokesperson went on to say:
 ''Our hope is that Arthur and his friends will be depicted in a way that is respectful and appropriate for all audiences, including young Arthur fans and their families.''
For almost twenty years the animated program, based on a book series, has explored young people's issues and earned a new generation of fans in millennials, who are likely the same people using words like "thot" to describe some of Arthur's friends.
While the show's creators have gone on record voicing their disapproval that hasn't stopped people from sharing the racy memes online. Some popular social media celebrities have applauded the creativity of those creating and retweeting the images, and an account solely focused on displaying the salacious side of Arthur has racked up more than 120k followers.
My timeline is sexualizing my childhood favorite, Arthur the aardvark, and quite frankly, I am here for it — christine teigen (@chrissyteigen) July 28, 2016
When it's been 4 hours into netflix and chill & she's still clueless pic.twitter.com/N91FCKdvWF — Arthur (@NoChilIArthur) August 3, 2016
when she about to send nudes so you sit there waiting like pic.twitter.com/duOv67ffwx

— Arthur (@NoChilIArthur) August 6, 2016
Despite the official rebuke, there seem to be no signs of the foul-mouthed fun stopping anytime soon. The animated series has been on air since its September debut in 1996. It is currently the second longest active running show on PBS Kids trailing only behind Sesame Street. Arthur may soon be giving Elmo some advice on how to bounce back after getting meme'd.
Do you find the adult-themed Arthur memes Funny or Offensive? Vote and comment below.