Vietnamese Airline Soaring With Bikini Flight Attendants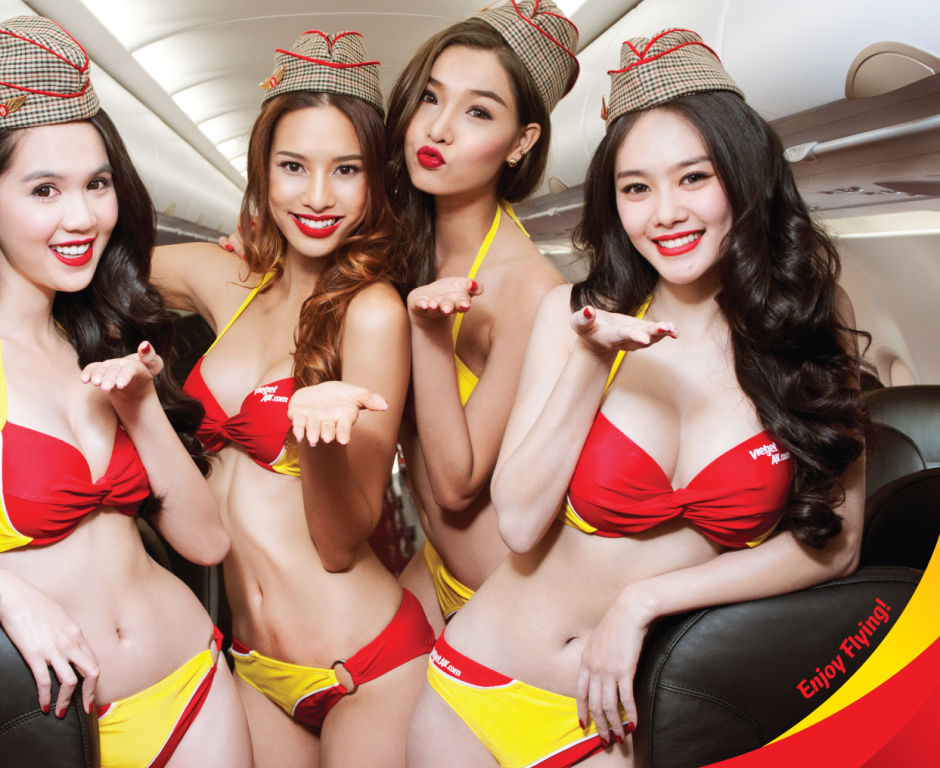 VOTE NOW! Is this Funny or Offensive?
Posted in:
AIR (STRIP) SHOW
August 8th, 2016 – A tiny Vietnamese airline has drawn the attention of news outlets around the world as well as a finger wagging from the country's aviation authorities. Nguyen Thi Phuong Thao parlayed her business acumen into a small fortune then launched her very own commercial airline in competition with the air service operated by Vietnam's communist government. Thanks to PR stunts that feature attractive, bikini-clad, female flight attendants the airline is set to claim the lion's share of the nation's flight traffic and
make Thao a very wealthy woman
.
The turbulence over the barely dressed beauties reached its height when publicity photos of a VietJet flight crew appeared on social media. Many commenters
disapproved of the risqué images
criticizing them for being degrading towards women. At the time, officials with the airline claimed that no final decision had been made regarding the use of the photos for promotional purposes and insisted that the release of the sexy snaps was not a marketing ploy. VietJet has relied on bikini-wearing employees to usher in newly added flight routes. Attendants performed a Hawaiian-style dance for passengers on the inaugural flight between Ho Chi Minh City and a popular resort town on Vietnam's coast.
The company CEO has no qualms about her newly multiplied wealth or the sexy public profile of her airline,
saying in a statement
:
"We don't mind people associating the airline with the bikini image. If that makes people happy, then we are happy. You have the right to wear anything you like, either the bikini or the traditional ao dai."
The red & yellow outfits for the company's airhostesses don't appear to be permanently grounded regardless of any public outcry. On the contrary, the bikini billionaire doesn't see a ceiling for the airline. When asked just how high she sees her company going Thao revealed what she
sees on the horizon
:
"We look at Emirates, which came from a country with a small population and has become a global airline. We want to make VietJet the Emirates of Asia."
Tell us what you think: just a little in-flight foolishness or should this fetching flight get cancelled? Funny Or Offensive? Vote and comment now.