Bikini Baristas Scalded By New Dress Code Law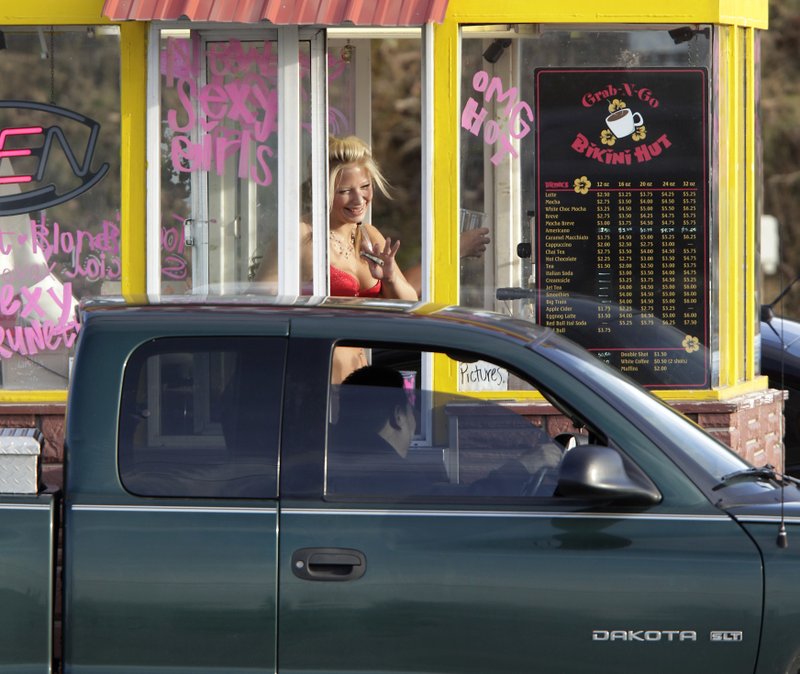 VOTE NOW! Is this Funny or Offensive?
Posted in:
Peek-A-Brew Problems
September 20th, 2017 – Bikini baristas in Everett, Washington have sued the city after it passed two ordinances banning bikinis and bare skin for restaurant employees. These bikini-wearing brewers have become quite well known in the Seattle area after more and more pop-up coffeeshops began opening in Snohomish County over the years. Showcasing creative names ("Peek-A-Brew Espresso," "Knotty Bodies Espresso," "Hillbilly Hotties," and "Natte Latte"), these establishments are known more for the body of the woman serving you than the body of the coffee you'll be drinking.
The new ordinances require covering "minimum body areas" including breasts, torso, and the top three inches of legs below the buttocks while working at "quick service restaurants." One new law also requires employees to wear a minimum of tank tops and shorts.
Seven bikini baristas and one owner of a chain pop-up shop (Hillbilly Hotties) have determined the new laws to be vague, confusing and a violation of their constitutional rights. They claim that their ability to communicate via their attire has been denied and that these new laws unfairly target women and infringe on their right to privacy.
"Just like Starbucks with green aprons, UPS with brown trucks and outfits, and Hooter's with short-orange shorts, the baristas' attire evokes a message at work," the lawsuit states. They define those messages as "freedom, empowerment, openness, acceptance, approachability, vulnerability and individuality."
Attorney Schuyler Lifschultz spoke to The Seattle Times about the violation these ordinances have caused.
"This is not about the bikini," he said. "It's about women's rights and the U.S. Constitution. The City of Everett violated these women's rights across the board."
The ordinances were passed unanimously by the City Council last month but come after years of contentious relations between Everett officials and the drive-through establishments. In 2009, many female employees of bikini coffeeshops were arrested for indecent exposure and prostitution charges after an undercover police investigation exposed the $80 erotic shows they were offering.
Plaintiffs continue to say that these recently passed laws prohibit them from interacting with customers in a more open way. They believe that wearing minimal clothes provides them the opportunity to show off tattoos and scars, which allow conversations about their lives to happen while serving the customer.
"This is about women's rights. The city council should not tell me what I can and cannot wear when I go to work. It's a violation of my First Amendment rights," barista Natalie Bjerk said. 
Where do you fall in this bikini battle? Is this a constitutional violation of rights to free expression or is the city enacting a law that will ensure order and safety?