Black Child Used In Mock Slave Auction At New Jersey Elementary School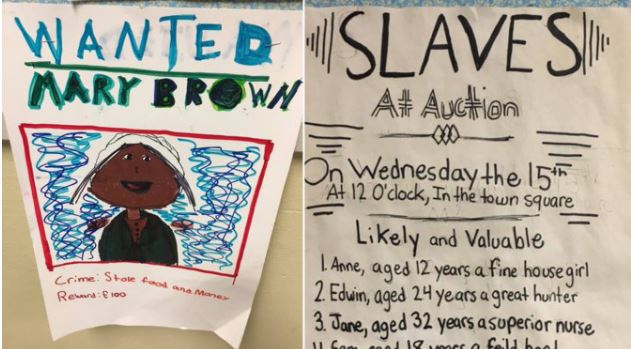 VOTE NOW! Is this Funny or Offensive?
Posted in:
Head of the Crass
March 25th, 2017 – A substitute teacher is in trouble for organizing a mock slave auction for a class of 5
th
graders at a
New Jersey elementary school
. Parents of 5
th
graders at Jefferson Elementary in Maplewood, New Jersey were outraged and expressed serious concerns about the effects such thoughtlessness might have on young children. Said one parent:
"There was a sale of a black child by white children in the classroom. If you're demoralized — sold on a block in 2017 — it may affect you the rest of your life."
The principal of Jefferson Elementary described the auction as an "impromptu" occurrence and that the class' regular teacher was not present when the decision was made to conduct the auction. In a letter to parents, the principal stressed that this was an anomaly:
"The activity was not part of the curriculum, not part of the teacher's assignment, not condoned by the classroom teacher, and not authorized by the district."
The slave auction incident came less than a month after more racially insensitive, slavery-related course work was handed out at another New Jersey elementary school.
Students were instructed to create posters
that, among other things, advertised the auction of slaves as well as "wanted posters" for those who had escaped enslavement. The posters were created as a part of a lesson plan on Colonial Era America. Regarding the poster controversy, one commenter said:
"I see nothing wrong with this, people just need something to complain about. There were slaves in history and they were sold at auction."
A school district spokesperson told local media outlets that the screening process for substitute teachers would be re-evaluated going forward. Meanwhile, District Superintendent John Ramos reiterated in a statement to parents that no conscious effort was made to demean or humiliate any of the district's children:
"We certainly understand and respect the strong reaction which some parents had to seeing slave auction posters included with other artwork from the assignment. We are rethinking the Colonial America Project for next year."
How do you think creative classroom lessons should be handled for historically sensitive subjects? Did the slave auction reenactment and the wanted posters cross a line? Was it Funny or Offensive? VOTE and COMMENT now…