Black Olives Matter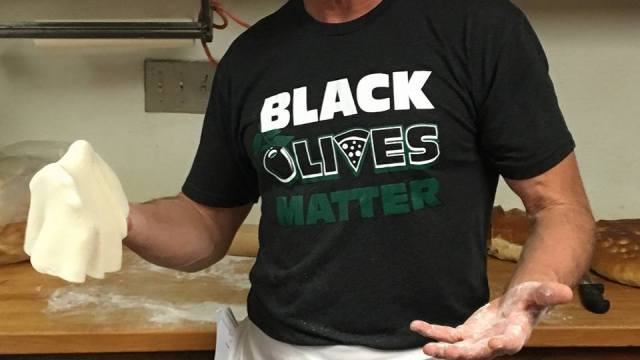 VOTE NOW! Is this Funny or Offensive?
Posted in:
Olive Oil
August 19, 2016 – A restaurant in New Mexico is coming under fire for its most recent promotional campaign.
Paisano's
first gained national attention in July when its owner posted the phrase "Black Olives Matter" on the
marquee outside of the Albuquerque eatery
to promote a featured dish.
Calls to remove the sign were eventually heeded after complaints from the local chapter of the NAACP amid charges that the sign trivialized the
Black Lives Matter
movement. 
In a statement the Albuquerque branch of the social justice organization said:
"Hopefully, the owners at Paisano's will be a bit more sensitive in the future. Unjustified killing of innocent Black men is nothing to joke about. Whether it was intentional or not, it sent the wrong message to many."
Now the restaurant is offering "Black Olives Matter" branded t-shirts and merchandise.
When asked about the response from customers Paisano's owner remarked:
"It's gone so viral. We've gotten calls from Australia, Spain, France, you name it. We're sending T-shirts to Alaska, from sea to shining sea and from coast to coast and from border to border."
The positive reaction suggests the restaurant will continue to make money parodying a civil rights movement's efforts to hold law enforcement agencies accountable for the use of lethal force against unarmed citizens. The family-owned business, whose owner says all of the messages on his restaurant's sign are "a little funny" and "racy" says he doesn't see the shirts and hats as controversial at all and that critics are reading too much into the situation.
"I think if that offends some people, a statement about black olives, that somebody needs to reevaluate their politically correct meter."
The social media response has been passionate on both sides with some calling out the restaurant for being insensitive while many others have posted messages of support and their intentions to patronize the establishment as soon as possible. Paisano's sign was the subject of a comedy bit on the now cancelled "Nightly Show with Larry Wilmore" to which the restaurant responded by posting a job offer to Wilmore on the same marquee satirized in the sketch.
"Black Olives Matter" – Good marketing or bad taste? Funny or Offensive? Vote and Comment below…