Calvin Klein Upskirt Campaign Gets Kick in the Crotch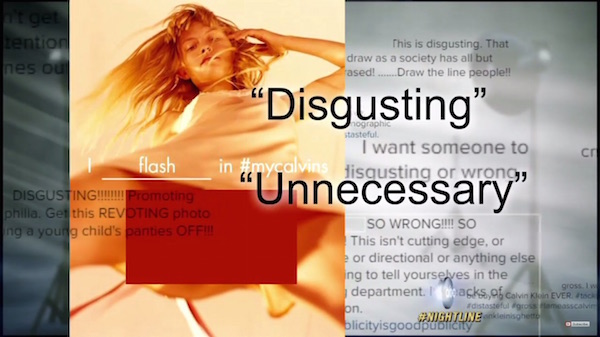 VOTE NOW! Is this Funny or Offensive?
Posted in:
Calvin Klein Upskirt Campaign Gets Kick in the Crotch
May 13, 2016 -Clothing designer Calvin Klein's latest ad campaign is prompting
allegations of sexism and being just plain creepy
. The ad, posted on the controversy-courting fashion icon's the Instagram account, featured 22 year-old model Klara Kristin photographed from below revealing her Calvin Klein panties underneath her slip. The promo evokes the pervasive "upskirt" fetish popular in adult chat rooms and online pornography websites.
The uproar over the ad should come as no surprise as Klein's underwear campaigns have prompted public outcry since the 1980's.
Equally expected were the calls denouncing the photo as promoting the objectification and harassment of women. Unhappy Twitter users called the photo "predatory" and "disgusting" and tagged the photo #sickening. Conversely, some online commenters didn't see a problem with the ad offering that it was a sign of 
"the new world" and anyone who had a problem with the ad should just "get used to it".
#IcutCalvin
The septuagenarian marketing maven may have finally gone too far. At least that's the opinion of the National Center on Sexual Exploitation, which immediately 
launched a petition
 demanding that the image featuring Kristin be removed from the campaign. The organization also started the hashtag: "#IcutCalvin" on their social media pages condemning the clothing maker for " their track record of ads featuring topless, underage models and scenes suggesting gang rape." The group, advocating "freedom from sexual exploitation, objectification, and violence", goes on to say in a statement on their website:
"

By normalizing and glamorizing this sexual harassment, Calvin Klein is sending a message that the experiences of real-life victims don't matter, and that it is okay for men to treat the woman standing next to them on the metro as available pornography whenever they so choose

."
Despite the loud protest from social media there are those who continue to dismiss their concerns and even showing their support for the campaign. Regardless of the vocal criticism of the campaign the fashion house shows no signs of making a change and will likely allow the ad to continue doing what it was designed to do: generate publicity.
You make the call. Was the Calvin Klein upskirt ad Funny or Offensive? VOTE and COMMENT below…