New Dating Site Matches Canadians with Americans Fleeing the Trumpocalypse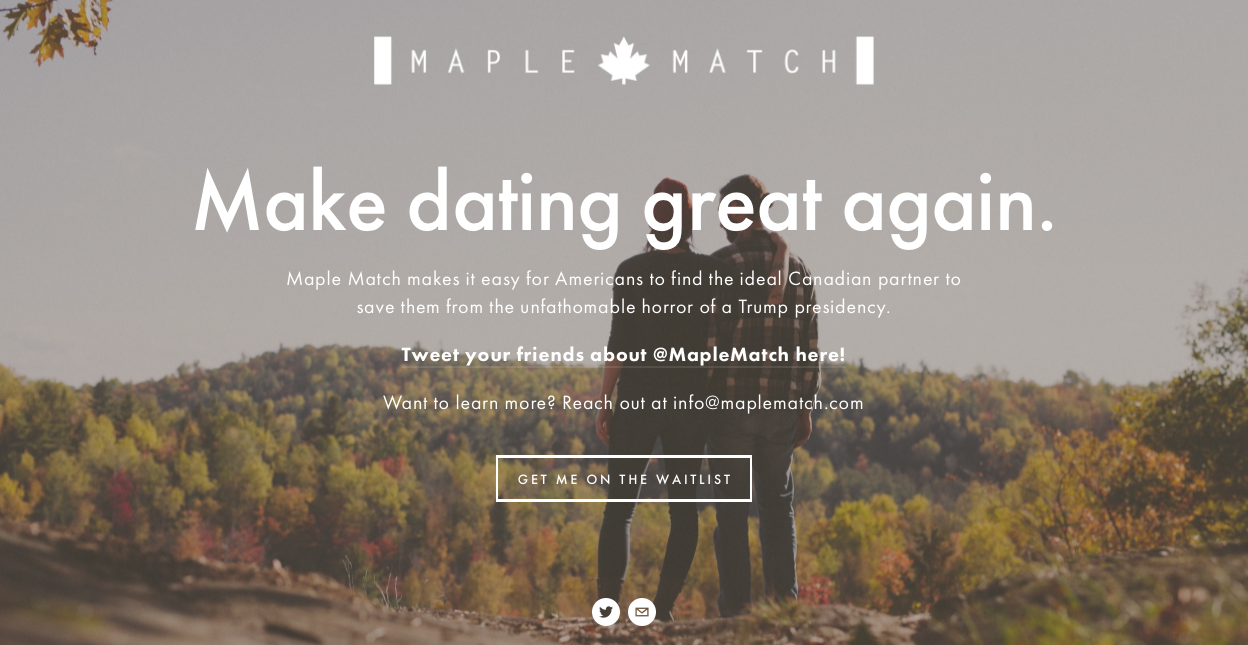 VOTE NOW! Is this Funny or Offensive?
Posted in:
Maple Match Dating Site Matches Canadians with Americans
May 13, 2016 – If you're tired of swiping right and left, and you're terrified of living under a Trump presidency, Maple Match wants you to queue up!
For those not heeding their parents' suggestion that maybe missionary work could be a way to get out of the country, Maple Match gives singles the shining hope that they could live in a different country while also finding oot* who the love of their life could be.
Couples who find love through the site can invite Joe Goldman to their weddings. The 25-year-old Texas based education researcher and entrepreneur started the site after hearing many friends threaten to leave the U.S. if Trump proves victorious.
As the site stands now, you can join the waitlist by adding basic information, declaring citizenship and specifying who you'd like to "shack up with." One click of the "SAVE ME FROM THIS MADNESS" button and your escape plan has begun.
The site launched last week and the sign-up numbers have started to climb. Goldman said 13,000 people have signed up with a quarter of them being Canadian. He hopes to start the matching process soon. "The response has been tremendous,' he said. "I'm getting people from all over, but the strongest responses have been from Seattle and New York City. Our first inquires came from Billings, Montana."
Bwah: 'Maple Match' Dating Site Hooks Up Trump-Hating Americans With Canadians https://t.co/Db3rRmGbRe via @nbcnews

— S.E. Cupp (@secupp) May 11, 2016
As with humor and politics, tons of people are chiming in with their thoughts on Maple Match.
The site won't cost you anything to sign up except maybe a Trump-loving friend. Do you find the new dating site Funny or Offensive? VOTE and COMMENT below…
(**FOO does not condone the overuse of the word "oot" in an article about Canada. We barely used it once, eh?)