Cinnabon and Steve Martin Publicly Shamed For Carrie Fisher Tributes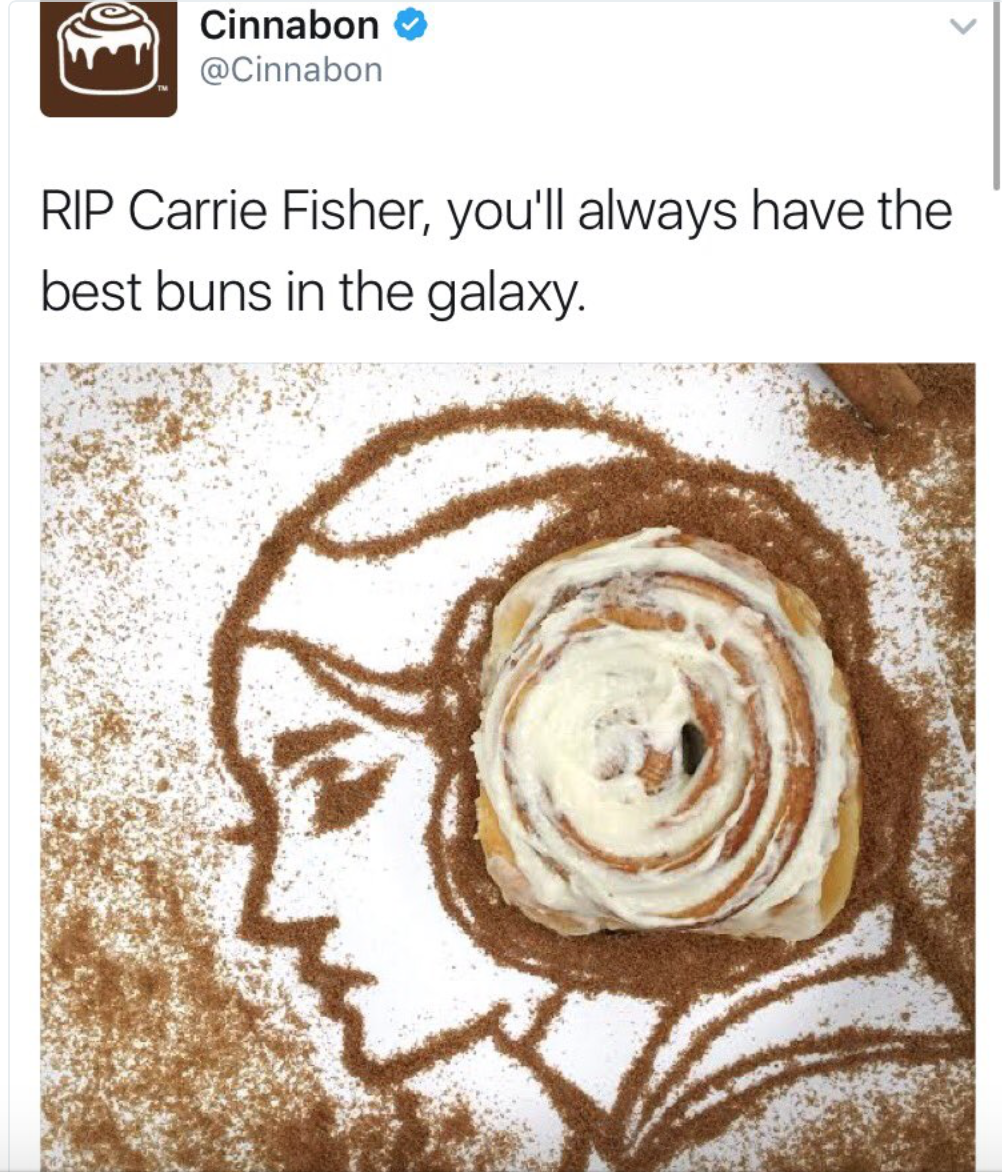 VOTE NOW! Is this Funny or Offensive?
Posted in:
"Best Buns In The Galaxy"
December 29th, 2016 – Twitter provided a platform for friends, fans and co-stars to share beloved memories and stories of Carrie Fisher after her passing on Tuesday. It also hosted a handful of controversial tributes from Cinnabon and Steve Martin, which received mixed reviews from the public.
Cinnabon capitalized on one of Fisher's most well-known roles by using Princess Leia's hair buns to connect to their own sweet roll. Sending out a tweet that only stayed up for about an hour, the pastry company deemed Fisher to have the best buns in the galaxy.
The tweet quickly drew criticism from other users who called it out for capitalizing on a person's death.
And the award for "Most Tasteless Brand Reaction To A Celebrity Death" goes to @Cinnabon. #fox5dc pic.twitter.com/XCraFJTZX2

— Jim Lokay #fox5dc (@LokayFOX5) December 27, 2016
@Cinnabon Never, never use a death to promote your brand. Poor taste.

— Paul Henning (@brewcitypaul) December 27, 2016
@Cinnabon Tacky. Get over yourself and stop capitalizing on the tragic loss of an icon.. #Objectification

— Julie Alexandria (@JulieAlexandria) December 27, 2016
Some people didn't seem to think the tweet was offensive and even suggested that Fisher would have gotten a kick out of it. Comedian Patton Oswalt also chimed in by retweeting a joke about Debbie Reynold stealing Carrie Fisher's thunder by dying the following day.
I feel like Carrie Fisher would have gotten a kick out of the Cinnabon tweet to be honest.

— Calvin (@calvinstowell) December 27, 2016
However, Cinnabon went the way of many shamed brands and issued an apology on Twitter.
Our deleted tweet was genuinely meant as a tribute, but we shouldn't have posted it. We are truly sorry.

— Cinnabon (@Cinnabon) December 28, 2016
Following the Cinnabon tweet delete, Steve Martin found himself having to erase his words, as well. The actor sent out a tweet mentioning Fisher's looks before her characteristics or accomplishments, and it sent many people into a frenzy.
New York Magazine got the ball rolling by asking Martin to be better than Jabba the Hutt.
Remembering Fisher's strong feminist stances, there were those who agreed with the piece and believed she would have wanted people to look beyond her physical appearance.
The pendulum swung back for Martin, however, and many came to his defense.
Do you think the tweets from Cinnabon and Steve Martin were FUNNY or OFFENSIVE? Do people have the right to patrol how others pay tribute to an icon who has passed away? Vote and comment below.