CNN Commentator Criticizes Tim Kaine For Spanish Speech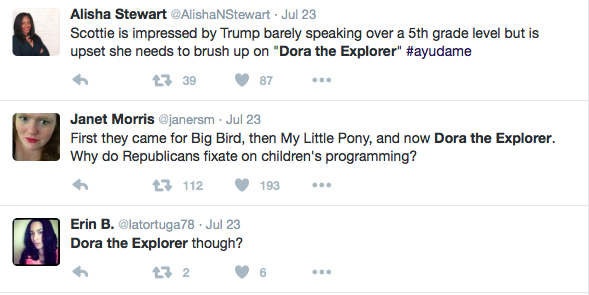 VOTE NOW! Is this Funny or Offensive?
Posted in:
"No Me Gusta" – Scottie Nell Hughes
July 26th, 2016 –  Tim Kaine opened his first speech Saturday in Miami as Hillary Clinton's VP pick by saying "Welcome everyone. Welcome everyone. In our country, right? Because we are all Americans." He said these words in Spanish, though, and CNN commentator Scottie Nell Hughes was not pleased with that decision. The network pundit and Trump supporter spoke to Wolf Blitzer in a segment following the rally and is still getting heat for what she said as we head into Tuesday.
She labeled the speech as divisive and used Kaine's language selection as as way to lift up the success of the speakers at last week's RNC in Cleveland.
"I didn't have to get a translator for anything that was going on at the RNC this week," she said on air to Blitzer. 
She furthered contrasted the two conventions by saying that she hopes she doesn't have to reference a Nickelodeon's children's show in order to follow along during this week's DNC in Philadelphia.
"And I'm hoping I'm not going to have to start kind of brushing up on my 'Dora the Explorer' to understand some of the speeches this week." 
And while she praised Kaine for "having multi-cultural" from knowing Spanish for decades after working in Honduras, she praised Trump for always speaking English.
"What Mr Trump did, he spoke in a language that all Americans can understand," she said. 

"That is English, and that is one good thing."
News outlets and social media sprang forth with plenty of replies that seemed to come from both Trump and Clinton parties. They pointed out that Senator Ralph Alvarado spoke in Spanish when he addressed the RNC, that Dora is a cartoon 7-year-old, and that the population in Miami leans heavily on the Spanish language. And while jokes were readily available, Hughes had viewers who defended and sided with her, pointing largely to the argument that all Kaine was doing was pandering and that English is the language which should have been spoken.
Hughes made an apology on Twitter saying she was simply referencing a "cute tool" and at first took responsibility for what she said.
She then issued a bit of a "Sorry Not Sorry" by retweeting support from a follower who praised her for speaking the truth.
Check out the video from the CNN segment and from Kaine's speech in Miami below. After watching both accounts, do you think Scottie Nell Hughes' comments were Funny or Offensive? Vote and comment below.