Colbert White Bronco Joke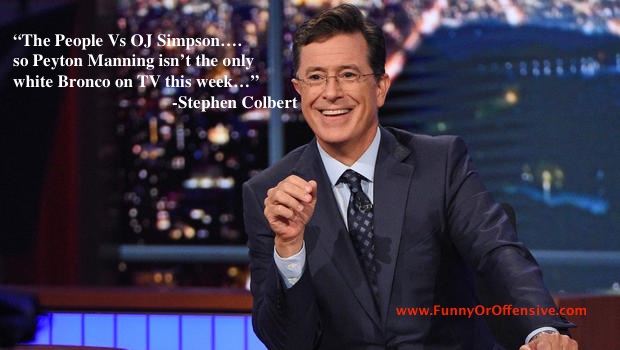 VOTE NOW! Is this Funny or Offensive?
Posted in:
Colbert White Bronco Joke
February 3, 2016 – CBS' "The Late Show with Stephen Colbert" welcomed actor David Schwimmer as one of its guests this week. Schwimmer was appearing in support of the critically acclaimed "American Crime Story: The People Vs O.J. Simpson," an anthology series on FX centered around some of history's most famous criminals. The show premiering the same week as the Super Bowl, teed up Colbert for the following joke which drew an awkward reaction from the crowd:
You make the call. Was the Colbert White Bronco joke Funny or Offensive? VOTE and COMMENT now….