Texas Restaurant Gets Fried For 'Coon Chicken Inn' Sign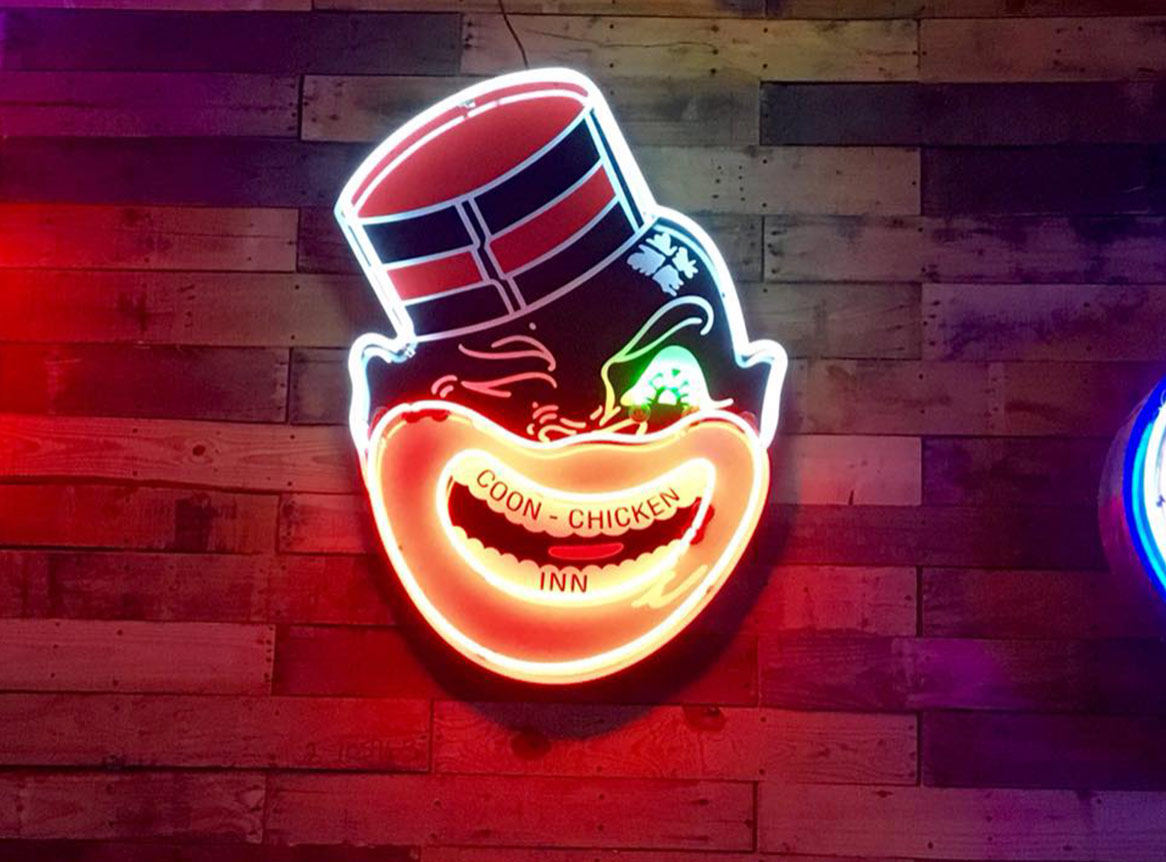 VOTE NOW! Is this Funny or Offensive?
Posted in:
Coontroversial Sign
December 27th, 2017 – While "Cook's Garage" promises "LIVE MUSIC, GOOD FOOD, with a COOL ATMOSPHERE," the owners of the new restaurant in Lubbock, Texas are coming under fire for their décor which some social media users are calling out as racist.
Included among the classic car displays and gas station placards was a neon sign from the now defunct Coon's Chicken franchise. Depicting a grinning, winking blackface caricature, the Coon's Chicken Inn logo was featured at all of the successful fried chicken restaurant's four locations across the Pacific Northwest of the 20s and 30s where, "when possible, Blacks were used as waiters, waitresses, and cooks."  Responding to charges of racial insensitivity, Cook's management issued a since deleted online statement, reading in part:
"We did not put this sign up to be derogatory, racist or to offend anyone. This is part of Americana History…just like everything else hung in our collection and buildings."
The "Zip Coon" character rose to prominence in minstrel shows in the 19th century and continued to appear in racist advertising campaigns in the early 20th century. The statement from Cook's Garage continued:
"The Coon Chicken Inn was an actual restaurant started in the 20's. Again, we want to stress we do not intend to offend anyone, and are only preserving a part of history that should remind us all of the senselessness of racial prejudice."
The 2004 satire, "C.S.A.: The Confederate States of America" referred to the original Coon's Chicken Inn creating a mock commercial advertising the restaurant in an alt-history version of America where the Confederacy won the Civil War. Meanwhile, Twitter users have expressed disbelief that the issue is controversial at all.
Alright. So, when I read the line "some are calling" I was expecting like something that could be INTERPRETED as racist.

Not literally "coon chicken inn"

are you guys fucking okay https://t.co/mwJU4A0RKF

— Blade (@theBladeee) December 16, 2017
*some.* it says "coon chicken inn." https://t.co/XcUbXTzQPk

— El Flaco (@bomani_jones) December 16, 2017
These types of caricatures were created to poke fun at the facial features of African-Americans. The sign literally says, "Coon Chicken Inn." Is there no one at that restaurant who saw this was horribly racist?! Anyone?! https://t.co/Vm632YWGuQ

— Bryan Kennedy (@WTVQBryan) December 16, 2017
According to the sign's defenders, such depictions are historically significant and should be preserved:
"Aunt Jemima, mammies, and lots of other black collectibles are highly sought after, as is Americana collectibles with white characters."
Cook's Garage has issued no further statement regarding the sign.
You decide…is the "Coon Chicken Inn" sign Funny or Offensive? Vote and Comment now…