Costume Recall: Amazon, Wal-Mart, Target Pull "Tranny Granny"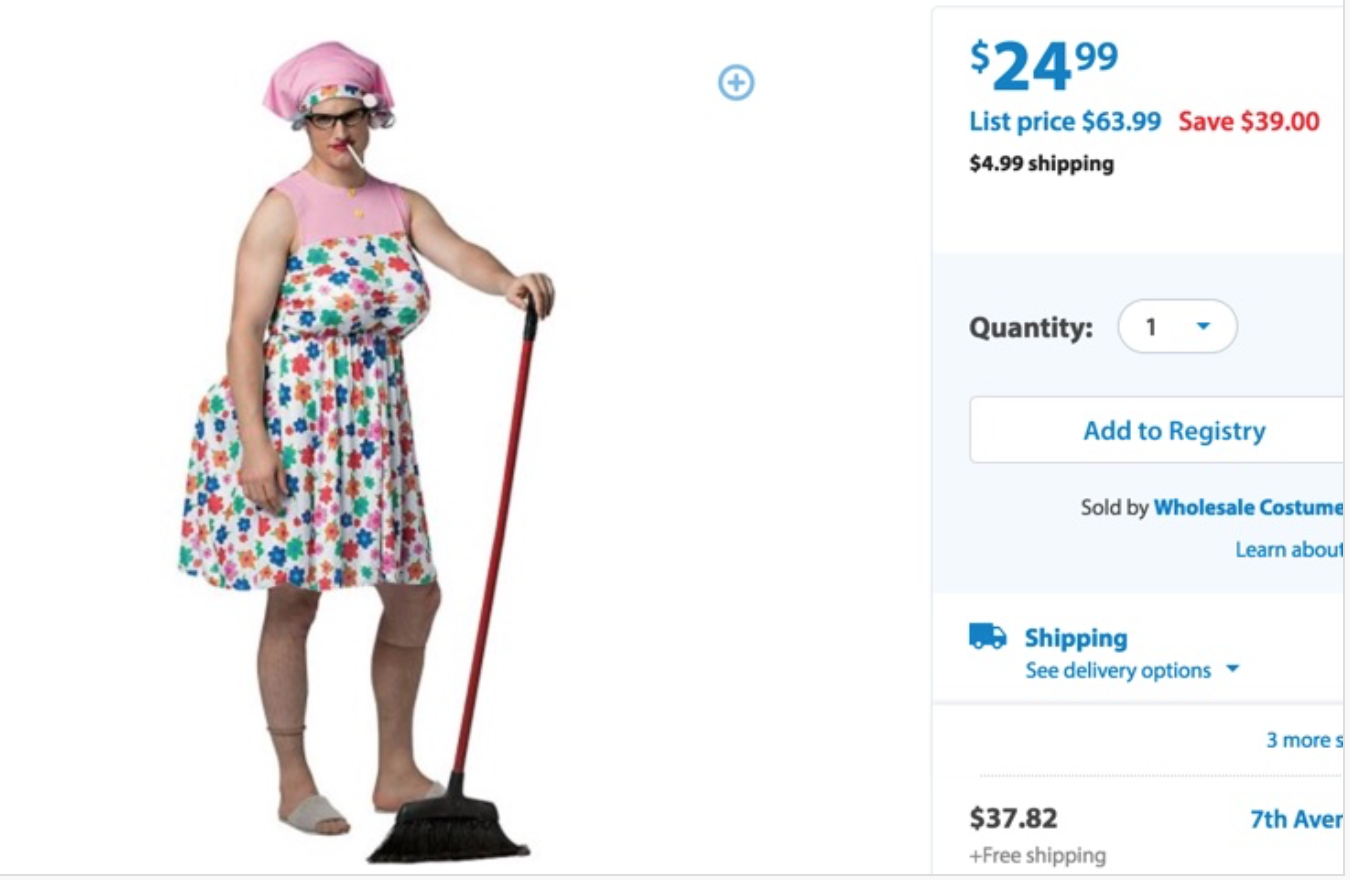 VOTE NOW! Is this Funny or Offensive?
Posted in:
No Costume For Old Men
October 26th, 2016 – Online retail giants Amazon, Wal-Mart and Target have pulled a Halloween costume after complaints that the product was insensitive and transphobic. The so-called "Tranny Granny" costume consisted of a flowered dress with foam padding over the chest and buttocks. The product description accompanying the website listing advertised:
 

"All the guys will be dressing up as superheroes and princes, but you will stand out among the rest in this hilarious Granny Men's Costume! To top it all off, slap on some makeup and get ready for your granny walk and you will have the room roaring with laughter!"
The item was produced by a third-party retailer and not by any of the well-known superstores which have now stopped selling the item. The company responsible for the original costume has responded to the uproar by changing the name of the costume in lieu of removing it from their website. While the costume is still widely available, most big-name mega-sellers have stopped carrying the item on their online portals. A Wal-Mart spokesperson said regarding the costume constroversy:
"While it's listed on other sites, it clearly violates our policy and was quickly removed once we were notified. We're appalled this seller put it on our site to begin with."
Still, there are some who feel the retailers are being selective with their outrage as some costumes are deemed inappropriate while others are left unchallenged. The Catholic League, a religious advocacy group, issued a statement criticizing Amazon, Wal-Mart and others for removing the "Tranny Granny" costume while leaving costumes like the "Sinful Sister," "Heavenly Hottie" and other sexualized religious-themed costumes. The statement went on to decry the refusal to remove those products:
"It is not a good cultural sign when corporate elites are more sensitive to cross-dressers than they are to Catholics."
Wal-Mart has a compliance team whose job is to flag potentially offensive items before they are listed but with $7 billion in projected sales during the Halloween season and many millions of individual products for sale, the line between what's acceptable and what isn't becomes harder to see.

 

One consumer psychologist who has studied holiday spending habits was quoted in a Bloomberg News story as saying, "PC takes a holiday for Halloween."
Was this just harmless Halloween fun or worth the wigging out? Funny or Offensive? Vote and Comment below.