Walmart Pulls 'Impeach 45' Clothing From Online Store Amid Boycott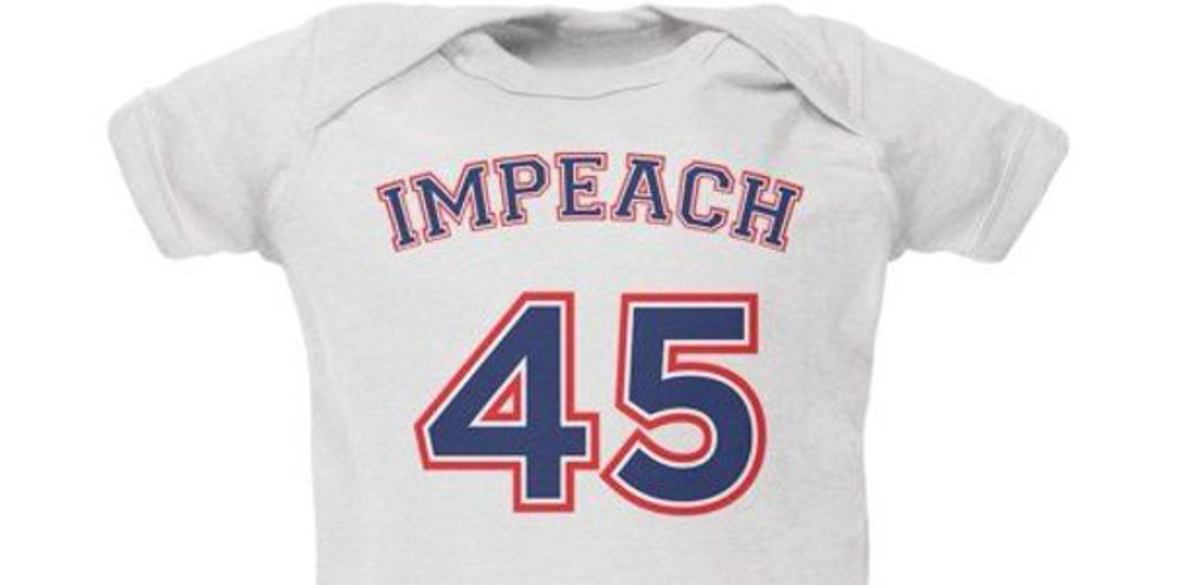 VOTE NOW! Is this Funny or Offensive?
Posted in:
Trump Tee Trump
July 5th, 2018 – The threat of a boycott has quickly forced retail giant Walmart to remove a politically themed t-shirt for from its Internet marketplace. A third-party vendor was using Walmart's online sales portal to sell "Impeach 45" apparel. Men's and women's t-shirts and baby clothes featured the anti-Trump message much to the chagrin of khaki aficionados with free time and high-speed broadband everywhere.
Media reports picked up on a tweet by a right-wing blogger named Ryan Fournier criticizing the nation's largest private employer for allowing the shirt to be sold. Chairman of Students for Trump, Fournier's complaints were echoed by other pro-Trump online personalities including "Trump's most outspoken and loyal supporters, public figures & speakers" Diamond & Silk.
.@walmart why are you selling Impeach 45 baby clothes on your website?????

What kind of message are you trying to send? https://t.co/PwI4nCVAZx

— Ryan Fournier (@RyanAFournier) July 3, 2018
We just heard something about @Walmart @WalmartNewsroom. We hope it's not true! pic.twitter.com/NWFaFHyZP4

— Diamond and Silk® (@DiamondandSilk) July 3, 2018
hey @Walmart care to explain why you would sell these shirts? Are you out of your mind taking the chance of alienating at least half the population? #Walmart#Impeach45 pic.twitter.com/DJYmMuqWv2

— Joe Pags Pagliarulo (@JoeTalkShow) July 3, 2018
The $400B+ company promptly issued a statement clarifying its relationship with outside vendors and acknowledging concerns over the "Impeach 45" clothing. The statement, posted to the company Twitter page, read:
"These items were sold by third-party sellers on our open marketplace and were not offered directly by Walmart. We're removing these types of items pending review of our marketplace policies."
While a #boycottWalmart hashtag was trending for much of the day, the rapid decision to pull the impeachment-themed merchandise within 24 hours appears to have quelled the latest cycle of Internet outrage in short order. Walmart has a recent history of controversy over items for sale through its online store. Products with messages from Holocaust-themed home decor to shirts suggesting the lynching of journalists have been pulled from their virtual shelves in since 2016.
The majority of Trump supporters online seemed to back the threat of a boycott, although at least one right-wing responder was willing to give the corporation the benefit of the doubt, tweeting:
"But to be fair they also sell 'Hillary for Prison' and other pro-Trump apparel. Think it's just a giant co. with too many vendors and free speech. I'll give them a pass on this."
Is this just a harmless joke about
process, by which a legislative body formally levels charges against a high official of government, or an affront to the integrity of the Office of the President?