Dad Goes Viral For Carrying Stubborn Toddler Like A Duffle Bag (VIDEO)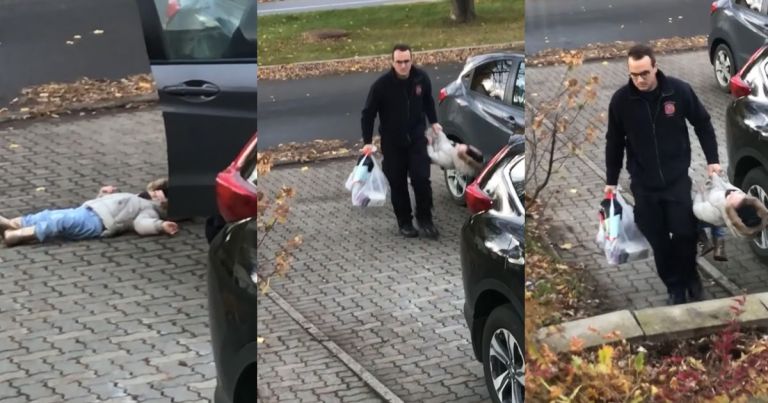 VOTE NOW! Is this Funny or Offensive?
Posted in:
Duffle Dad
November 19th, 2018 – As one toddler practiced her best version of "I literally can't even," her dad figured out a way to fix things: carry her like a duffle bag. Two-year-old Juliette had returned home from daycare and decided that taking a few more steps just wasn't on the schedule for the day.
After her father pulled grocery bags out of the car with his right hand, he seamlessly swooped Juliette up by her jacket with his left hand and headed inside.
The stubborn toddler's mother filmed the whole thing, laughing as her dynamic duo made their way up the front stairs.
"What's even funnier is that she is more than 3-feet-tall and over 37 pounds heavy and the jacket didn't break," her mother wrote. "She often does stuff like this and this is just how we love her."
The video quickly spread across the internet after the family initially posted it. ViralHog, a content company that helps people profit from their funny finds, shared the ingenuity on Facebook last week. The video now has nearly 600,000 views.
An Australian news site also shared the clip with similar viral numbers saying "This dad is literally every parent."
Parents around the world chimed in on the duffle dad's parenting skills. Curtis Johnson responded to news.com.au's caption by saying "I beg to differ on the title… not every parent…. I'd say every father….Every mother would be like, 'don't stretch the clothes' 🤣" 
Other parents left comments and some debated whether or not the dad made the right move. Some people questioned the safety of the situation while others guessed that this wasn't the little girl's first magic jacket ride.
Juliette may one day be voted most likely to succeed, but right now we want to hear your vote on the dad's duffle decision. Funny or Offensive? Vote and comment now…