Erotic Trump Fan Fiction Racking up Millions of Views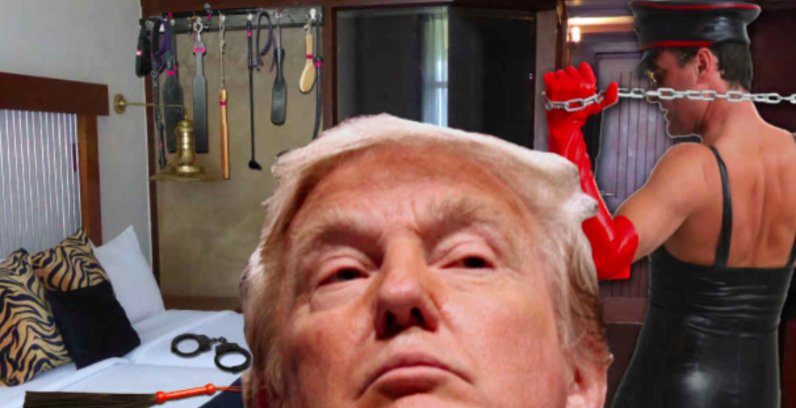 VOTE NOW! Is this Funny or Offensive?
Posted in:
"Trump Temptation: The Billionaire and The Bellboy"
June 1, 2016 – One online trickster's foray into DIY erotica is taking "going viral" to a whole new level. Los Angeles based writer, Elijah Daniel, in a fit of inspiration, or inebriation, penned a 21-page  "Fifty Shades of Grey" style erotic short story detailing a fictional assignation with GOP presidential nominee, Donald Trump to broad internet acclaim.
Written in one day with suggestions from his Twitter followers, Daniel's story outlined a sexual dalliance between Trump and a fictional bellboy at a Trump owned hotel. Posted to Amazon's Kindle store, "Trump Temptation: The Billionaire and The Bellboy," was immediately embraced by the e-commerce site's customers.
Purple-Headed Yogurt Slinger
Some of the popular excerpts include "My loins trembled as the scent of toupee adhesive and spray tan swept through my nasal cavity" and:
"I had to admit it, I wanted his geriatric 2006 Perez Hilton jello body, and I wanted it bad. But before long we had a new problem, my lustful thoughts had awoken the purple-headed yogurt slinger in my pants."
The story logged over a million readers on Wattpad, a self-publishing site for writers and now, hilariously, a noted producer of gay porn films, NakedSword, has partnered with Daniel to produce a film adaptation of the e-book.
As is common with such things, the fake backlash from Trump's camp is even more of a story as anything the real Trump might have to say about "Trump Temptation."  Daniels hosts a parody Trump account which seems to show His Orangeness calling to have the book pulled from Amazon only to be met with full-throated derision from the general public:
DELETE THIS BOOK NOW. https://t.co/VdSoGCbuGU

— Donald J. Trump (@reaIDonaldTrunp) January 21, 2016
If the production of the porn parody meets its proposed July 4th release date ahead of this year's Republican National Convention it would be something of a coup for Daniel.  A self-avowed Trump antagonist, Daniel has already been forcibly removed from a pro-Trump event and blocked by Trump's official Twitter account. The film also would be a perfect compliment to Daniel's infamous tattoo of Trump performing a salacious act on a disembodied sex organ.
As to the long and slightly curved history of tradition political figures depicted in erotic literature, the Daniel appears to have Trump well in hand.
Is the erotic Trump fan fiction Funny or Offensive? VOTE and COMMENT below…