Facebook and Instagram Ban Peach, Eggplant Emojis When Used For Sexual Solicitation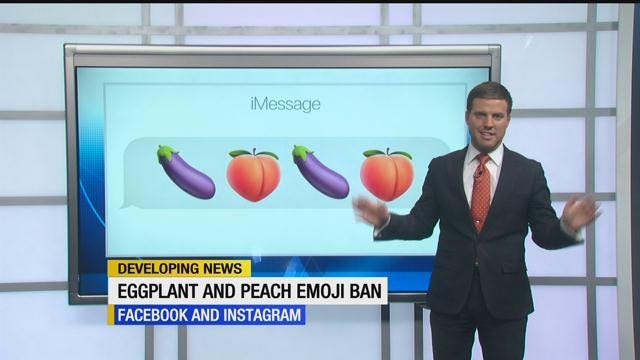 VOTE NOW! Is this Funny or Offensive?
Posted in:
Peach Bum, Peach Ban
November 8th, 2019 – Peaches and eggplants are stirring up controversy at Facebook and Instagram, but things may not be quite as juicy as people think. Back in July, the social media platforms updated their Community Standards to include consequences of banning or flagging accounts that use the peach, eggplant or sweat emoji when paired with a request for sexually suggestive content.
So if you're feeling like Sir Mix-a-Lot and want to drop a peach emoji by itself on a post, you should be in the clear. But if you use it in a message with someone while asking for nude pics, you could force Mark Zuckerberg to blink.
"[Content] will only be removed from Facebook and Instagram if it contains a sexual emoji alongside an implicit or indirect ask for nude imagery, sex or sexual partners, or sex chat conversations," Instagram told the New York Post. "We aren't taking action on simply the emojis."
Facebook's description of sexual solicitation is quite lengthy. Under their standards, they also restrict coordination of or recruitment for adult sexual activities. This can include "filmed sexual activities, pornographic activities, strip club shows, live sex, and sexual, erotic, or tantric massages.
While the decision was made back in the summer, reactions spread this week after several media outlets ran the story. While most people found the conversation humorous, and planned on still using the emojis for double meaning, several people took issue with Facebook policing sexual expression while letting political disinformation run amok.
Last month, Zuckerberg faced representatives on the House Financial Services Committee to answer questions about the company's decision to allow candidates to lie in political ads.
Lol. Facebook is like. Hey candidates you can pay to post all the lies you want but you users. Don't you go using those naughty emojis

— мⒶ𝐫ιє (@dryad_girl) November 5, 2019
Go ahead and spread disinformation that's fine but don't emoji sex jokes. Lol

— 105.9 commenter (@Kevincraven12) November 5, 2019
But if you pay them, you can lie about whatever the hell you want.

— Will Plata (@Platasaurus) November 5, 2019
So you may not have to sweat the new rules as long as you aren't requesting nudes — and sending the sweat emoji.
Do you think Facebook's new emoji restrictions cross the line or are they in keeping with Community Standards?