Fifty Shades Freed Poster Tied Up In Controversy, Bound To Offend Some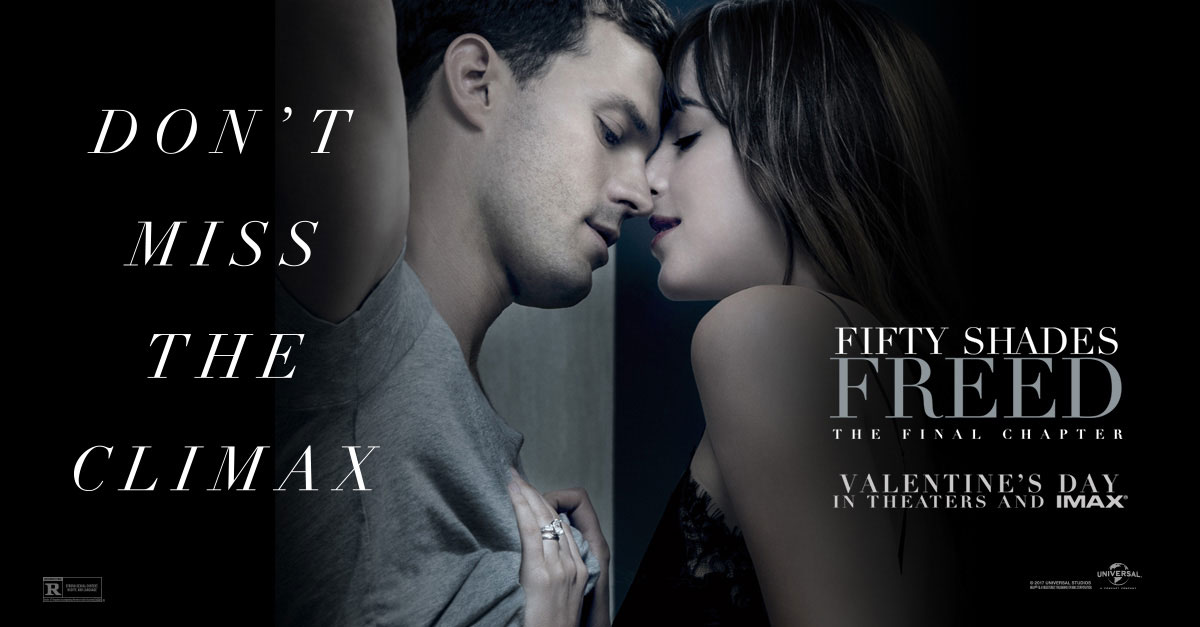 VOTE NOW! Is this Funny or Offensive?
Posted in:
"Don't Miss the Climax"
January 21, 2018 – Like all hot and steamy franchises based on hit Twilight fan fiction, The Fifty Shades trilogy is coming to an explosive end with the release of the third movie titled Fifty Shades Freed.
In a knowing double entendre, Universal's marketing campaign has embraced what's sure to be a mutually orgasmic release with the tagline "Don't Miss the Climax" over a shot of black negligee-clad Anastasia Steele (Dakota Johnson), and sexy Christian Grey (Jamie Dornan) in a near kiss. And while that might make fans of the movies moist with anticipation, it's made a few parents, bloggers and Fox News hosts froth at the mouth.
In this era of #MeToo and #TimesUp, it seems consensual lip-biting, light bondage sex can feel both objectionable and objectifying.
The site Lizette decried the movie and its marketing saying:
"Predictably, the racy posters have begun making appearances in major cities. Some of these ads even pepper the subways — the same subways that countless children and young people use to get to school. Time's up, Hollywood! If you're truly committed to elevating women and creating a culture in which women feel safe and valued, it's time to put your money where your mouth is. These films may rake in the dollars — but they also rake women, marriage, and traditional values through the mud."
One may think that of the 125 million copies of the Fifty Shades books that have been sold, that more than a few have ended up in the hands of women in their beds and bathtubs who hold marriage and traditional values very dear.
In addition to the book sales, the first two films in the franchise made $571 million and $381million in worldwide box office respectively. The third movie will likely push the series over the top, exploding to over 1 billion in worldwide box office.
Fox News, which is intimately familiar with sexual harassment and the #MeToo movement paying out over $32 million to settle sexual harassment claims on behalf of Bill O'Reilly, addressed the movie's posters as well.
Host Laura Ingraham added some comments about the movie's magnum billboard in Times Square:
"And that's a problem for a Hollywood that now claims to be woke to the sexual predation that's out there and is now trying to position itself for the moral authority with its Me Too and Time's Up campaign. Now, we were just lectured on the evils of sexual improprieties and objectification by a parade of actresses and of course Oprah Winfrey at the Golden Globes. And yet they are telling the world, including our young girls, young children, big billboards, go see this movie so you 'don't miss the climax,'" she said.

"The double talk from Tinseltown is striking. Respect women and value women, great. But, what, while we bind, gag and beat them for our sexual pleasure on some guy on the big screen. Actions speak louder than their platitudes."
What do you think about the um, exciting, Fifty Shades Freed poster. Funny or Offensive? Vote and comment now…