The 16 Most Eye-Catching Signs From The Women's March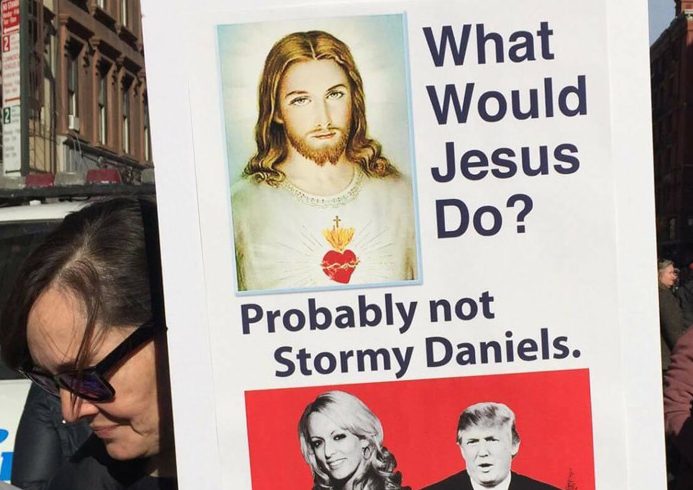 VOTE NOW! Is this Funny or Offensive?
Posted in:
A Sign of the Times
January 22nd, 2018 – As the one-year anniversary of Donald Trump's inauguration rolled around, we found the government shutdown and its citizens taking to the streets in protest. For the second year in a row, the Women's March organized protests in cities large and small across the nation. This year, activists had a specific message – playing off of last year's "Hear Our Voice" call-to-action, 2018 found participants proclaiming "Hear our Vote."
New York, Los Angeles, and Chicago hosted events where over 1 million people collectively marched, but the turnout in smaller cities reminded people that this movement isn't losing steam the further we get from the 2016 election. Recently Samantha Power, the former United States Ambassador to the United Nations, said "We can't wait until our elections to define who we are," and that idea seemed to be echoed loudly over the weekend.
As a country, however, we haven't come to an agreement on who we are. While many people felt inspired and empowered by the messages shared during the Women's March, others didn't feel represented and were offended by many of the signs hoisted high during the various marches.
Columnist Dan McLaughlin tweeted that "The contrast between the prayerful March for Life & the pervasive vulgarity of the Women's March is striking if you have seen a lot of images from both." People were quick to remind him that many of the signs were simply quoting the president himself.
Take a look at some of the most circulated signs from the Women's March, and let us know your thoughts.
The crowd at the Women's March cheered this set of signs pic.twitter.com/hEI9fc8blf

— Jeremy C. F?x (@JeremyCFox) January 20, 2018
#WomensMarch2018 #WomensMarch#WomensMarchDC #viagra pic.twitter.com/8uTieYtPck

— Click On This Show (@clickonthisshow) January 20, 2018
boom ? #WomensMarch pic.twitter.com/jRqr2eojsj

— Kayla Yandoli (@kaylayandoli) January 20, 2018
Maybe the best sign of the #WomensMarch2018… pic.twitter.com/gaNyJkaRPf

— John Lundin ? (@johnlundin) January 21, 2018
First Tide pod reference at the New York Women's March (Megan Burns, 30): pic.twitter.com/3EcMeVDbS7

— Cora Lewis (@cora) January 20, 2018
Are these sings Funny or Offensive? Let's hear your vote, too!