Food Network Asian Wings Prank Gets Sweet and Sour Reaction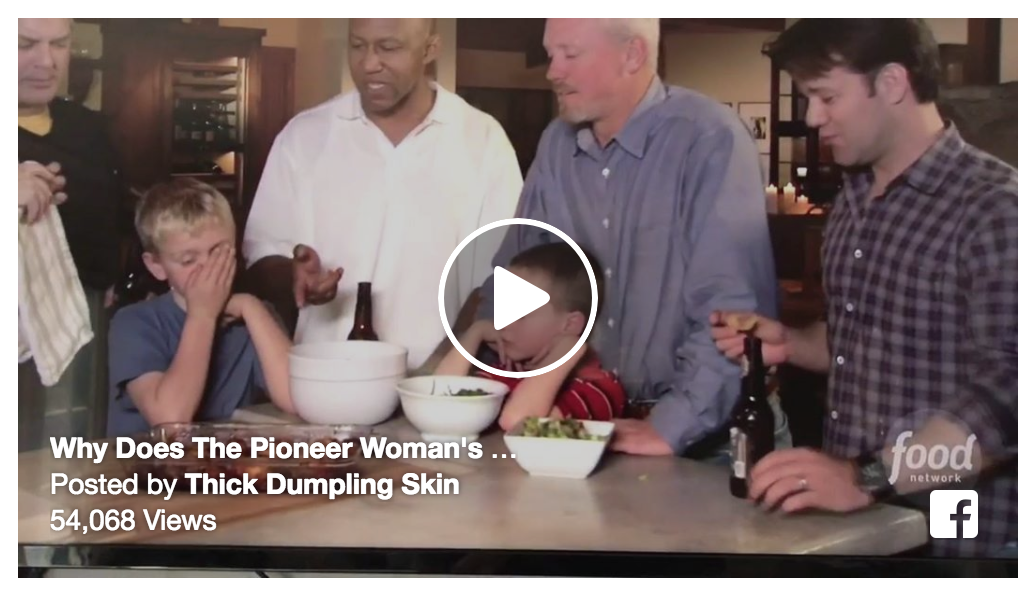 VOTE NOW! Is this Funny or Offensive?
Posted in:
Jokes On The Ranch
March 9th, 2017 – An old episode of television, much like an old tweet, can come back to haunt you. That's what Ree Drummond, host of Food Network's The Pioneer Woman, is finding out after a five-year-old episode has been deemed unsavory by some. The women of Thick Dumpling Skin (click for VIDEO) unearthed the season two stunt earlier this week and shared their thoughts on their website, which aims to provide a "vibrant community for Asian Americans to share and discuss our unhealthy quest, past and present, for the 'perfect' body."
They're calling on the Food Network to provide better Asian representation after watching Drummond pull a prank on her family and friends, which they saw as a racist joke.
"Why must we watch non-Asian cooks who can't pronounce "Sriracha" and don't have a chopstick drawer show us how to make our own dishes?  And how come, when they do, we have to watch as their entire family mocks it – like in this episode of The Pioneer Woman?"
To set the scene, the chef with no chopstick drawer to her name mentioned that her husband loves classic buffalo wings, but she decided to pull a prank on him during a segment featuring game-day snacks. Instead of the usual fare, she'll present him with spicy Asian hot wings. "I like to mess with my spouse, I can't help it," she tells the camera.
When she presents the Asian wings to her crew, their facial expressions are telling.
Their vocal responses echo their initial reluctant reaction: "What? What is that?" "No, where are the other wings?" "Yeah where are the real wings?" "I don't trust 'em." One guest does mention that the Asian wings smell good before Drummond lets them know the classic buffalo wings will make their scheduled appearance. "I'm just kidding, guys. I wouldn't do that to you," she said. 
Comedian Jenny Yang shared Thick Dumpling Skin's video on Facebook and added her voice to the discussion about the segment's center of the joke. Adding in a second post "That's it. RACISTS DO NOT DESERVE OUR DELICIOUS FOOD."
Twitter saw more people siding with the Anti-Asian sentiment.
I was already bummed by the lack of diversity on @foodnetwork Now @thepioneerwoman & co. are on there saying they don't trust "asian" food?? https://t.co/faWbgC6rBV

— rebecca tran (@beckietran) March 7, 2017
the "JUST KIDDING GUYS HERE'S THE WHITE PEOPLE CHICKEN WINGS" at the end is really something https://t.co/ZD9jOQBFSK

— Alison Mah (@alisonmah) March 7, 2017
@jennyyangtv @thepioneerwoman @FoodNetwork Submitted. I'm really an XFINITY customer too. Why should I pay for this insult? pic.twitter.com/hZM4BvHUj9

— Chin Lu 呂錦華 (@ChinHuaLu) March 7, 2017
@FoodNetwork what are you guys planning on doing wrt the Pioneer Woman's ridiculously insulting segment on Asian wings?

— abe p (@AbePark77) March 9, 2017
In the opposing wing, many people didn't see it as racist and expressed exhaustion from outrage of every single thing.
Apparently preferring buffalo wings over spicy Asian chicken wings is racist.
| https://t.co/12x3GTqFQF

— Lady Thug (@LadyThugUSA) March 9, 2017
@Eater Could it be because they are anything but buffalo? And why does a food site have to have an SJW agenda? I cannot escape this crap.

— Tim Kuiper (@timpac) March 8, 2017
For goodness sakes. Now we're apologizing for chicken wings? STFU…https://t.co/QoFnzNDwYp

— The Deplorable Party (@OmegaMan34) March 9, 2017
Neither Drummond or a rep from Food Network has made a public comment about the 2012 episode. Thick Dumpling Skin has listed Asian chefs whom they believe will help them fare better with jokes in the future.
What did you think of the Asian hot wings prank. Was it Funny or Offensive? Vote and comment below.