Freshman Daughter Drop Off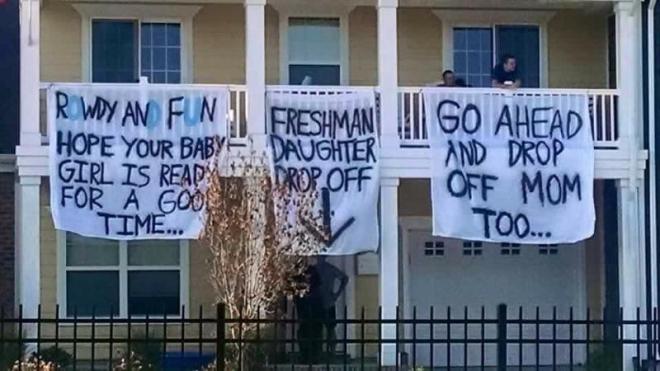 VOTE NOW! Is this Funny or Offensive?
Posted in:
Freshman Daughter Drop Off
August 24, 2015 – It's that time of year again when parents help their kids move out of the nest and into the world of higher education. Unfortunately for some parents of Old Dominion University students, especially those with daughters, the collegiate welcome wagon was a little too welcoming. An off-campus house at Norfolk's ODU was adorned with bedsheets banners strewn from windows with phrases including "Freshman Daughter Drop Off."
Other banners added:
"ROWDY AND FUN HOPE YOUR BABY GIRL IS READY FOR A GOOD TIME…"
and:
"GO AHEAD AND DROP OFF MOM TOO…"
ODU was quick to condemn the messaging from the house inhabited by four members of the Sigma Nu fraternity which is also investigating the incident.
From Old Dominion University President John R. Broderick:
"While we constantly educate students, faculty and staff about sexual assault and sexual harassment, this incident confirms our collective efforts are still failing to register with some. A young lady I talked to earlier today courageously described the true meaning of the hurt this caused. She thought seriously about going back home."
Full report here from ABC 13 News:
So is ODU's "Freshman Daughter Drop Off" Funny or Offensive? VOTE and COMMENT now….