Gay-friendly New Hampshire Coffee Shop Debuts Not-So-Bland Billboard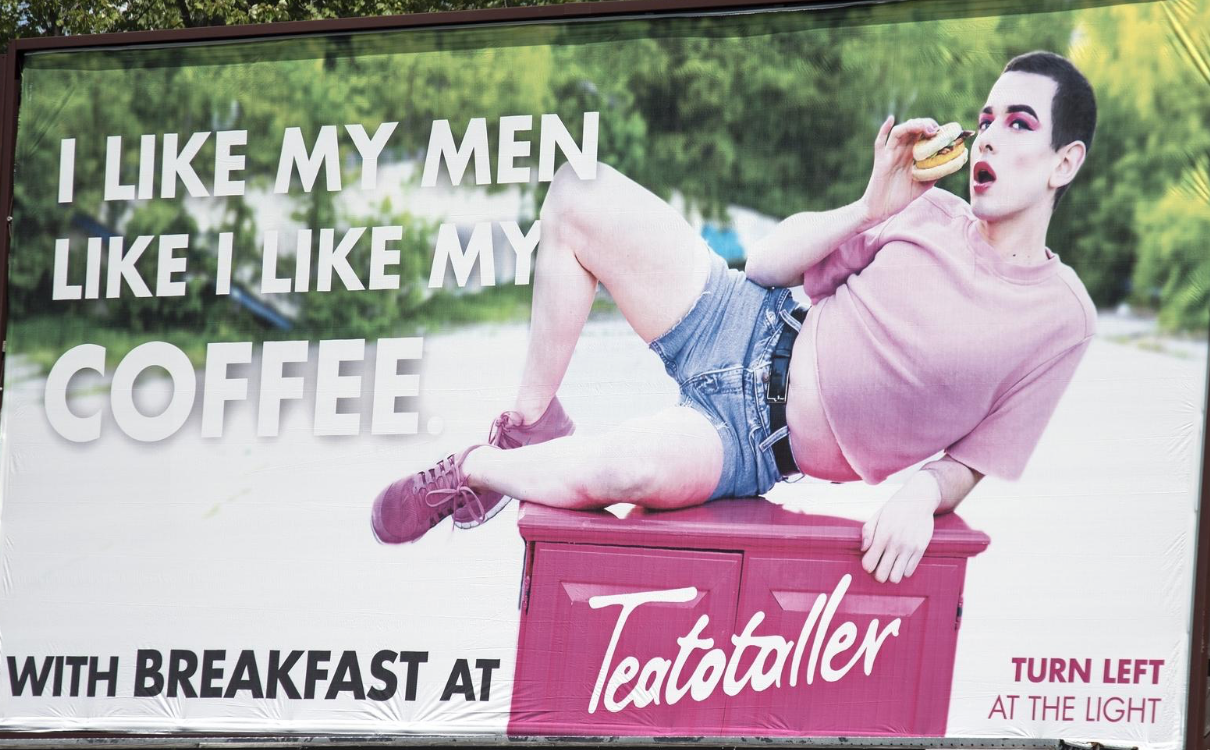 VOTE NOW! Is this Funny or Offensive?
Posted in:
Cup of Joe
July 11th, 2017 – A billboard has widened some eyes in what some may perceive to be a "sleepy, conservative mill town" in New Hampshire. Last month, during Pride, the cafe and coffee shop called Teatotaller made Somersworth residents take notice of a billboard showcasing a gay man with pink eye shadow seductively anticipating a bite of breakfast sandwich. Accompanying the image is the phrase:
"I LIKE MY MEN LIKE I LIKE MY COFFEE

WITH BREAKFAST AT TEATOTALLER." 
Owner Emmett Soldati said most of the reaction he has seen has been positive and that the intention of the billboard was to be a reflection of the coffee shop, which is a reflection of the community.
"A few things came together; the first is our tagline given to us by our customers, that we are 'an oasis of hipster queer, tea, coffee and pastry goodness,'" Soldati said, "which is a fun and playful tagline that expresses a lot about who we are and the type of space we aspire to be."
When a local blogger, Jenne Holmes, shared a photo of the billboard to the SomersworthNow Facebook page to gauge residents' reactions, she received plenty. "I'm interested to see what others opinions on this billboard that appeared on West High street are. Please be respectful to others when commenting," she posted. Currently there are over 500 comments in response.
While some applaud the cheeky billboard for being "daring, innovative, attention-getting" others have labeled it a "very poor choice of advertising" and have even questioned the age of the model.
Soldati had worked with the model, 18-year-old Michael Cummings, once before in another advertisement for the shop.
"Anytime you do something bold and playful in a community where everyone knows each other, you run the risk of offending someone or pushing someone's buttons," Soldati said. "What has rattled me is how many people instantly identified this as a symbol of (Teatotaller) being a safe, supportive space and that such a space exists in our community."

"Culturally, the expectation might be this is a sleepy, conservative mill town," Soldati said. "But we've had 60- or 70- year-olds saying, "Thank you for finally providing a venue for us.'"
The online community weren't the only people voicing an opinion; Somersworth Mayor Dana Hilliard championed free speech even if that messaging pushes you outside your comfort level.
"While most of these ads blend in with mainstream America, some ads push the limits of our comfort level." he said. "Living within a democratic society which values First Amendment guaranteed rights, discussion and discourse means that we will be exposed to opinions and sometimes ads which are counter to the way we think."
While the mayor recognizes it may not be seen as mainstream America and some have said the billboard seems like it should instead be in a big city, owner Soldati fired back saying:
"The model and Teatotaller are as local as it gets. We are a product of our small community and it is something people see and engage with every day. This is a prouder and bolder way of stating that."
So is this just a fun, provocative way to bring more people to the coffee shop or is this an inappropriate billboard that goes too far? Funny or Offensive? Vote and comment below.