Hasbro Pulls Trolls Doll After Complaints of Grooming and Pedophilia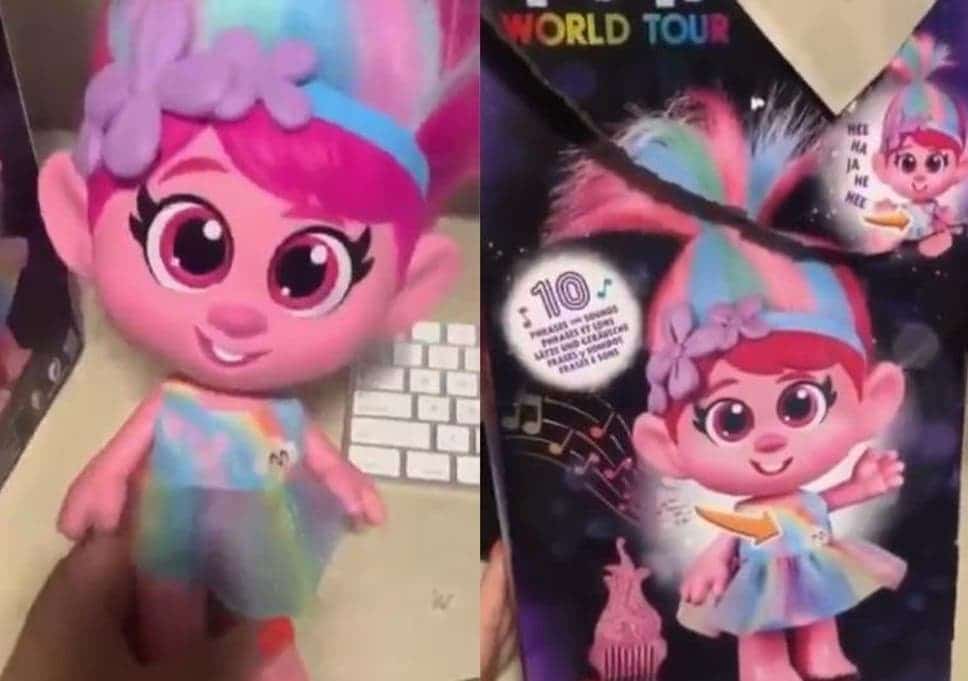 VOTE NOW! Is this Funny or Offensive?
Posted in:
Trolls World Tour Not Hitting the Right Note
August 10th, 2020 – Hasbro is pulling a Trolls doll from the market after a growing number of people spoke out against a button they say is inappropriately placed and promotes pedophilia. The toymaker released the "Trolls World Tour Giggle 'n Sing Poppy Troll" as part of its spring collection but uproar against the doll began earlier this month.
A change.org petition from Jessica McManis has racked up nearly 500,000 signatures and calls on Target, Walmart, Amazon, and Dollar General stores to remove the Trolls toy from their stores.
"When you push this button on the doll's private she gasps and giggles. This is not okay for a child's toy," she wrote! "What will this toy make our innocent, impressionable children think? That it's fun when someone touches your private area? That pedophilia and child molestation are ok? It's not ok! It's not fun!"
The product description for Poppy explains that the Trolls doll will giggle, talk, and sing when "tickled" (via a sensor on its stomach). It adds that "when you sit her down, she makes other funny sounds, too!" But, several parents didn't find the sounds funny and took issue with the second button being placed under the doll's skirt.
Other people have expressed concern online including Jamie Nelson Cornaby, a mother whose two-year-old daughter was gifted the Trolls Poppy doll for her birthday. In a three-minute Facebook video, Cornaby shows off the different noises Poppy makes.
"Down here is a button; right here on her privates. And if you push those, she makes these sounds," Cornaby says before playing the four different noises. "I know some of you may not, like, think this is a big deal, but especially since I've had kids, like, this is wrong. For one, it says nothing about this button on the box. Nothing. It's just there, and it makes a gasping sound when you touch her privates. And to me it's just, like, sexual sounds, and it's so disturbing."
For their part, Hasbro has acknowledged that the placement of the button could be perceived as inappropriate and is offering a free exchange if parents don't want to keep Poppy.
"This feature was designed to react when the doll was seated, but we recognize the placement of the sensor may be perceived as inappropriate," company spokeswoman Julie Duffy said. "This was not intentional and we are happy to provide consumers with a replacement Poppy doll of similar value through our Consumer Care team. We are in the process of removing the item for purchase."
While Hasbro addressed the sensor button, they didn't delve into the additional accusations coming from the QAnon crowd. Several far right figures, including former Utah Senate candidate Sam Parker, believe this doll was another planned operation to groom children as a part of a child sex trafficking ring they believe is being run by powerful celebrities and politicians.
Do you think Hasbro made the right call in removing the Trolls World Tour Giggle 'n Sing Poppy Troll? Was the button really problematic or a reach from the conspiracy crowd?