Internet Explodes After Macy's Parade Features Same-Sex Kiss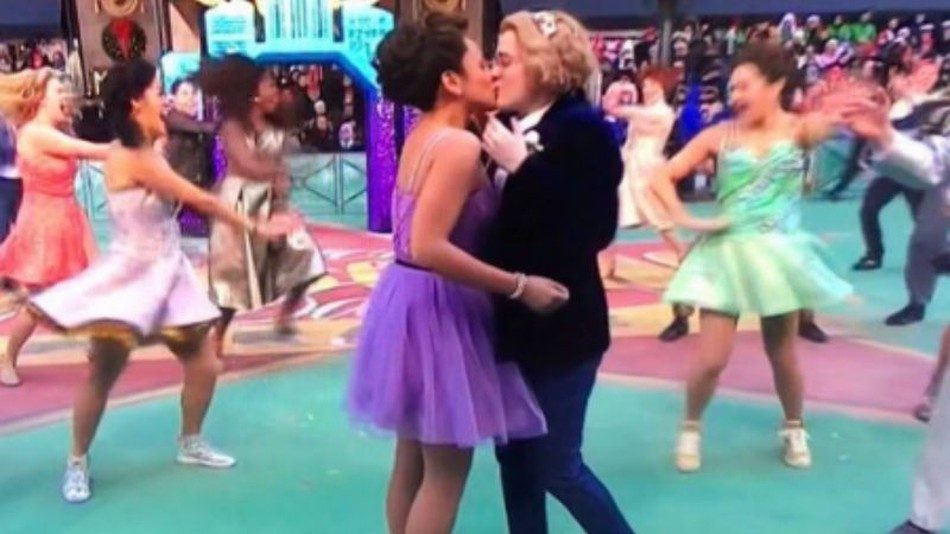 VOTE NOW! Is this Funny or Offensive?
Posted in:
Give Thanks (and judgement)
November 23rd, 2018 – This year's Macy's Thanksgiving Day Parade may have been freezing, but takes on the first same-sex kiss during the event couldn't have been hotter. Amid balloons, batons, and Santa Claus, leads from the musical "The Prom" performed a number from their new Broadway show that ended with the pair kissing.
"The Prom" tells the story of two high school girls' fight to be able to attend prom together in their conservative, midwestern town. When the school shuts the whole thing down, a group of eccentric Broadway stars head to Indiana to set things straight (figuratively speaking).
"We've got trouble, folks, right here in Indiana and when Broadway's brassiest hear a student is unceremoniously sidelined from a small-town Indiana prom—and the press is involved—they are ready to kick-ball-change the world," the Playbill synopsis reads. 
Caitlin Kinnunen and Isabelle McCalla danced and sang their way down the streets of New York as their characters, Emma and Alyssa, encouraged their community to "build a prom for everyone." After three minutes and thirty seconds of prom prancing, the girlfriends kissed and became the first ones to do so in the parade's 92 year history.
But before the next float could make its way in front of the cameras, people took to Twitter to give their reactions. While there was an overwhelming amount of support and praise, there was also plenty of pearl clutching and disapproval.
Two girls. Just kissed. On live TV. On the Macy's Thanksgiving Day Parade. I suddenly cried. Lovely. Thanks given to @ThePromMusical. (& Macy's/NBC.) & lesbians everywhere. & turkeys. For their sacrifice. But esp. @ThePromMusical.

— Tina Landau (@TinaLandau) November 22, 2018
The #macysthanksgivingdayparade just showed two girls kissing during Broadway showcase performance of The Prom.

You know – I'm thankful for #20gayteen. I finally live in a world where national TV isn't ashamed to show this on a wildly broadcasted event. #representationmatters pic.twitter.com/t6oI2a8nzN — Leesah (@pumpkindino) November 22, 2018
.@ThePromMusical I love you! What a lesson you just taught the country on the @Macys thanksgiving parade! ❤💛💜🧡💚💙

— Caissie Levy (@CaissieLevy) November 22, 2018
There is a time and place for everything and a parade that millions of kids are watching is NEITHER the time nor the place! I, for one, will never watch the Macy's day parade again. Hope the LGBT community enjoys it. Don't they have their own parade?

— Roberta Davidson (@rad1248) November 23, 2018
I cried too, because I miss the old days when it was just a normal parade..now, right off the bat.. "ohh let's shove this in their faces first thing"… Give me a break. I'm so sick of seeing this all over the place and glorifying this sin! Thanks for ruining it for me!

— Jen A (@JLA1017) November 23, 2018
Joining the outrage was ForAmerica, a group who says its "mission is to reinvigorate the public with the principles of American exceptionalism." They had a lot to say including the claim that "millions of small children just watched two girls kiss and had their innocence broken."
Millions of small children just watched two girls kiss and had their innocence broken this morning. @nbc and @Macys just blindsided parents who expected this to be a family program, so they could push their agenda on little kids. #macysthanksgivingdayparade #MacysDayParade pic.twitter.com/EmCLSfNmAj

— ForAmerica (@ForAmerica) November 22, 2018
But if ratio is still the best indicator for online reaction, they appear to be in the minority. While the post has over 4,000 likes, there are currently 18,000 replies. People continue to drag the post calling out that what probably breaks children's innocence is the daily threat of gun violence. They've also reminded the account that our president may have taught children a damaging thing or two and that most kids accept people as they are.
hopefully your children are back at school today doing active shooter drills to take their minds off the horror of the Macys Thanksgiving Day Parade https://t.co/fFEP0qmed0

— Matt Oswalt (@MattOswaltVA) November 23, 2018
The president taught my niece "grab her by the pussy." https://t.co/UWSZ2xBa5e

— Bess Kalb (@bessbell) November 23, 2018
My 6 year old niece's reaction: "Her girlfriend's dress is pretty."

Stop trying to push your bigotry onto the next generation. They're much kinder than you, thankfully. https://t.co/tWKJNsVYPI — Kendally Brown (@kendallybrown) November 23, 2018
Wait until you guys hear about the 1,400 kids currently locked up in a TX prison camp by a thrice-married adulterer. https://t.co/xdrYHi1ELp

— Gabe #DreamActNow Ortíz (@TUSK81) November 23, 2018
My son has had 3 active shooter drills at school since August.

He's in kindergarten. https://t.co/AD5ApPmipn — David Dennis Jr. (@DavidDTSS) November 23, 2018
What did you think about the kiss during Macy's Thanksgiving Day Parade? Do you think children's innocence is somehow still intact?