KFC Releases Colonel Sanders Romance Novel Just In Time For Mother's Day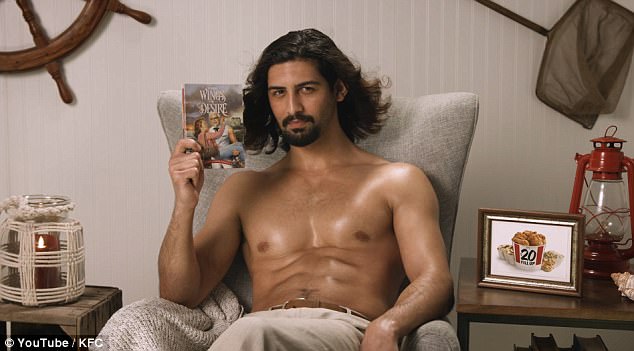 VOTE NOW! Is this Funny or Offensive?
Posted in:
Free-Range Love
May 11th, 2017 – If giving your mom a blouse or potted pink tulips seems like tired gift-giving for Mother's Day, KFC may just have the gift replacement of your dreams. They've released a 96-page romance novella featuring a strapping, young Colonel and a hopeful, searching Lady Madeline Parker. His sun-kissed crispy skin and her spicy, ample lips mixed together faster than mashed potatoes and gravy at dinnertime. That's actually not a line from "Tender Wings of Desire," so let's move on from our attempt at romance writing.
Here's a sample of the real writing from author Catherine Kovach, a former Bustle feature writer:
"They were so consumed that it took every ounce of their restraint not to give into the fire right then and there. The flames would continue to rage throughout the night until the fire was too much, and at last they could let it engulf them."
KFC is continuing their creative marketing in an attempt to capitalize on their biggest day of the year.
"Mother's Day is KFC's best-selling day of the year. So this year, KFC is giving moms the ultimate gift with its first romance novella, Tender Wings of Desire, featuring Harland Sanders as the love interest," KFC said in a statement. "Paired with a $20 Fill Up featuring KFC's Extra Crispy Chicken, mothers can finally get what they want this year—a family meal they don't have to cook, and some alone time with a captivating novella."
Give Mom her true heart's desire this Mother's Day—a family meal and a romance novel featuring Colonel Sanders. pic.twitter.com/WHJNL9kRqn

— KFC (@kfc) May 4, 2017

The e-book can be downloaded for free on Amazon, and KFC is reportedly planning to give away 100 physical copies on Facebook.
The poultry company has also released a video ad for the romance novella, which finds a shirtless man licking his fingers – not from too much chicken but in order to flip to the next page of the book.
"As she lied in Colonel Sanders arms, she could not help but feel that she finally belongs somewhere," the man reads before asking "Don't you wish you were a mom?" 
From online synopsis of the book, Lady Madeline Parker is to be married to a duke through an arrangement made by her mother. Wanting to escape the life laid out for her, she heads to a seaside town and falls for a sailor whose eyes were almost the exact color of the sea.
The Washington Post and Adweek both detail the more intimate scenes that the patriarch of the bucket has with one Lady Madeline Parker.
"In the book, Madeline's first kiss with Harland is depicted as sort of the beginning of her personal women's liberation movement," The Washington Post writes before quoting the text "Unfettered by the life that was expected of her, she was technically unfettered from the expectations of her place in society."

"Or, depending on your view, it's her downward spiral toward embracing casual sex," the Post asserts. 

Adweek adds "Oh and yeah, they definitely have a bunch of sex, in case you were wondering how sanitized KFC would require a book about its family-man founder (however fictionalized) to be."
If your mother has an affinity for men who wear glasses, she may find this escape from reality even more satisfying as Lady Madeline reminds readers that specs can be sex…y.
"Madeline had never seen a sailor wear glasses before; somehow it made him seem all the more handsome."
George Felix, director of advertising for KFC U.S., seems to agree with that assessment saying:
"The only thing better than being swept away by the deliciousness of our Extra Crispy Chicken is being swept away by Harland Sanders himself. So this Mother's Day, the bucket of chicken I get for my wife will come with a side of steamy romance novella."
Will "Tender Wings of Desire" be your choice for Mother's Day gift? Do you think a romance novella is an appropriate marketing tool for KFC? Funny or Offensive? Vote and comment below!