Latino Starbucks Customer Receives 'Beaner' Cup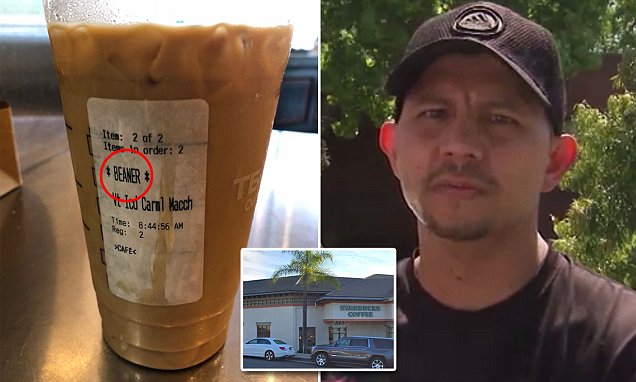 VOTE NOW! Is this Funny or Offensive?
Posted in:
Venti Iced Caramel Macchiato, Hold The Racism
May 20th – A Latino man was served his coffee order at a Starbucks in La Cañada, California with an ethnic slur printed on the label instead of his name. On a label indicating the customer's name, the word "Beaner" was typed.
The customer said that he clearly told the barista that his name was Pedro, but when his drinks were served up, that was not the name printed on the label. 
The racist label precedes a planned nationwide meeting for Starbucks' staff around the country to discuss racial profiling, bias and other sensitivity issues. Starbucks' 8,000+ U.S. stores and corporate headquarters will all hold the meetings. They are due in large part to fallout from another racial incident in Philadelphia last month, when a store manager called the police on two African-American men who came into a Starbucks. The men were denied permission to use the bathroom because they hadn't purchased anything, and chose to wait at the store for another friend.
According to KNBC-4 in Los Angeles, the customer bought two drinks at the Starbucks in La Cañada Flintridge, a suburb of Los Angeles, and saw the racially insensitive term for a Latino or Hispanic person on both cups.
Pedro told KNBC that he didn't believe it was an accident, because the barista had called his name out once his order was done, according to the station. 
Pedro was further insulted by the store manager's offering of a $50 gift card to make up for the mistake.
"I didn't accept it because it's like an insult overall," he said.
Pedro was scheduled to meet with Starbucks officials on Thursday, and a representative from its leadership team told The Huffington Post that he accepted their apology. The coffee giant also released a corporate statement saying:
"This is not the experience that we want for our clients. We asked for his forgiveness and we are working to correct this. Also, we are investigating the incident to ensure this will not be repeated."
What else do you think Starbucks can do to stop these incidents?