Sarah Silverman and Guy Aoki Spar Over 2001 'Chink' Joke #TBT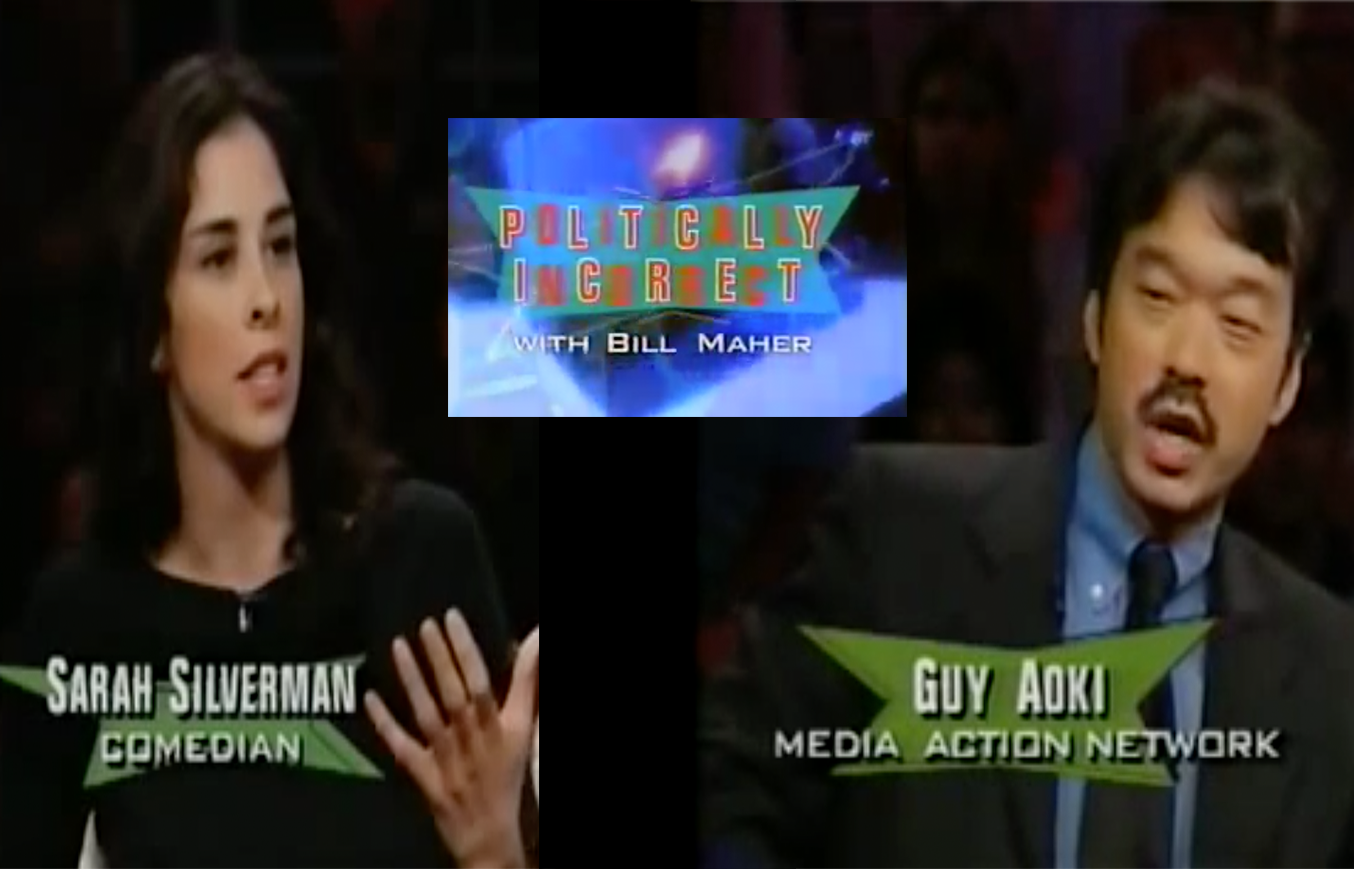 VOTE NOW! Is this Funny or Offensive?
Posted in:
Politically Incorrect Year After Year
May 17th, 2018 – Years before Bill Maher was forced to apologize for saying the n-word on his show Real Time, he was saying it on ABC's Politically Incorrect. During a 2001 episode that tackled racism and comedy, the n-word was paired up with the word "chink." Comedian Sarah Silverman was booked as a guest alongside Guy Aoki, a Japanese-American civil rights activist, who had taken offense with her using the word during a taping of Late Night With Conan O'Brien.
The panel included a visibly uncomfortable David Spade as well as Anne-Marie Johnson, but the spotlight was on the debate between Silverman and Aoki. To kick off the show, Maher asked Silverman to tell the joke again in order to give some background to viewers. The joke centers around ways to get out of jury duty, and it went a little something like this:
"So I'm filling out the form, and my friend says why don't you write something really inappropriate like 'I hate chinks,'" she began. "And I'm thinking yeah but when you think about it I don't want people to think that of me; I just wanna get out of jury duty. So I filled out the form, and I wrote 'I love chinks.'"
The joke was met with light, awkward laughter as one would expect knowing why the panel was gathered in the first place. Anne-Marie Johnson turned to Silverman and asked "Where is the joke" before Aoki could get in his first planned sound bite.
On his MANAA (Media Action Network for Asian Americans) blog, Aoki recounts that he prepped for the appearance as if it were an oral exam in college. He was upset that the producers had brought only Silverman onto the show weeks before to discuss the joke, and he knew he would only have a limited amount of time in each segment.
Aoki did, in fact, have a lot of points to make. He began by saying that using the word "chink" is just as damaging as using the n-word. Maher counters and says that the word has been mainstreamed and later calls Aoki's linking of a horrific hate crime to a word as merely a "cheap political trick."
Silverman and Aoki sparred over the different ways in which they try to illuminate racism.
"I believe that comedy reflects society, "Silverman said. "And I feel that that joke is a joke that points a finger at racism just like it's [Aoki's] job to point a finger at racism. And I think that it's inappropriate and counterproductive to demand an apology from someone who, like you, is illuminating racism…just for doing it in a different way than you do it."
Aoki agreed that humor can be a tool to spark difficult discussion but deemed Silverman a less than worthy humorist.
"I think you're giving yourself too much credit," he said. "First of all, I understand satire…I enjoy good satire. Satire is a great device for making great points through comedy. But if you don't know how to do satire correctly, you run the risk of making people think you really believe what you're saying. And until you know how to do satire correctly, I'd stay away from it."
The whole panel, minus the still uncomfortable Spade, dove into other familiar FOO questions: who has ownership of certain jokes and does an offensive joke have merit if it triggers honest dialogue?
"The fact that [racial slurs] exist, that's what I addressed," Silverman said. "Look at this! We wouldn't have this forum if I didn't tell that joke."

"If you want to talk about the Jewish community and make jokes about them, that's fine. But once you start making them about other ethnic groups, there's a different element that comes into place," Aoki said. 
Silverman again responded that the different element in place is that "it provokes thought," and that's also what her fellow comedian Conan O'Brien said.
When asked to comment on the controversy at the time, the late night host told The Observer:
"The reason I was O.K. with the joke was because it's a really smart joke! I would think that the guy with the Asian-American action committee, or whatever it is, would applaud a joke like that….What's ironic about this whole thing is that Sarah is just the kind of person who should be on shows like mine. She's what everyone says they want: 'Where's the really smart young women comics who are saying edgy stuff that's really intelligent?' And it's like, 'Uh, she's right here. Here she is!' We would have her back anytime ."
Silverman has since talked about how police violence in Ferguson changed her mind on what topics to make jokes about. In 2015, she said "Racial jokes that were just kind of being absurd have less charm in a world where we're all very aware that white cops are killing black teenagers on a daily basis. In the context of the world as it is now, it would be less absurdist. It's important to change with the times."
What did you think about Sarah Silverman's "chink" joke? Do you view it differently today than you would have in 2001? Give us your thoughts!