"Make America White Again" Billboard Taken Down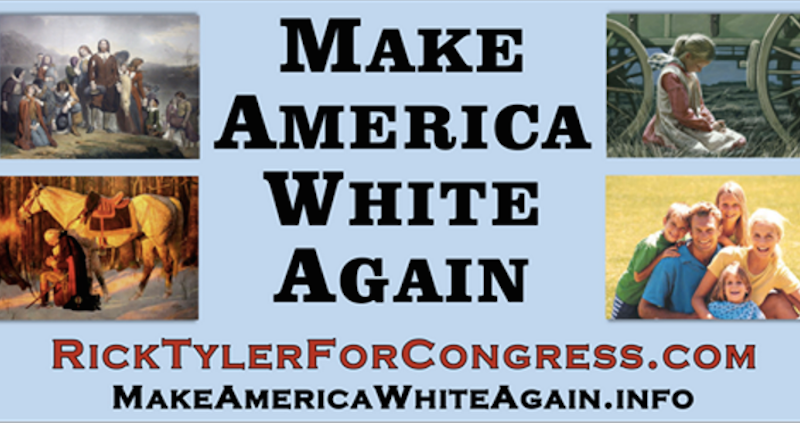 VOTE NOW! Is this Funny or Offensive?
Posted in:
Make America White Again
June 22, 2016 – Rick Tyler, a candidate in Tennessee's 3
rd
 Congressional district has taken an especially controversial page from
Donald Trump's
campaign playbook. Riffing on the reality show billionaire's "Make America Great Again" slogan, the
independent candidate is taking heat
for his campaign's "Make America White Again" billboard. The sign was briefly posted along a road in Tennessee' Polk County before being taken down amid a threat to boycott a restaurant owned by Tyler. The sign's removal came after pictures of it made the rounds on social media and local news broadcasts. When questioned about the sign's explicitly racial language a statement on Tyler's campaign website explained:
"The Make America White Again billboard advertisement will cut to the very core and marrow of what plagues us as a nation…With its towering and massive stature, the billboard sign is difficult to ignore and its message comes across as authoritative and influential."
When questioned about the billboard directly Tyler insisted he had no hateful feelings about people of color suggesting the sign merely represented a:
"Ozzie and Harriet, Leave it to Beaver time when there were no break-ins; no violent crime; no mass immigration."
Tyler's campaign website features similar incendiary rhetoric even appropriating portions of Martin Luther King's "I Have a Dream" speech juxtaposed against Confederate flags flying over the White House. Tyler went on to promise more campaign messaging with anti-Muslim and anti-immigrant sentiments. Citing the writings of far-right pundit Anne Coulter and the machinations of "Marxist social engineers," the Tyler campaign promises to defend America from the threats posed by "Federal tyranny" and "miscegenators." In the face of what can only be described as a campaign designed to appeal to White Nationalists, local residents were quick to voice their shock and disapproval over Tyler's message. Former patrons and the Kiwanis of Ocoee publically vowed never to visit Tyler's restaurant again.
It is unclear at this time whether or not the removal of the billboard will impact the rest of Tyler's campaign strategy. Tyler faces a strong Republican incumbent in November so the viability of his candidacy remains dubious regardless of the effectiveness or perceived ugliness of his campaign rhetoric.