McDonald's Christmas Coffee Cups Got A Little Cheeky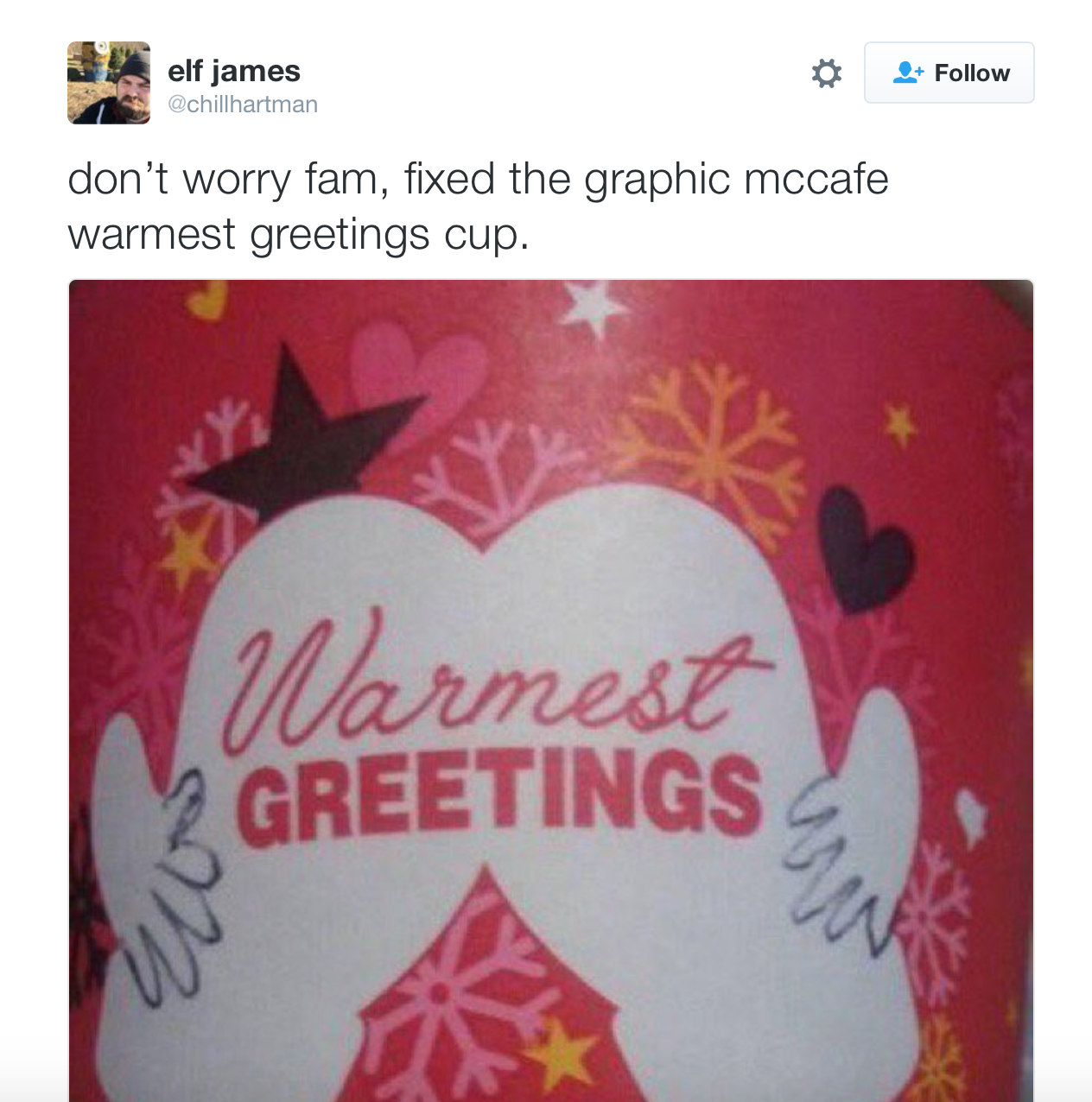 VOTE NOW! Is this Funny or Offensive?
Posted in:
Holidon't
December 14th, 2016 – McDonald's is on the hot seat for spreading the wrong kind of Christmas cheer with their new holiday coffee cups. Accompanied by the slogan "Warmest Greetings," the cup's original design intends to show two mitten-covered hands against a snowflake-filled scene. The Internet designs of the cups with a slight artistic alteration have gone viral and are now sending a very different kind of message.
Now how the hell are Starbucks cups in the news again and no one's talking about a guy spreading his cheeks open on McDonald's cups pic.twitter.com/QmIuZiDJst

— Sam Sykes (@SamSykesSwears) December 11, 2016
With the NSFW addition, the cups seem to depict a person's hindquarters in a…compromising position. Social media denizens wasted no time getting into the online commenting free-for-all leaving a long line of cheeky quips about the edited image.
For its part the fast-food giant didn't appear too bummed about the commotion over the cup saying in a statement:
"Our festive McCafé cups are of mittens not hands. The altered image circulating on social media is the result of someone getting a little cheeky and adding some hand-drawing to a cup."
Despite McDonald's willingness to be the butt of a joke, the Twitterverse was a little more direct in its assessment of the unfortunate imagery.
McDonald's daring homage to contemporary art. pic.twitter.com/wjNrAz9rI8 — Giovanni Tiso (@gtiso) December 11, 2016
no thanks mcdonalds pic.twitter.com/2LP70lYqG7 — Jon Jones (@jonjones) December 12, 2016
While season-specific promotions are common in the retail and food industries, this particular snafu was not the only corporate branding blunder. Coffee experience purveyor, Starbucks, also recently came under fire for its own holiday-related controversy as some consumers felt their barebones yuletide designs were deemed not Christmas-y enough. Starbucks defended the design insisting:
"This year's design is another way we are inviting our customers to create their own stories on our cups."
Is this latest Christmas cup controversy a lot of cinnamon-scented hot air or have Internet artists taken it too far? Funny or Offensive? Vote and comment below.