Melania Look-Alike Strips in Rapper T.I.'s Music Video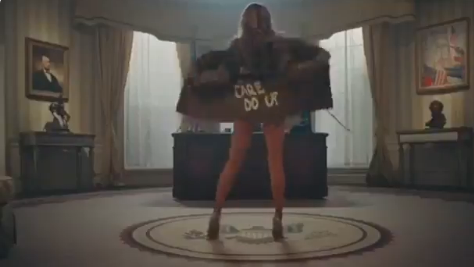 VOTE NOW! Is this Funny or Offensive?
Posted in:
Be Breast
October 17th, 2018 – Melania Trump's spokesperson has called for a boycott of T.I. after he released a teaser video for his new album, which included a stripping FLOTUS look-alike. The rapper has made his views about Donald Trump, and those who capitulate to him, well known over the past week.
Kanye West's bizarre Oval Office visit with the president prompted T.I. to voice his disappointment and opposition in an Instagram post last Thursday. The following day, he took to Twitter and let "45" know he wouldn't be following in Ye's footsteps.
Dear 45, I ain't Kanye. 😳 pic.twitter.com/BCS8nkbn1M

— T.I. (@Tip) October 13, 2018
The minute long video attached to his tweet digs into Mr. Trump further by targeting his wife. As footage of the president walking to Marine One is shown, the voice of an imagined newscaster is heard saying:
"Melania Trump did not go with the president to Mar-a-Lago this weekend, which has a lot of people wondering…"
From there, T.I. takes over the Oval Office where the Melania Trump look-alike joins him wearing the controversial "I really don't care do u?" jacket the first lady wore to visit migrant children being held in detention centers in June. And, yes, that's all the doppelgänger was wearing — aside from the stilettos.
As Abraham Lincoln's portrait looks on, T.I. lights up a cigar while the Melania figure strips and defaces a photo of her husband. Stephanie Grisham, the director of communications for the first lady's office, was quick to call out the video on Twitter.
How is this acceptable? #disgusting #boycottT.I. @Tip https://t.co/HvnFahfsVK

— Stephanie Grisham (@StephGrisham45) October 13, 2018
In a week that has seen the president call a woman he had an affair with "Horseface," Grisham said this vulgar video only further divides our country.
"Like it or not, she is the first lady and this is the White House," she told CNN in a statement. "It's disrespectful and disgusting to portray her this way simply because of politics. These kinds of vulgar attacks only further the divisiveness and bias in our country — it needs to stop."
This isn't the first time rappers have cast a Trump look-alike to skewer the administration. Last spring, Snoop Dogg took some Twitter heat from the president after his "Lavender" video ended with Snoop pointing a toy gun at a clown-faced Trump.
Do you think T.I.'s stripping Melania look-alike was a beat too far? Funny or Offensive? Vote and comment now…