Snoop Dogg's "Lavender" Outrage Continues As Trump Slams The "Failing" Rapper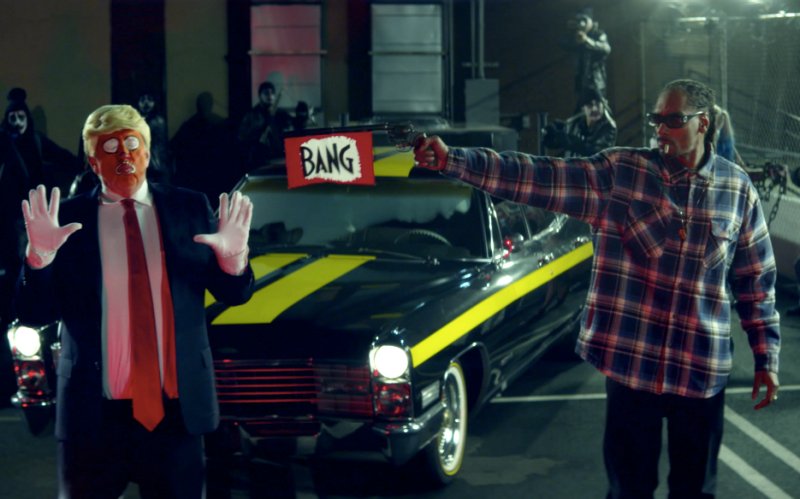 VOTE NOW! Is this Funny or Offensive?
Posted in:
La-Di-Da-Di-Whaa?
March 15th, 2017 – Snoop Dogg recently pressed pause on cooking dishes with Martha Stewart to release a video for "Lavender" which ends with the rapper firing a toy gun at a clown dressed as Donald Trump. The attention and outrage to the funhouse world Snoop created has only grown since its release earlier this week. The president himself , Marco Rubio, Ice-T, Treach and even Trump's lawyer Michael Cohen have all spoken out about the message the video sends.
Can you imagine what the outcry would be if @SnoopDogg, failing career and all, had aimed and fired the gun at President Obama? Jail time!

— Donald J. Trump (@realDonaldTrump) March 15, 2017
The video's song is a remix of a BADBADNOTGOOD song, and it stages a world in which everyone is wearing clown makeup, eating Snoop Loops and recording routine police traffic stops that escalate quickly. As a response to the death of Philando Castile and Trump's advocacy for increased police presence, Snoop said he wasn't looking for a reaction but simply filling a void.
"When I be putting shit out, I don't ever expect or look for a reaction. I just put it out because I feel like it's something that's missing. Any time I drop something, I'm trying to fill in a void," he told Billboard. "I feel like it's a lot of people making cool records, having fun, partying, but nobody's dealing with the real issue with this f–king clown as president, and the shit that we dealing with out here, so I wanted to take time out to push pause on a party record and make one of these records for the time being." 
Looking or not, reactions sprung out faster than the confetti released from Snoop's toy gun. Trump's lawyer, Michael Cohen, spoke to "TMZ Live" saying he does value dissent but people have to respect the office of the presidency. He also may have inspired Trump's tweet by adding that he wouldn't have accepted it if it were done to President Obama either.
"Just because you want to hide behind the guise of artistic capabilities or artistic freedom of speech, doesn't make it right, and Snoop knows that, and he played very close to the line here," he said. "It's absolutely disgraceful. Snoop owes the president an apology. There's nothing funny about an assassination attempt on a president."
Senator Marco Rubio, once a rival and strong critic of Donald Trump, agreed with Cohen while others (including YouTube star and the director of the video, Jesse Wellens, held to the belief that it was a prank being used as social satire.
Ice-T told TMZ: "It's basically him saying everybody's a clown including Trump, which I think we all agree."
Naughty By Nature's Treach also supported Snoop's video calling out SNL sketches as examples of similar styles of resistance. But Senator Rubio cautions that the way we express our disagreement on policy issues can be dangerous. "We've got to be careful with that kind of thing, because the wrong person sees that and gets the wrong idea, you can have a real problem."
In a video that shows everyone in clown makeup, cops eating donuts, Ronald Klump deporting all doggs, a little kid shooting his dad with a toy gun in front of a refrigerator filled with overdue payment notices, it's the BANG at the end that has people asking if this is an acceptable form of protest.
You tell us. Was Snoop Dogg's video Funny or Offensive? Are there any other parts of the video that bring value to the controversial moment? Watch the video below and sound off in the comments section.