Meryl Streep Impersonates Trump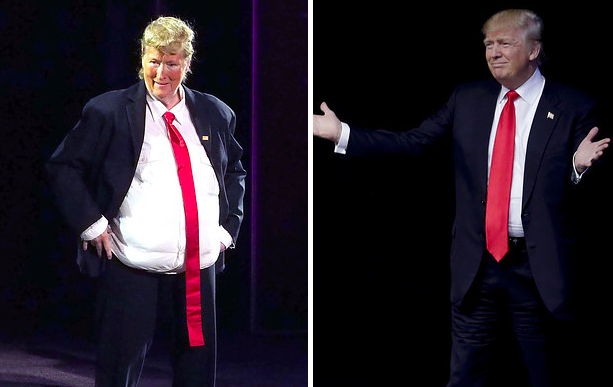 VOTE NOW! Is this Funny or Offensive?
Posted in:
Trump Gets Streep Treatment
June 8, 2016 – Hey, Meryl, SNL called. You got the Trump impersonator gig!
Meryl Streep, the
three-time Academy Award winning actress
, spent Monday night doing something she's done her whole career: transforming into another person. She's worn Prada, witch fingernails and a nun's habit, but Monday night she donned orange face paint, a fat suit, a disheveled wig and a lengthy red power tie to become
Donald Trump
.
The iconic actress was taking part in the 2016 Public Theater Gala in NYC which benefits
Free Shakespeare in the Park
. With her hair combed, locked and loaded, she took to the stage with her Mamma Mia! co-star, Christine Baranski, to sing their own version of "Brush Up Your Shakespeare" from the Broadway musical 
Kiss Me, Kate. 
"You'll let me know why it is all the women say no," sang Streep. Baranski sang back, "Just declaim a few lines from Othello, and they'll think you're a hell of a fellow."

Streep is a public advocate for gender equality and has thrown her support behind Hillary Clinton. While introducing Clinton at the Women in the World 2012 event, she said ""If you want a real world leader, and you're really, really lucky, this is what you get."
As the thespians continued on with their portrayals of Trump and Clinton, attendees were quick to share the performance online with those who couldn't experience it live. While many loved her humor and boldness, others called it inappropriate and urged her to keep her political beliefs private.
More of Meryl and Christine Baranski doing Trump and HRC pic.twitter.com/t7jgNsf74d

— Jacob Bernstein (@BernsteinJacob) June 7, 2016
Is this Streep performance Oscar worthy? Is Meryl Streep Impersonates Trump Funny or Offensive? Vote and comment below…
**Calls to anyone in New Jersey to comment on her use of orange face were not immediately returned.