Artists Plaster Donald Trump Stickers Across NYC Subway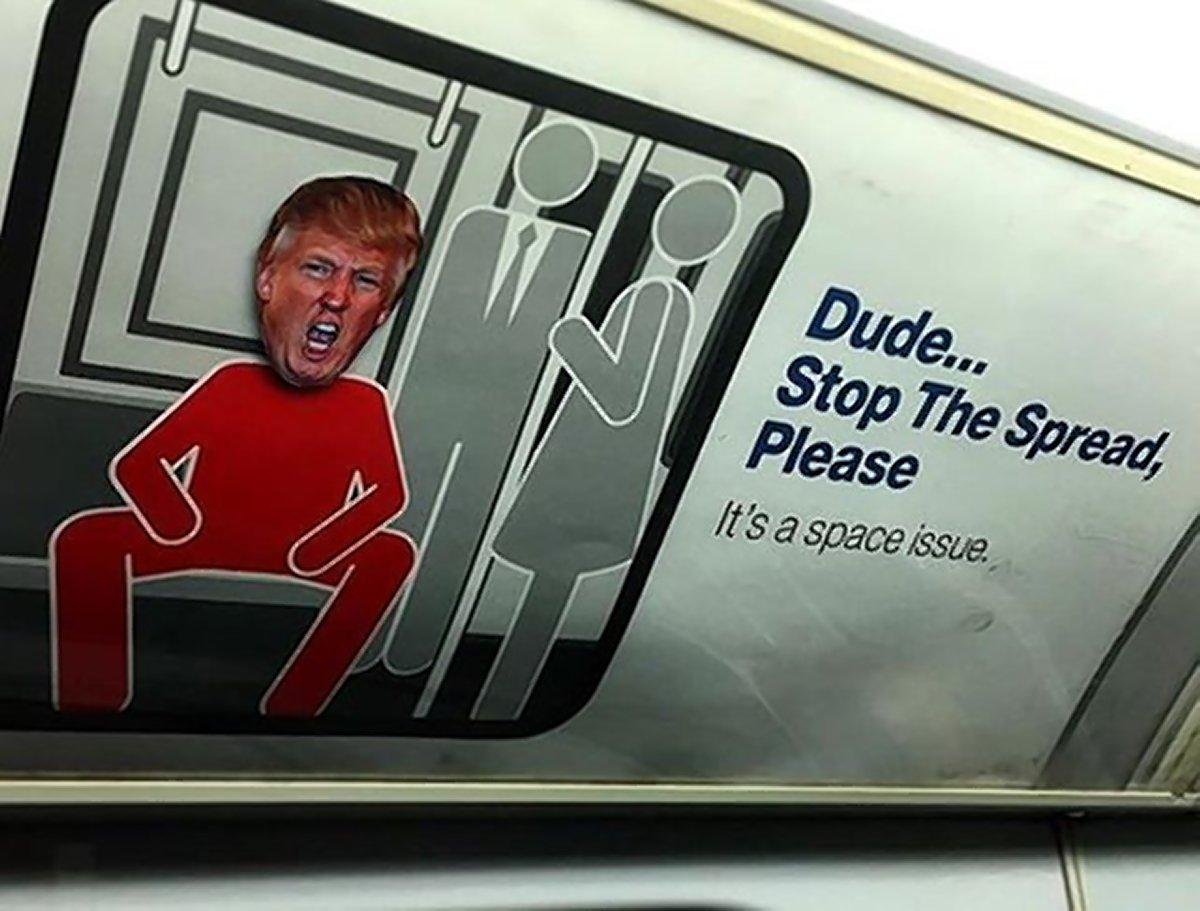 VOTE NOW! Is this Funny or Offensive?
Posted in:
Sticker Shock
June 5, 2016 – Some New York subway riders are sharing their morning commute with GOP presidential hopeful
Donald Trump
.
Two Manhattan based artists have been adding stickers bearing the real estate mogul-turned political firebrand's shouting visage to the
MTA's latest promotional effort
, "Courtesy Counts," adorning the campaign features generic red stick figures warning New Yorkers against foregoing train etiquette. Figures are depicted grooming themselves,
eating, pole-hogging, "manspreading"
and other frowned upon activities while on public transportation.
The anonymous provocateurs, when asked about their motivations for using Trump's face in particular, were fairly straightforward saying, 
"We were like, 'Who's the biggest d–k around right now?'" They went on to say that finding the right expression for the statement they were trying to convey was a simple matter of Googling "Donald Trump's head" :
"We kind of lucked out on that," they said. "He's just making a d–k, a–hole face … It weirdly works with every position you put him (in), whether he's shoving a fry in his mouth or running to work."
An Instagram account hosted by the pair, @majorbigtime, documents the now Trump-themed subway art <can be hyperlinked to https://www.instagram.com/majorbigtime/> Whether the stick figure Trump is warning riders what's not allowed, for example hoverboards, about the dangers of running on the subway or reminding citizens to remain alert the Trump face, like his real life incarnation, is inescapable.
Social media sites have been reposting photos of the doctored promotional ads and MTA has yet to comment on the ubiquitous graphics. 
These street artists have been mocking Trump by adding his face to NYC subway courtesy ads: pic.twitter.com/NFTssBD8aL

— Mic (@mic) June 4, 2016
You make the call…are the Donald Trump subway stickers Funny or Offensive? VOTE and COMMENT now…