MSNBC Welcomes Back Sam Seder After Joke Tweet Controversy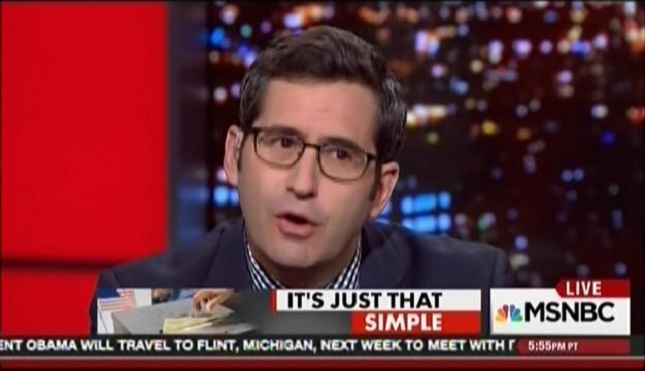 VOTE NOW! Is this Funny or Offensive?
Posted in:
MSNBC: Sometimes you just get one wrong
December 7th, 2017 – MSNBC has reversed course on its decision to fire contributor Sam Seder after fierce public outcry. Their decision to end the progressive commentator's contract came after a strategic campaign from right-wing provocateur Mike Cernovich who claimed a 2009 tweet from Seder endorsed Roman Polanski's sex crimes. The network initially stated that there was disgust over the tweet and that it violated the values they seek to uphold.
This morning, in statement to The Intercept, MSNBC president Phil Griffin said the network now sees the intent behind Seder's satirical tweet.
"Sometimes you just get one wrong, and that's what happened here," he said. "We made our initial decision for the right reasons — because we don't consider rape to be a funny topic to be joked about. But we've heard the feedback, and we understand the point Sam was trying to make in that tweet was actually in line with our values, even though the language was not. Sam will be welcome on our air going forward."
Seder had warned MSNBC that they would inevitably become the story if they chose to cave to a willful misinterpretation of a joke from eight years ago. He was right. From network host Chris Hayes to conservative television personality Greg Gutfeld, people called MSNBC out for what they deemed was a cowardly and wrong decision.
Seder has maintained a cordial relationship with the network throughout the ordeal and says he believes their new decision will help combat future faux crusades moving forward.
"I appreciate MSNBC's thoughtful reconsideration and willingness to understand the cynical motives of those who intentionally misrepresented my tweet for their own toxic, political purposes," Seder said in a statement. "We are experiencing an important and long overdue moment of empowerment for the victims of sexual assault and of reckoning for their perpetrators. I'm proud that MSNBC and its staff have set a clear example of the need to get it right."
How do you think networks should approach this type of situations in the future? Should you lose your current job because of an old joke or an old misinterpreted joke? Give us your thoughts!