Al Franken Played US Senator in Clarence Thomas Sexual Harassment Sketch on SNL (VIDEO)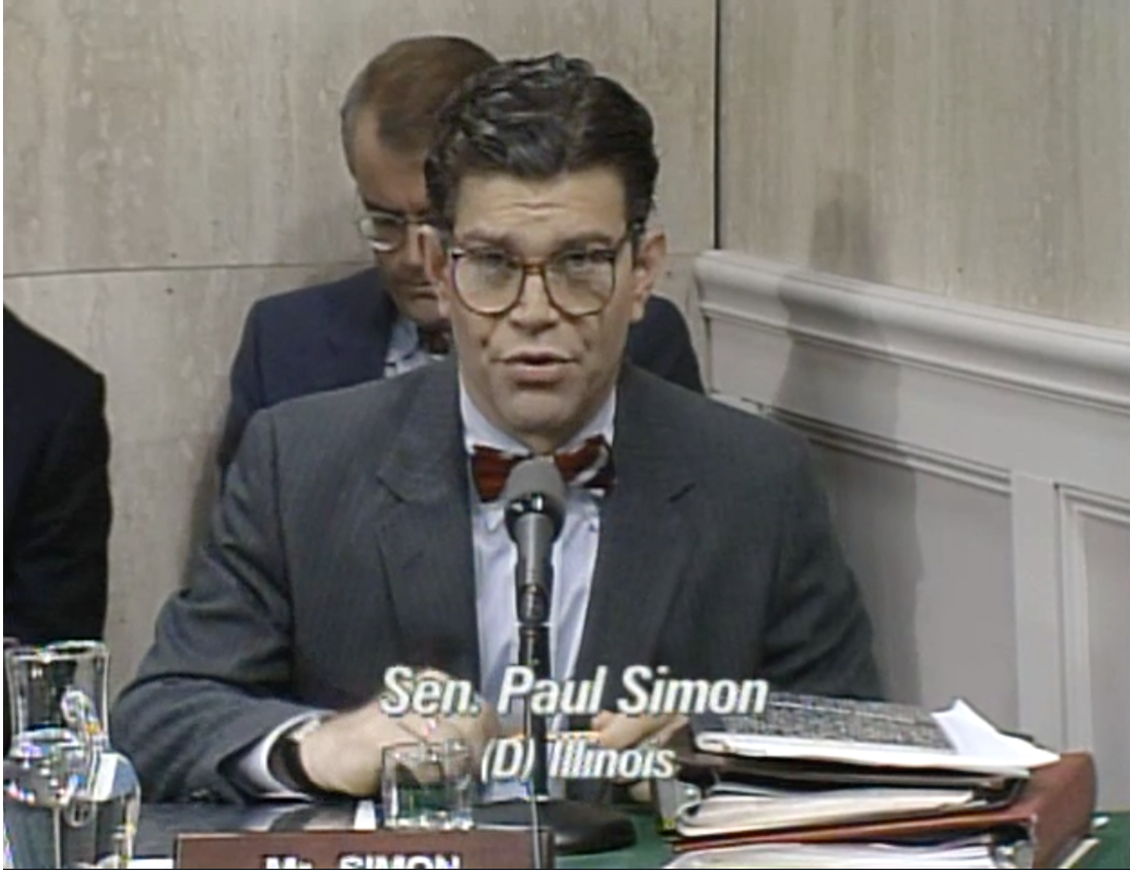 VOTE NOW! Is this Funny or Offensive?
Posted in:
SNL Senators
December 8th, 2017 – In 1991, during Clarence Thomas' Supreme Court nomination hearing, the judge was accused of sexually harassing his former clerk Anita Hill. The harassment became a focal point of his confirmation hearing.
During the third episode of Saturday Night Live's '91 season, they satirize the controversial hearing by having the all-white, all-male Senate Judiciary Committee more intent on getting advice from Judge Thomas, admiring his techniques and asking him for the best ways to make unwanted advances on women. Franken played Illinois Senator Paul Simon, to whom he bore a striking physical resemblance.
Senator Franken recently announced he will be resigning in the coming weeks after claims of sexual harassment had been brought against him. 
Thomas was alleged to have repeatedly asked Hill, his subordinate, out on a date. After being rebuffed, Hill also alleged that he referenced the pornographic movie Long Duck Dong.
The charges were serious and included many explicit descriptions:
"Thomas had asked her out socially many times,and after she refused, he used work situations to discuss sexual subjects. 'He spoke about…such matters as women having sex with animals and films showing group sex or rape scenes,' she said, adding that on several occasions Thomas graphically described 'his own sexual prowess' and the details of his anatomy. Hill also recounted an instance in which Thomas examined a can of Coke on his desk and asked, 'Who has put pubic hair on my Coke?'"
In the sketch, Franken as Simon asks, "Judge, are you aware of that division of our government known as the criminal justice department? There's this receptionist with short brown hair, Sandy. Do you think she'd go out with me?"
The clip also features Kevin Nealon as then Senator Joe Biden, Tim Meadows as Clarence Thomas, and Dana Carvey as Senator Strom Thurmond. It has references to "softcore pornography" and "oversize genitalia."
At the time of the sketch, Al Franken had yet to show any interest in a political career. He was one of the original SNL writers starting in 1975 and later became a performer, creating such memorable characters as Stuart Smalley.
The Clarence Thomas clip ends with Chris Rock appearing as porn star Long Dong Silver, who was in one of the films Clarence Thomas is alleged to have rented from local porn store Graffiti.
In our current political and social climate, do you view the sketch differently? Do you think Franken's past work as a writer and performer on SNL should be considered when examining his responsibilities as a US Senator? Watch the clip below, and give us your thoughts…