Senior-Isis: Muslim Student Labeled Isis in Yearbook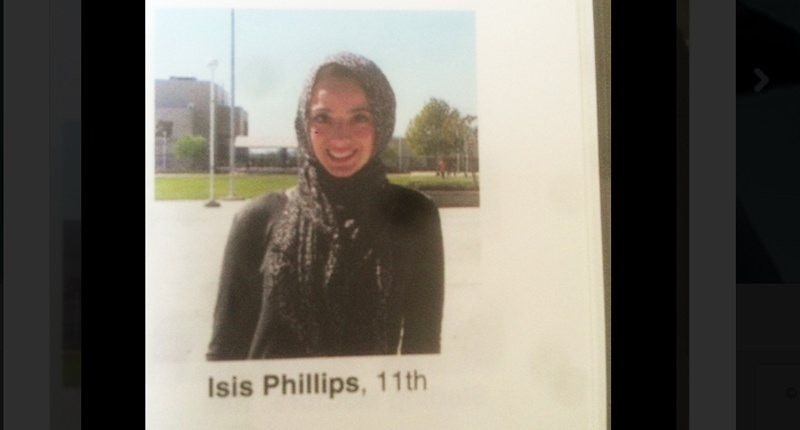 VOTE NOW! Is this Funny or Offensive?
Posted in:
Muslim Student Labeled Isis in Yearbook
May 10, 2016 – An alleged printing mistake has triggered an investigation at one Southern California high school.
A devout Muslim student in the graduating class of Rancho Cucamunga's Los Osos High School learned a yearbook photo of her misidentified her by the name, "Isis Phillips". The student's real name is Bayan Zehlif and not Isis, which, of course, is also one of the accepted English translations of the name of the
murderous global terrorist group
. The yearbook staff and school administrators insisted that the mistake was unintentional but
Zehlif said the incident humiliated her
.
Speaking from the offices of the Council on American-Islamic Relations (CAIR), Zehlif reiterated how the incident left her feeling "
extremely saddened, disgusted, hurt."
 A CAIR statement went on to read in part: 
"No student should have to face the humiliation of being associated with a group as reprehensible as ISIS."
After the mislabeled photo was widely shared on social media the Twitter account affiliated with the Los Osos Yearbook posted a formal apology for the mishap. The nearly three hundred students who already received their copies of the misprinted yearbook have been asked to return them for correction, however, the Jordanian-American expressed reluctance over taking part in her upcoming graduation ceremony for fear of being the target of more anti-Muslim sentiment.
— LOHS Yearbook (@LosOsosYearbook) May 7, 2016
While the school district also pledged to "
to determine how this could happen and how we can remedy the situation" some Los Osos students thought the school was making too big a deal of the incident. Citing that the yearbook is known for its lack of attention to detail some view the mix up as an honest mistake and not Islamophobia. Despite this, Zehlif has reportedly been the target of backlash by some of her fellow students who object to her speaking publicly about what happened. 
Complicating matters are reports that an actual student named "Isis Phillips" did attend Los Osos High School at one point in the school year. Whether or not this is true, Zehlif insists the action was no coincidence and plans to sit out for the remainder of the school year though she has expressed a desire attend her graduation ceremony.
Teenage humor or hate speech? Funny or Offensive? VOTE and COMMENT now…